Madhavas irks Brajwasis yet again; why the apology won't suffice…
The popular rock kirtan band is no stranger to controversies
Vrindavan, 2021-09-07 (Vrindavan Today News): Popular 'rock kirtan' band, Madhavas found itself at the receiving end of Brajwasis' and devotees' ire once again after the management of Ladliji Mandir Barsana filed a complaint against it for unauthorized and allegedly fraudulent soliciting of donations in the name of organizing phool bangla and chhappan bhog seva at the temple on Radhashtami (September 14, 2021).
The ensuing furore in the virtual and real worlds compelled the band to apologise on social media as well as in person to the temple management, following which the complaint was taken back. The matter was finally resolved yesterday when Madhavas lead artist and owner (Madhavas Rock Band and Madhavas Foundation) Nirdosh (we wonder!) Sobti met with the Goswamis and handed over the amount received to them, along with a written apology.
While the case may have been put aside, here's why Madhavas 'apology' will not suffice for many…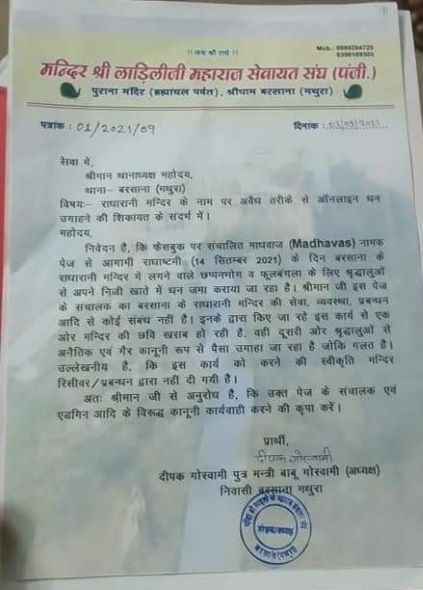 Courting Controversy – The Madhavas' Way
On Friday, a video went live on Madhavas' official Facebook page asking people to donate generously for phool bangla and chappan bhog seva at Ladli ji Mandir Barsana. When the widely-circulated video was brought to the notice of the temple authorities, they filed a Police complaint against the page owners and admin(s) for unauthorized collection of money on false pretexts, and for soiling the shrine's reputation.
The complaint in which the Goswami Samaj distanced itself from the appeal for donation said that neither the person issuing it nor the Madhavas Foundation/Rock Band are in any way related to the management, activities or seva-puja at Ladliji Mandir, and hence have no right to collect money –that too in their personal account – using its name.
Hell broke loose when these developments came to light, and soon enough, social media was flooded with hashtags like ​#Count_your_days_now!, #Boycott_Madhvas_Rock_Band, and
#Save_the_dignity_of_Vrindavan.​​​ People came down heavily upon Madhavas for floating the misleading appeal, and all sorts of speculation about their intention behind it began to fly around. It seemed like the band which is infamously known among traditional Brajwasi/devotee circles for its flagrant ways, had transgressed big time.
Taking cognizance of the situation, Madhavas lead artist and owner Nirdosh Sobti responded to the accusations saying, "We received a call from Barsana Temple asking to arrange for the sevas in question. That's when we went live on Facebook with the donation request."
The case was finally resolved when Sobti met with the temple management in Barsana and handed over to them the collected donation money along with a written apology. The Goswami Samaj and SHO Azad Pal Singh warned him of strict action in case of any such incident repeating in future.
Yesterday evening an explainer captioned 'Donations Controversy par Khulaasa – Case Solved with Happy Ending?' was put out on Madhavas Rock Band's YouTube channel, informing the viewers that a sum of Rs.42000 (21658 received in donation; rest being Madhavas' contribution) will be given to the temple. For those seeking to enquire further, Dr. Krishna Murai Goswami's (temple receiver) contact details were also shared. Towards the end, Sobti read out the official letter in which Goswami Samaj Shri Ladliji Maharaj Temple Barsana gave Madhavas the 'clean chit'.
Not just a one-off
Madhavas Rock Band led by Nirdosh Sobti (Nav Kishore Nimai Das) and Neha Behl ('Nandrani' Gopi Devi Dasi) is no stranger to controversies. The band has performed in numerous Rath Yatras, Janmashtami celebrations, Vyas Pujas, and general celebratory events.
The 'repeat offender' has faced the ire of Brajwasis time and again for commercialising devotion and distorting the essence of it with its (largely) kitschy music. In fact, many a puritanical devotees who began as admirers, today, lament the band's sheer disregard for tradition which they believe is indicative of its degrading spiritual and ethical standards.
Very recently, the band drew flak for launching a 'Madhavas-branded' bhakti package consisting of beadbag, kanthimala, japa mala, counter, and Madhavas logo sticker. As if the idea of branding the sacred wasn't audacious enough, the package was being sold with the tagline 'Kar Lo Krishna Mutthi Mein'. In another instance of 'lie big, retract small', Madhavas apologised offhandedly on social media.
Given the growing suspicion around Madhavas conduct and intentions, it is not surprising that a large section of people will not be pacified with this apology.