Braj returns to vibrant Radhashtami celebrations after a muted last year
Maha-abhishek, Maha-aartis, Phool Banglas, Chappan Bhog and Dadhikandha were organised in temples across Braj.
Vrindavan, 2021-09-15 (Vrindavan Today News): After a year of lockdown restrictions, the fervour around the two biggest religious observances in Braj – Janmashtami and Radhashtami – was back in full swing this year. Radhashtami, the appearance day of Lord Krishna's Hladini Shakti, Shri Radha was celebrated yesterday (September 14) with great exuberance and reverence, with thousands of devotees lining up for darshans in temples all through the day.
Radharani appeared in Anuradha Nakshatra during the month of Bhadrapad to the childless and devoted king Vrishbhanu who found Her on a lotus, blooming in the middle of the sacred lake in Rawal village. It is believed that the unborn and eternal pleasure potency of Shri Krishna descended on the material plane 11 months before Him, but she opened Her lotus eyes for the first time only for a glimpse of Her beloved Lord.
Flanking the ancient temple in Rawal is a garden which is the abode of a 'pakhar' (white fig) and a 'peepal' tree that are worshipped as the Yugal Swaroop. Devotees eagerly seek blessings of these divine manifestations on Radhashtami.
There's another charming lila which has evolved into a tradition as part of which Radharani's Chhati Pujan is held a day prior to her birth even today. When King Vrishbhanu and mother Kirti heard the news of Krishna's birth, they decided to proceed to Gokul at once to greet Nandbaba and Yashoda and bless their newborn child. Just as they were about to leave, an old woman instructed them to wait until Radha's Chhati Pujan was done when she turned a year old. Unable to control their joy and excitement, Vrishbhanu and Kirti went ahead with performing the ritual prematurely.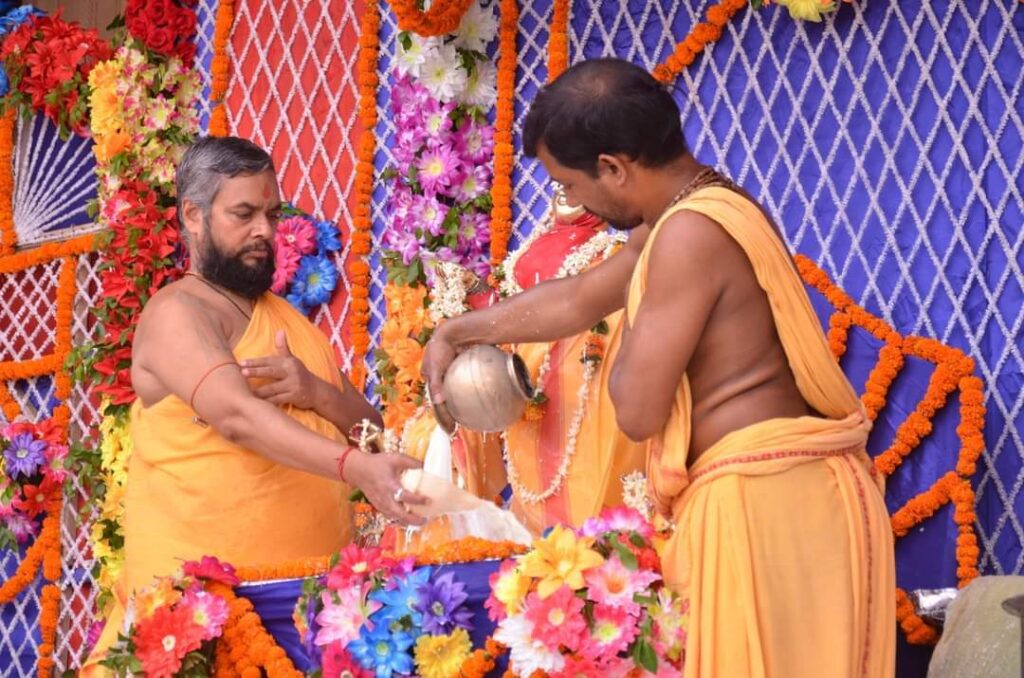 This year, the Chhati Pujan in Ladli ji Mandir was held on September 13, evening. Although Radhashtami badhaai and samaj gayan had started much earlier, the main celebration began in the wee hours of the 14th morning at 4.30 am in both Rawal and Barsana. Beginning with Mangala, Maha-abhishek and Prakatya Darshan, Shrimati Radhika blessed Her devotees throughout the day in various kinds of 'shringaar'.
In Rawal, the maha-abhishek was done with 125 Kgs of milk, curd, ghee, honey and sugar. 101 Kgs of 'laddus' were offered as 'bhog' in Ladli ji Mandir, Barasna. Phool Banglas, Maha-aartis, Chappan Bhog and Dadhikandha (a sport where devotees and goswamis playfully splash curd and milk on each other) were organised in temples across Braj.
At the Banke Bihari Temple in Vrindavan, Swami Lekhraj Shastri's mandali performed Raas Lila in the afternoon, enacting the scenes where Krishna pesters mother Yashoda to get Him engaged and married to Radha.
In Govardhan, hundreds of devotees joined the queen of Braj on Her shobhayatra around Radhakund. As night fell, the sacred kund came alive with the light of 11000 lamps and chants of Shri Radha Kripa Kataksha Stotra. Tatiya Sthan (Vrindavan) also welcomed Vraja's queen by lighting lamps a day prior, on Monday evening. Shri Krishna Janmasthan Mathura too organised 'Deepotsav' to mark the occasion.