Color uniformity mandate for Parikrama Marg aesthetic
2023.03.17 (Vrindavan Today News): The UP Government has been taking different measures to beautify the Parikrama Marg of Vrindavan. It made the footpaths, installed the heritage looking street lights, put signages, painted the walls with the images of the Shri Krishna and His pastimes and restored some of the ghats. In this process the MVDA has now planned uniformity in the colors of the buildings located at the Vrindavan Parikrama Marg.
In a recent development, the Mathura-Vrindavan Development Authority (MVDA) issued a public notice regarding the Model Bye-laws 'Development Authority (Facade Painting, Maintenance and Repair of certain buildings adjacent to main roads) Bye-laws-2021'. The notice applies to both residential and non-residential buildings located on both sides of the Vrindavan Parikrama Marg and are issued under Section-12(1) of U.P. City Planning and Development Act, 1973.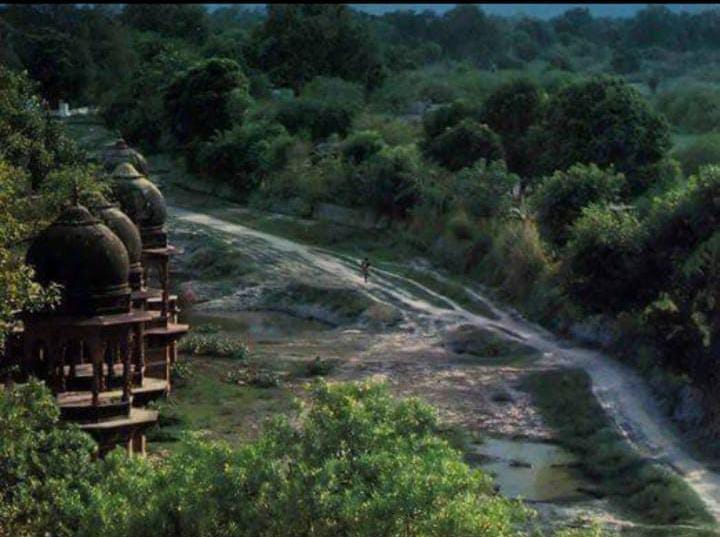 According to the notice, the Authority has mandated that all building owners must paint the front elevation of their buildings in a light yellow color (postcard color) and maintain symmetry. In addition, they must also install a signage board in heritage color.
The responsibility of completing these tasks falls upon the building occupants themselves, and they must complete the work within three months of the publication of the notice. Non-compliance with this regulation may lead to the institution taking matters into its own hands and carrying out the required work. Appropriate action will be recommended against the occupants under the UP Town Planning and Development Act, 1973.
Residents and building owners have been urged to gain an overview and knowledge of the uniformity and specialties of the work described above by visiting the Authority's website www.mvdamathura.com or by visiting their office on any working day.
This move by the Mathura-Vrindavan Development Authority is expected to improve the aesthetics of the area and promote uniformity in building design, enhancing the overall beauty of the city.