Gopinath ji of Dera Gazi Khan
Kartik Braj Darshan with Vrindavan Today – Day 16
While giving away the seven nidhis to his seven sons, Shri Vitthalnath ji entrusted the Deity to Lal ji Maharaj on the inspiration of Shrinath ji, thus making him the head of ashtam peeth.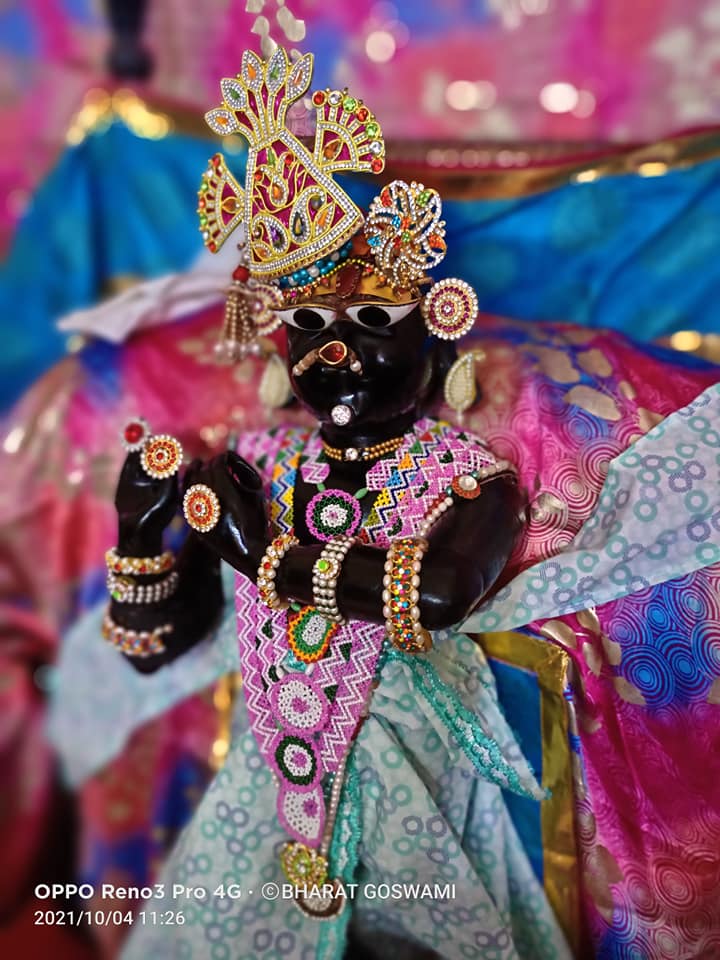 Vrindavan, 2021.10.31 (Vrindvan Today News): The beautiful tribhanga Krishna gracing the Pushtimargiya Ashtam Peeth in Gautam Pada, Vrindavan is famous among devotees as Dera Ghazi Khan Wale Gopinath ji. The vigraha was served by Goswami Lal ji (Tulsidas) and later entrusted to him by his guru Shri Vitthal Nath ji (second son of Mahaprabhu Vallabhacharaya).
Goswami Lal Ji Maharaj was born on Magh Sukla Saptami 1608 (VS) in Sevan village of Sindh Province in Larkana district of Pakistan to Shri Ajju Dev a (Saraswat Brahmin Purohit) and Shrimati Devki. It is believed that the couple obtained him as a boon from Lord Nagar ji. Lalji lost his mother at the tender age of five. As a child, he remained absorbed in the service of Shri Nagar ji.
At the age of 17 when Lal ji's father too left him, the Lord appeared to him in a dream and told him to go to Vrindavan and from there to Vishram Ghat in Mathura where he was destined to meet his guru Shri Vitthal Nath Ji Maharaj. Gosain ji initiated him with a Guru Mantra and Kanthi. He also assigned him Gopinath ji's 'jal ghariya seva'.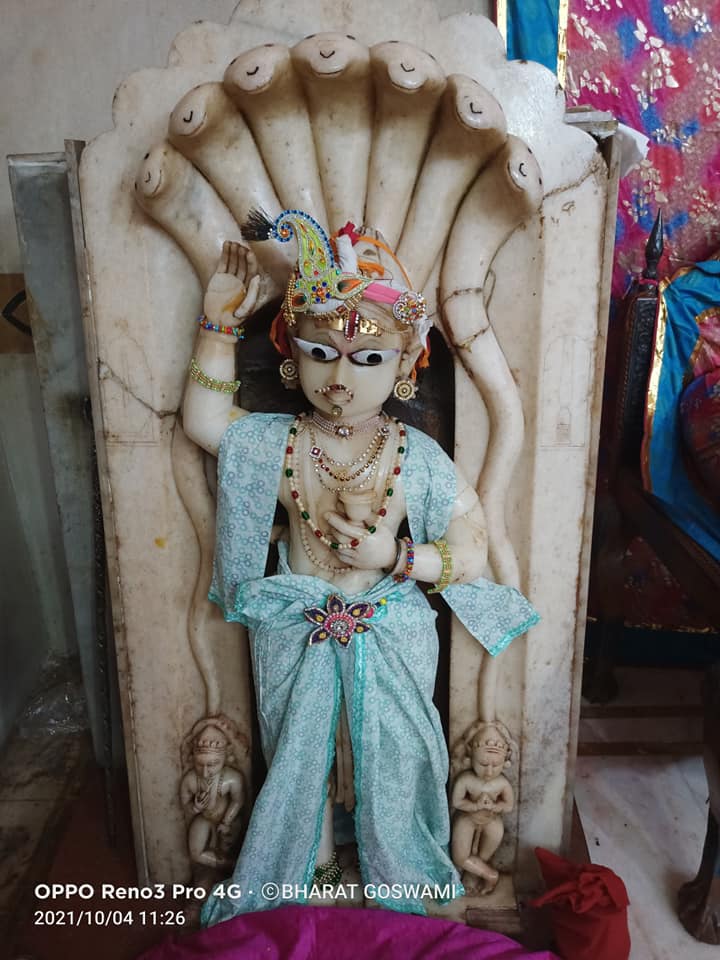 While giving away the seven nidhis to his seven sons, Shri Vitthal Nath ji entrusted the Deity of Gopinath ji to Lal ji Maharaj on the inspiration of Bhagwan Shri Nath ji, thus making him the head of ashtam peeth.
On the auspicious day of Ekadashi of Bhadho Maas 1640 (VS), following his guru's instructions, Lal ji set out with Gopinath ji towards the North West Frontier Province (NWFP) region (now in Pakistan) to preach Vaishnavism there. The deity was stalled by His own wish at Dera Ghazi Khan.
However, during the India-Pakistan Partition in 1947, the situation began to worsen, and once again, Gopinath ji was brought back to Vrindavan in accordance with His divine will after nearly 300 years. Undertaking a long, arduous journey which began on November 20, 1947 (kartik sudi gopashtami) from Dera Ghazi Khan, Gopinath ji reached his own pre-existing temple of Gore Dau ji (who appeared from the Yamuna) at Sukhan Mata Ki Kunj, Gautam Para, Vrindavan on December 17, 9.00 PM. After performing sandhya and shayan sewa He was placed on a komal shayia (soft bed) next to Dau ji.
Sukhan Mata was the wife of Goswami Jagannath, fourth in the line of descendants of Lal ji. Her devotion for Thakur ji was so intense that it could not remain hidden from the people, who named the lane after her. The narrow alley is right next to Banke Bihari Police Station. The temple is especially popular among devotees from Punjab.