Millions perform Govardhan Parikrama on Mudiya Puno
Govardhan's Circumambulation Draws Devotees Worldwide for Spiritual Journey
Hundreds gather at the Samadhi of Shrila Sanatan Goswami Pada to pay their tribute to the Acharya
Special Seva of Shri Madan Mohan ji performed with 64 Mahant Bhog
Babaji's tonsure their heads to become Mudiya in memory of the disappearance of Shrila Sanatan Goswami Pada
2023.07.03 (Vrindavan Today News): Giriraj ji, a sacred town, experiences a massive influx of devotees during the Mudia Purnima festival, attracting an astounding ten million worshippers each year. Devotees from around the world travel to Giriraj ji to complete a circumambulation of the seven-kos (approximately 21 kilometers) pilgrimage route. This route encompasses ten villages, including Govardhan, Bhim Nagar, Anyor, Jatipura, Haripura, Sakitra, Nagla Spera, Radhakund, Nagla Sankhi, and Poochri. These villages, home to around 50 temples, numerous shops, guest houses, dharamshalas, and holy kunds (water reservoirs), have become major attractions for devotees within the seven-kos radius.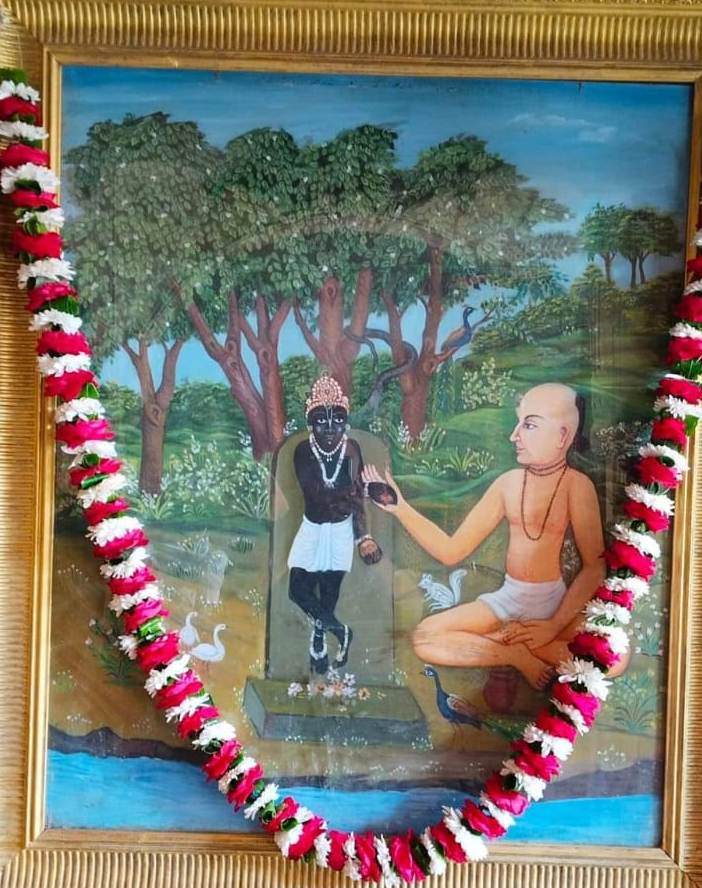 The Mudia Purnima festival, also known as Guru Purnima, holds great significance for worshippers who arrive from various parts of the country to express their deep faith and devotion towards Giriraj Maharaj. This revered tradition's history is intertwined with the legacy of Sanatana Goswami, who entered the nitya lila of Shri Radha Krishna 464 years ago on Ashada Purnima, Samvat 1615. In remembrance and celebration of his spiritual teachings, his disciples and devotees began the tradition of shaving their heads and circumambulating Giriraj Govardhan on his disappearance day. Hundreds gather at the Samadhi of Shrila Sanatan Goswami Pada in Vrindavan to pay their tribute to the most prominent saint among the Six Goswami.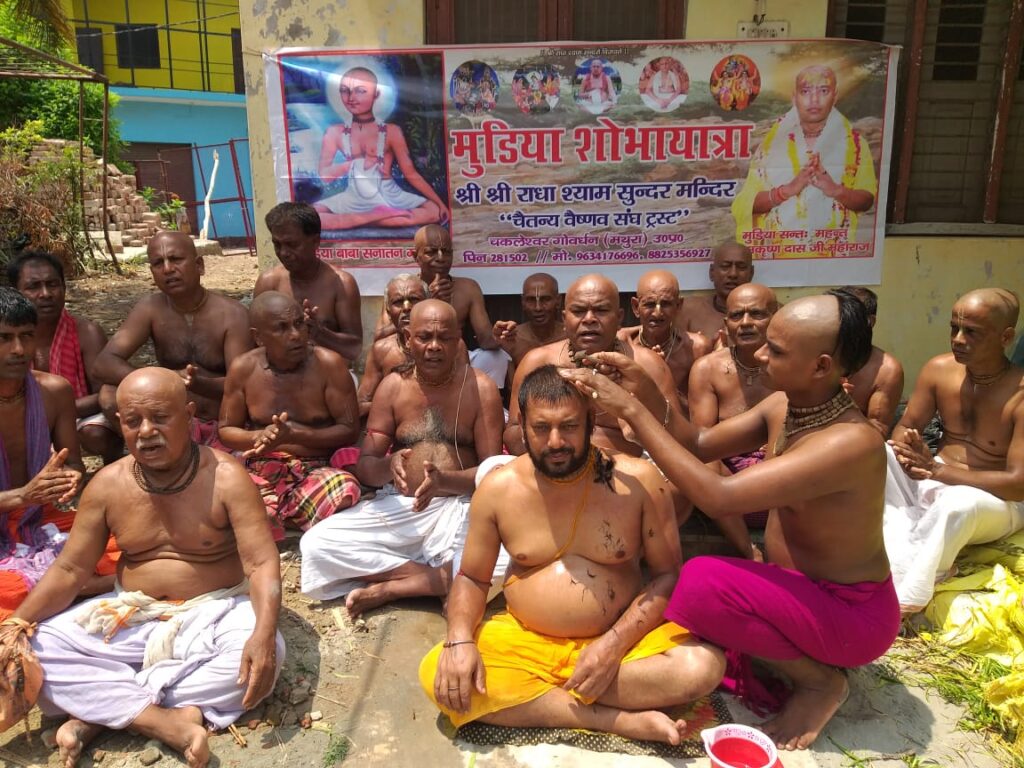 As the pilgrims embark on this sacred journey, they come together to form a remarkable sight—a human chain resembling a garland of devoted souls intricately threaded in their faith. Amidst this garland of devotion, the Giriraj mountain range offers unique darshans (views) to the pilgrims. The parikrama, or circumambulation, serves as a spiritual rosary, connecting villages that have preserved their historical heritage. The traditional starting point of the parikrama is the Danghati temple located at the foothills of Girirajji.
During the parikrama, devotees visit significant temples such as the Sakshi Gopal Temple in Anyur, Lautha of Poonchari in Poonchari, Mukharvind Temple in Jatipura, Lakshmi Narayan Temple in Kasba Govardhan, Kaila Devi Temple in Radhakund, Govardhan Harigokul Temple, and Mukut Mukharvind Temple. The parikrama also allows devotees to witness sacred kunds (lakes), enhancing their spiritual experience.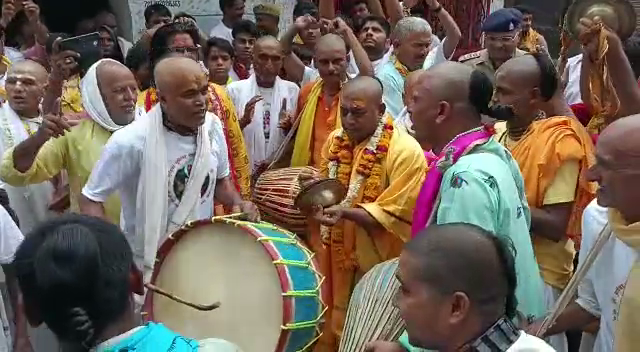 The major attractions in the region include the Danghati Temple of Govardhan, Mukut Mukharvind Temple, Harigokul Temple, Lakshmi Narayan Temple, Mansi Ganga, Shreenathji Temple of Anayaur, Sakshi Gopal Temple, Govind Kund, Sankarshan Kund, Poonchri Ka Lotha in Poonchri, Nawal Kund, Apsara Kund, Shreenathji Temple in Jatipura, Luku Luk Dau Ji Temple, Indra Pooja Sthal, Hari Ji Kund, Rudra Kund, Radharani Krishna Kund, Kaila Devi Temple, Kusum Sarovar, and Narad Kund. These holy sites offer glimpses into the region's rich spiritual heritage.
To ensure convenience for devotees during the Govardhan Mudia Purnima Mela, the Nagar Panchayat of Govardhan has thoughtfully installed 300 fountains, facilitating bathing for the worshippers. Five changing rooms have been set up specifically for women. Fountains can be found at Mukharvind, Giri ki Pauri Ghat, Peepal Wala Ghat, Maa Mansa Devi Ghat, Zanana Ghat, and Chakleshwar Ghat, enhancing bathing facilities. Mansi Ganga and Mukut Mukharvind Temple, known for drawing large crowds, provide opportunities for devotees to pray and bathe with folded hands. To manage overcrowding at Mansi Ganga, barricades have been installed.