Biharipura residents struggle to prove ownership as corridor work progresses
In the absence of proof of ownership residents will not be able to claim compensation.
2023.01.06 (Vrindavan Today News): Biharipura residents are having sleepless nights as authorities have commenced work on the Banke Bihari Corridor. The process is currently underway for identification and valuation of land using Google survey and government tax records. So far, a total of 110 buildings – residential and commercial – have been identified in the 5 acre area demarcated for the proposed corridor.
A special 8-member team consisting of officials of the Public Works Department (PWD) and tax department was constituted by DM Pulkit Khare following the directive of the Allahabad High Court. It has been working in associations with municipal corporation executives to conduct site examination at the 5 acre area delimited for the project.
Using Google survey and government tax records, the team has identified 110 buildings that will be affected by the upcoming corridor. Their valuation is being decided based on several parameters such as age of the building, nature of the building – residential or commercial, type of residents – owners or tenants/lessee, whether the occupants have valid documents to prove ownership, in whose name is the property registered, and whether the valuation as per tax records is sound.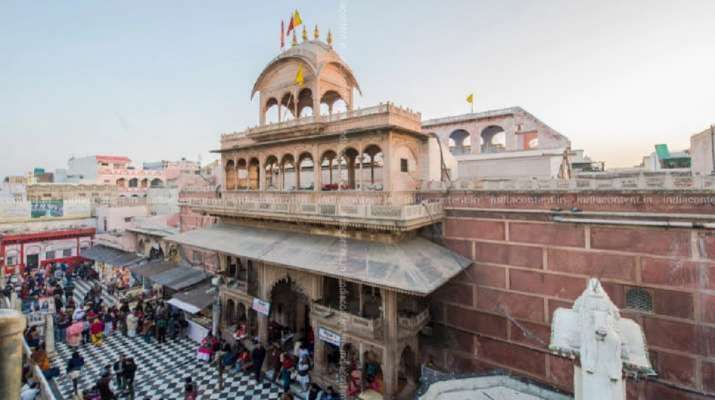 The present Biharipura area of Vrindavan flourished around the ancient Has-Parihas Bageecha, a garden area of around 3600 sq ft where Raja Ratan Singh of Bharatpur built the Banke Bihari temple in 1863. The temple, however, covered only 1200 sq ft. The surroundings were used by the temple goswamis and high officials to build their settlements in the vicinity of the shrine. There also used to be four wells in the bageecha, the remnants of which can still be found. Over time regions grew in area and density, and became the densely populated area that it is today.
Many people who have either been living or owning properties here, do not have complete and or required documents except municipal corporation's tax receipts and/or electricity bills to prove ownership, failing which they will not be able to claim compensation from the government. Considering the seriousness of the situation many business owners and goswamis have decided to approach the supreme court. Banke Bihari Traders Association secretary Amita Gautam said it is necessary to seek the intervention of the Highcourt in order to protect the rights and interest of the common people.