BLOCKADE LIKE SITUATION AROUND BANKE BIHARI TEMPLE
•Administration made new arrangements for crowd control . •Locals are unable to cross barricading without identity cards.
2022.09.20 (Vrindavan Today News): After the stampede took place in the Banke bihari temple during mangala aarati on Shri Krishna Janamashtami, the District Administration of Mathura has introduced some new plans to regulate the influx of devotees visiting the temple. The new arrangements made by the administration to control the crowds and convenient darshan has irked the local traders and residents. It has made the life of the localities very difficult as it is depriving them from their rights for move freely in their own city. They alleged that the decision to impose the new plan was taken arbitarily.
On Saturday afternoon, Senior Superintendent of Police Abhishek Yadav held a meeting with the management, servitors and traders in temple premises and discussed the new system of  arrangements in which local citizens have became alien in their own city. The District Administration of Mathura has imposed an arrangement providing facilities to the visitors by troubling the local residents.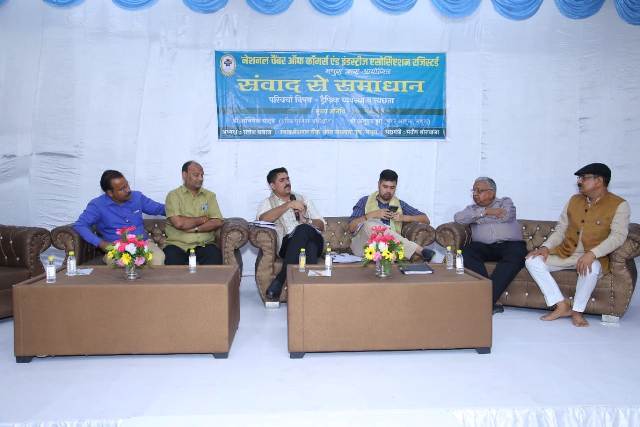 In the meeting, the local citizens especially the people residing around Banke Bihari temple and the traders of that locality demanded that the authorities must show some seriousness by addressing the issues being faced by the locals, after the introduction of the new arrangement. The new plan has not only affected the business of the traders, but caused inconvenience for the school going children, senior citizens and sick. On the contrary, police department did not hesitate to implement its regulations without giving a second thought to troubles daily faced by residents.
Under the new system, no local citizen will be able to go towards the temple from Vidyapeeth intersection, VIP road and Jugal Ghat without identity cards. If any resident doesn't carry the identity card during their movement in the area, they will be considered as the general visitors. The locals have to take off their footwear at the stand made on the approach roads to the Bane Bihari Temple in case they don't carry the identity card.
The SSP assured that this arrangement would be applicable only during the time of morning and evening darshan. The new plan includes the visitors entering in temple from gate number three will be divided into two halves by placing a rope, due to which men and women will be seen in separate lines.
Meeting was held in the presence of CO Sadar Praveen Malik, Temple manager Munish Sharma, Umesh Saraswat, Business leader Dhanedra Agarwal 'Bobby', Alok Bansal, Bunty Gautam, Sevayat Shailendranath Goswami, Gyanendra Kishor Goswami, Himanshu Goswami, Shrivardhan Goswami etc.