Braj Saint Baba Vijay Das Succumbed to Burn Injuries; Last Rites in Barsana Today
The one-and-a-half year long agitation against all mining activity in Adibadri and Kanakanchal hills came to end after his self-immolation attempt on Wednesday. The Rajasthan government has promised to hand over the 749.44 hectare land in question to the forest department.
Barsana, 2022-07-23 (Vrindavan Today News): In a disturbing development, Baba Vijaydas Maharaj who set himself ablaze while protesting against legal and illegal mining on Adibadri and Kankanchal mountains in the Deeg town of Rajasthan's Bharatpur, succumbed to burn injuries on Friday night at Delhi's Safdarjung hospital.
He was brought to New Delhi from Jaipur's SMS hospital on Thursday in a critical condition. According to doctors at Bharatpur's Raj Bahadur Memorial Hospital, where he was admitted soon after the immolation attempt on Wednesday, Baba had sustained about 80 per cent burn. That night itself he was moved to SMS hospital in Jaipur, but his condition kept deteriorating. He was shifted via a 'green corridor' to Safdarjung Hospital, where he breathed his last.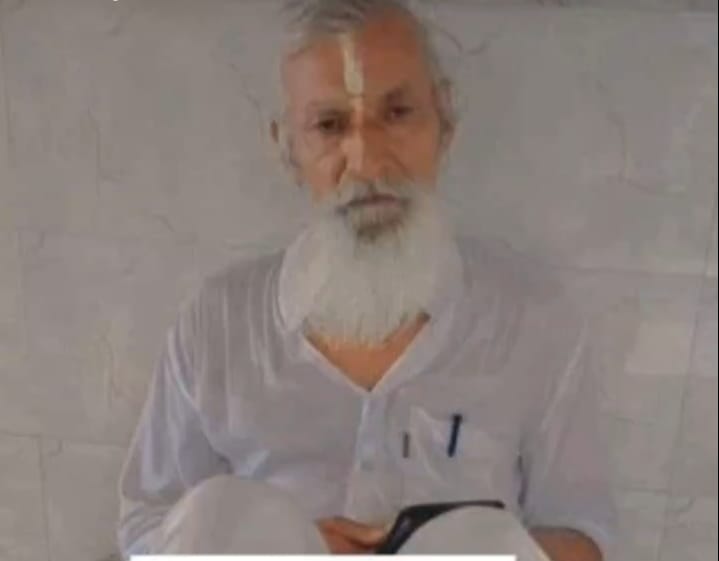 Confirming the death, Pahari Bharatpur Sub-Divisional Officer Sanjay Goel said that he died at about 2.30 am on Friday at the hospital. His body was sent for the post mortem after which it was taken to Barsana, Uttar Pradesh for the last rites.
Baba Vijay Das was a Nimbarki saint and a close associate of Barsana's Ramesh Baba, who is famous as an environmentalist saint. He had been living with Ramesh Baba in Maan Mandir since 2002. In 2021 he moved to Bharatpur's Pasopa village where saints had begun an agitation to demand the closure of all mining activity, legal or illegal, in the Adibadri and Kanakanchal hills.
The 551-day/one-and-a-half-years long agitation came to an end with Baba Vijay Das' self-immolation attempt on Wednesday. Rajasthan Cabinet Minister Vishvendra Singh reached the site of protest, and handed over a letter from the government stating that the 749.44 hectare land in question will be transferred to the forest department.