Chitra Sakhi's birthday celebrated in Chiksoli
Born on bhado shukla paksha dashami, Chitralekha or Chitra was two days younger than Radha.
Vrindavan, 2021-09-16 (Vrindavan Today News): Chiksoli, the nondescript town on the Barsana Parikrama Marg, celebrated the appearance of Shri Radha's third ashtasakhi, Chitra or Chitralekha today. Starting with customary rituals, various observances such as phool bangla, chhappan bhog and brahman bhojan were held at the temple to mark the occasion.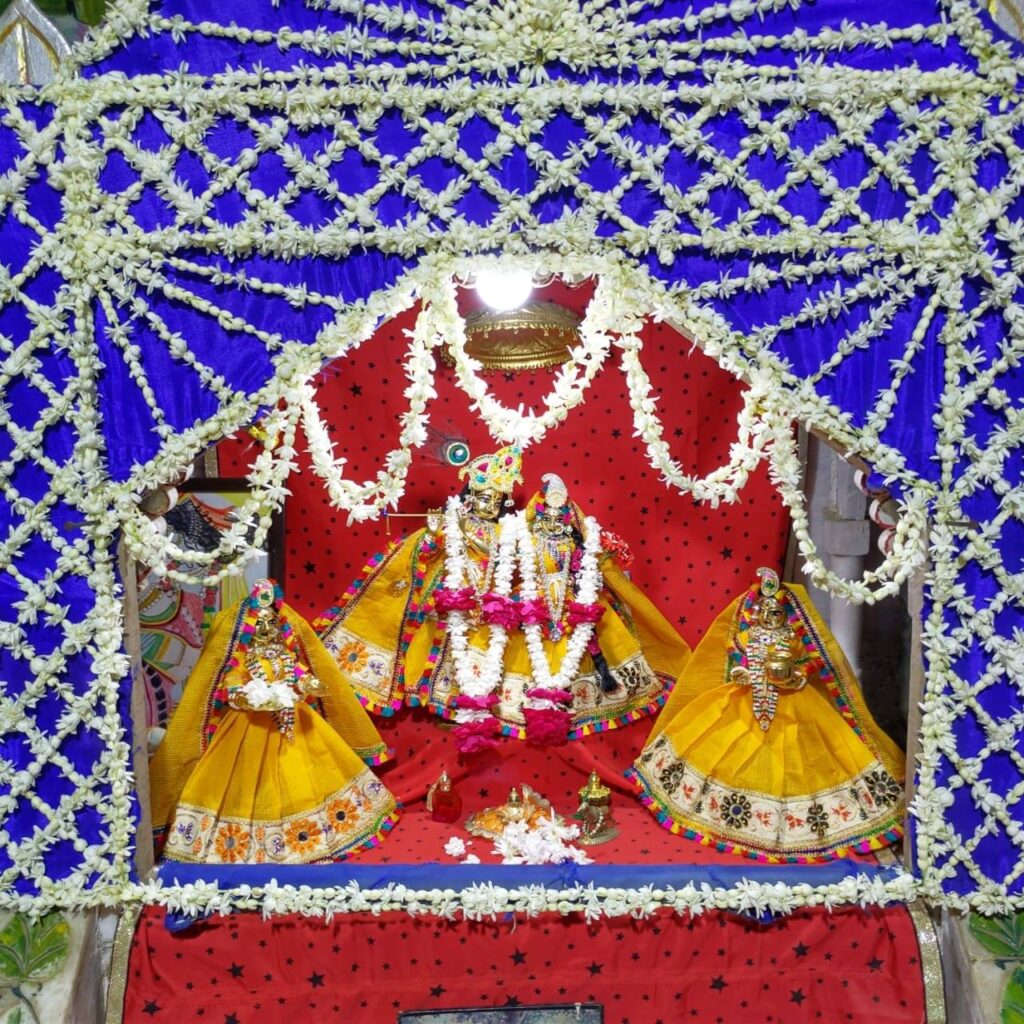 Born on bhado shukla paksha dashami, Chitralekha was two days younger than Radha. She was an accomplished yogini, well versed in ved-vedangas. True to her name, Chitra was a dextrous artist for whom just the glimpse of a person was enough to draw his or her sketch. Her exceptional talent had earned her fame beyond the small village of Chiksoli or Chikitspur, as it was earlier called.
It so happened that one day Radha's brother Shridama asked Krishna for a keepsake picture of His. When Nandababa came to know about Shridama's wish, he requested King Vrishabhanu to send Chitra to Nandgaon because her skill was unparalleled, and Nandababa wanted only the best artist to sketch his beloved son's portrait. However, as soon as she glanced at Krishna, Chitra's hands froze. The Yogini stood dazed, having lost herself to Nandanandana's bewitching charm.
Bemused and not knowing what to do, she confided her state to the sagacious Narada Muni who revealed to her that through Radha's mercy alone will she be able to capture Krishna on the paper as well as in her heart. Having learnt the secret, Chitralekha prayed to Her fervently and was thereupon blessed by Swamini to be included in Her ashtasakhi mandal.
According to the Mahabhava Kallolini, Chitralekha who wears a yellow garment serves the yugal with offerings of various kinds of shringaar. She is also skilled in conveying Shri Radha and Krishna's messages to each other through the ingenious use of signs and symbols.