'Grateful to Gurus Award' handed over to Dr. Satyanarayana Das Babaji
2023.07.29 (Vrindavan Today News): Indica Grateful to Gurus award 2023 was handed over to Mahant Dr. Satyanarayana Das Babaji in a low key event at Jiva Insititue, in Vrindavan. Notable Gaudiya Guru HH Acharya Shrivatsa Goswami of Shri Radharamana Temple handed over the prestigious award to Dr. Satyanarayana Das amid cheers and ovation by the devotees present there. During the felicitation ceremony Acharya Shrivatsa Goswami ji offered a shawl to Babaji and given a cheque on behalf of 'Indica'.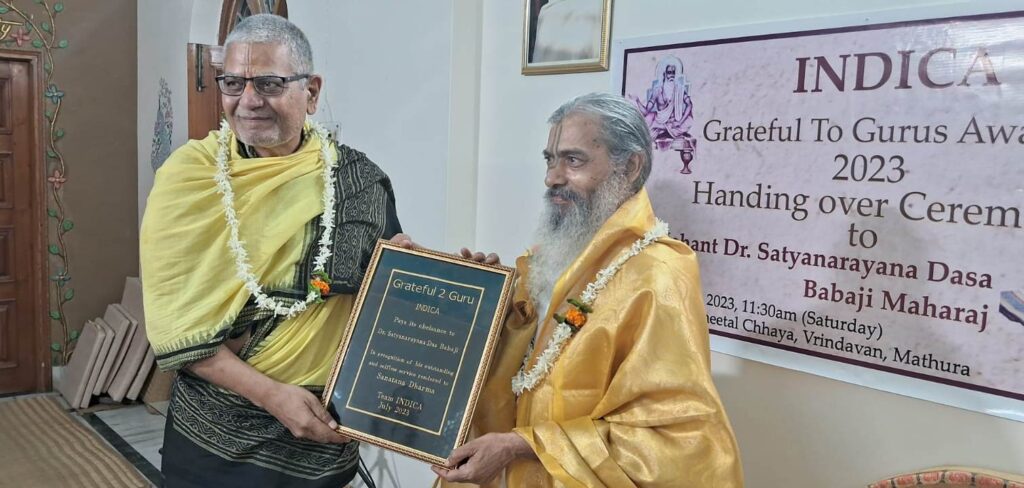 Dr. Satyanarayana Das Babaji is one of the 18 eminent Gurus who received this prestigious honor from Indica. Every year on the occasion of Guru Purnima 'Indica' acknowledges the contribution of the silent Gurus, who have played a crucial role in dispelling ignorance, and activists who have dedicated decades of their lives to preserving and promoting the culture, while resisting the growing assault on Dharmic spaces, traditional Gurus and the essence of Sanatan Dharma itself.
Addressing the gathering, HH Acharya Shrivatsa Goswami said, "We as humans suffer from a predicament of arrogance of being the supreme among all the creatures. But the humans can lead as much they learn from the Gurus. They don't learn anything by themselves. They need a Guru in each step to lead the life, whereas the animals learn to live independently by themselves. The Gurus come in the form of mother, father, teacher, friends and spiritual Gurus. The Gurus learn from their gurus and there is a long chain of gurus to reach up to the Adi Guru, who doesn't learn from anyone, and the Adi Guru is 'Bhagvan' Himself. 'Sakal Kala Adi Guru Ishwarah'."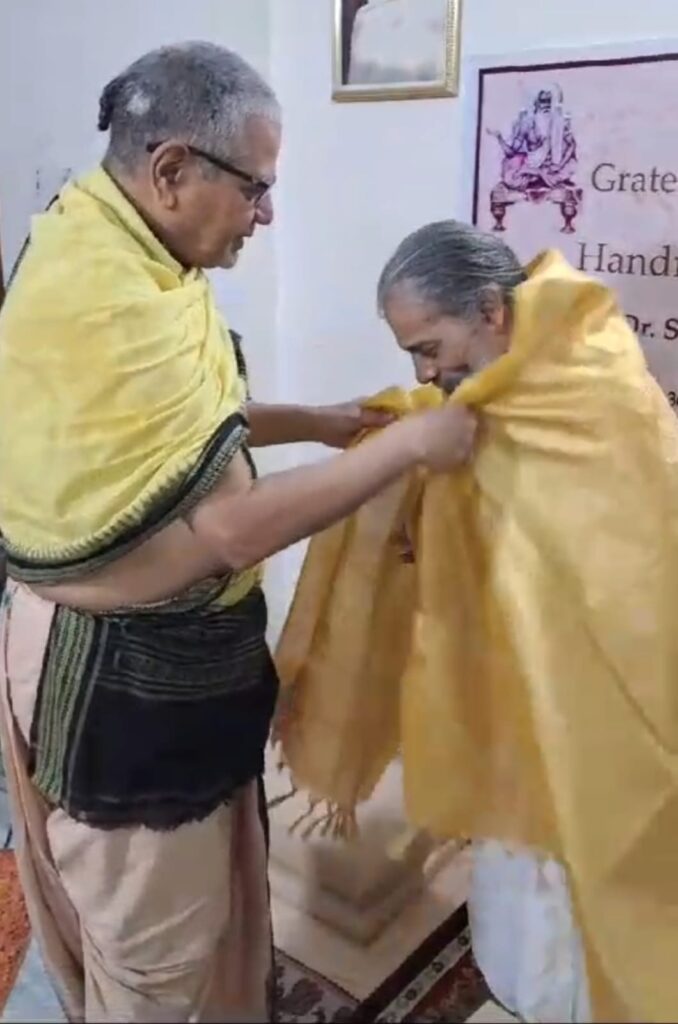 "Babaji's contribution to preserve the Vaishnava Culture by translating the ancient texts is praiseworthy. He is a deserving candidate to receive this honor, as he infused true wisdom to his followers. The knowledge given by the Guru is unique, deep, permanent and of an exceptionally high value," added Goswami ji.
Several dignitaries were present during the award handing over ceremony.
ABOUT MAHANT DR. SATYANARAYANA DAS BABAJI
Mahant Dr. Satyanarayan Dasa Babaji is a Vaishnava scholar and practitioner of the Gaudiya Vaishnava Sampradaya. He is the founder of Jiva Institute of Vedic Studies that promotes Vedic Culture, philosophy and Ayurveda through education. He is the author of more than 15 books including the recent widely acclaimed Sanskrit Non – translatables. Babaji was also honored by former President of India Shri Pranab Mukherjee for his extraordinary contribution towards presenting Vedic culture across the world.
Babaji is also the president of 'Vrindavan Today'.