Holi 2023 schedule in Braj
Braj gears up for a vibrant and lively celebration of Holi 2023
2023.02.27 (Vrindavan Today News): The much-awaited festival of colors, Holi, is around the corner, and Braj is all set to celebrate it with great fervor and enthusiasm. The region, known for its vibrant and lively celebrations, attracts visitors from all over the world. Braj has something unique to offer to every traveler, from the famous Lathmar Holi to the Rangotsav.
The festivities kick off on 27th February 2023 with the Fag Invitation at Nandgaon and Laddu Holi at Barsana. The Lathmar Holi, which is one of the most popular and unique forms of Holi, will take place on 28th February 2023 in Barsana and 1st March 2023 in Nandgaon. Visitors can experience the fun and frolic of this traditional Holi celebration, where women beat men with sticks, and men protect themselves with shields.
On 3rd March 2023, Braj will celebrate Rangbhari Ekadashi, a day when Lord Krishna is believed to have played Holi with his beloved Radha. The celebration will take place in Mathura at Shri Dwarkadish Temple and in Vrindavan at the temples of Shri Radharaman, Shri Radha Ballabh , Shri Banke Bihari temple and other prominent temples. Devotees and visitors can offer prayers at these sacred temples and bask in the spiritual aura of the place, making it a truly blissful experience.
The Chhadimar Holi will take place in Gokul on 4th March 2023, where women beat men with little sticks as per the traditional culture. This colorful event also sees participants smearing each other with colored powder and singing devotional songs, making it a truly vibrant and joyful experience.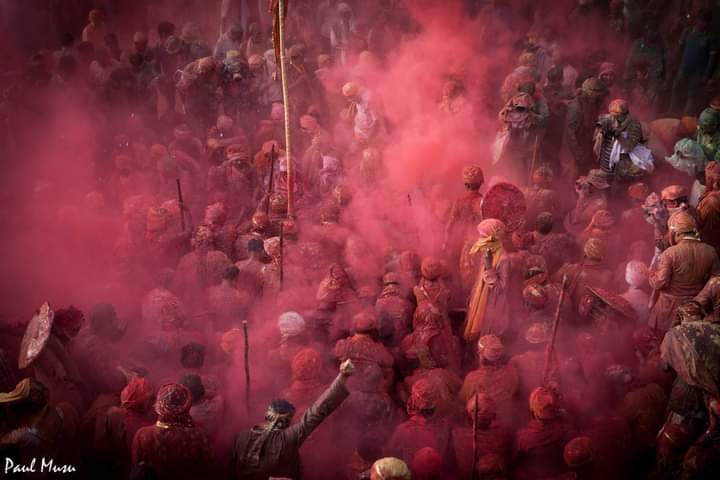 Holika Dahan, which marks the victory of good over evil, will take place on 7th March 2023 in Village Falain. The Dola of Chaturvedi Samaj in Mathura is another significant event, where people dress up in colorful clothes and celebrate the festival with music and dance.
On 8th March 2023, visitors can witness Dauji's huranga in Baldev and Jab's Hooranga in Village Jab. The Charkula in Mukrai is another attraction, where dancers balance a pyramid of lighted lamps on their heads and perform to the beat of drums.
The festivities continue in Gidoh on 10th March 2023 with the celebration of Holi in Village Bathin. Mahavan will celebrate Holi on 13th March 2023, and the festivities will conclude with the Holi celebration at the Shri Rang Ji Temple in Vrindavan on 15th March 2023.
The festivities offer a glimpse into the rich cultural heritage and traditions of India, which have been passed down through generations. Visitors can immerse themselves in the vibrant and joyous celebrations and create memories that will last a lifetime.