Indo-Nepal Cultural Symposium concludes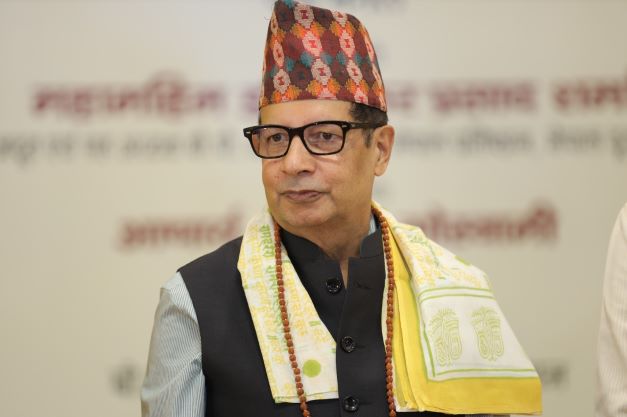 2022.08.11 (Vrindavan Today News): The Four Days long 'Krishnotsava', the Indo- Nepal Symposium of Music and Visual Arts concluded at Gambhira, Jai Singh Ghera in Vrindavan. Several eminent artists from India and Nepal participated in the workshop began from 8th August, 2022.
The workshop was organized by Sri Caitanya Prema Samsthana (SCPS) at Gambhira, Jaisingh Ghera in Vrindavan. SCPS has collaborated with B.P. Koirala Foundation of Nepalese embassy in India to organize the workshop.
During this event the artists made paintings of Shri Krishna and His pastimes. Moreover, the musicians of both the countries performed interactive sessions and shared the knowledge of the traditional music.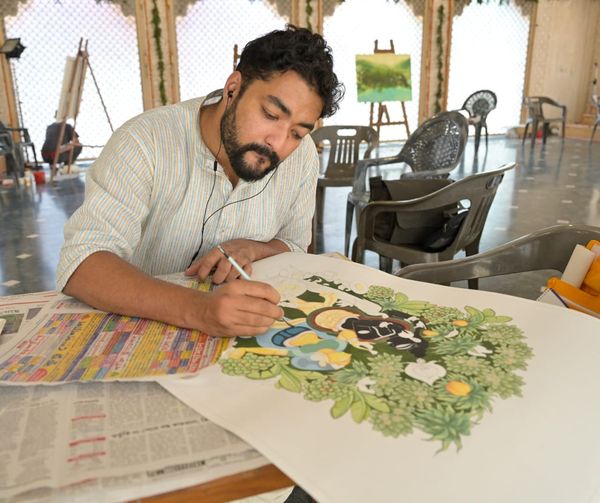 The Nepalese Ambassador to India Dr. Shankar Prasad Sharma was the Chief Guest of the Concluding ceremony of the Cultural Symposium. Shri Sharma honored the artists who participated in the Music and Visual Arts Workshop. In his address to the gathering Sharma said, "I had heard of Krishna Bhakti before, now I can realize it here in Vrindavan. Nepal and India share special closeness and similarity in cultural tradition. Both the countries should share their rich cultural wisdom by organizing the similar camps on Art & Culture."
He further added, "It is heartening to know that a large number of Nepali speaking population is living in Vrindavan to learn Veidc and Karmakand courses. They are imparting the knowledge around the world after learning them from this Holy town. The cultural bonds between both the countries are so strong that nobody can separate them."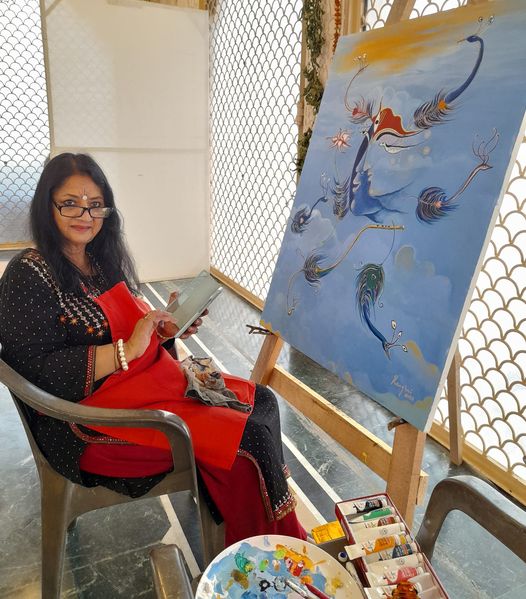 Acharya Shrivatsa Goswami, 'Pradhan' of Sri Caitanya Prema Samsthana said, "If India is the body, then Nepal is the soul. They can't be separated from each other. We worship Krishna in the form of Shaligram that is only found in the River Gandaki.  India is indebted to Nepal for giving us Krishna in the form of Shaligram, the source of which is the River Gandaki that is located in Nepal."
An exhibition of the paintings made by different artists participated in the workshop was displayed at the venue of the event. The Ambassador looked up at the paintings and felicitated the artists by awarding them a certificate of participation.
Ms. Ragini Upadhyaya Grela, the retired Chancellor of Nepal Fine Arts Academy honored the ambassador by presenting him a model of Pashupatinath temple.
In her address Ms. Upadhyaya said that the objective of the B.P. Koirala Foundation is to foster educational, cultural, scientific and technical cooperation between India and Nepal.  It also promotes mutual understanding and cooperation through the process of wide sharing of knowledge and professional talents in both academic pursuits and technical specialization.
The event was graced by Dr. Jai Krishna Agrawal, Retired Principal of College of Arts and Crafts Lucknow.
Shri Lok Chitrakar, SC Suman, Halley Goswami, Ms. Anjani Reddy, Ms. Aastha Goswami, Dr. Ramesh Pukharel, Sunita Rana, Amit Kumar, Fanindra Nath Chaturvedi and many other eminent artists participated in the workshop.