Missing deities of Laddoo Gopal found in Bareilly
Missing deities of Laddoo Gopal were found in Bareilly on Saturday.  They were found in Bareilly's Prem Nagar area. After went missing the deities were  being served by Smt. Sangeeta Sapra, wife of Rajkumar Sapra resident of Model Town of Prem Nagar area of Bareilly.
After seeing the posts in social media and newspaper Smt. Sapra contacted the original servants of the deities to tell them that all the deities were safe at their house.
A Delhi based family of Ashwini Kumar Mehrotra had lost the deities of Gopal ji at the Banke Bihari Temple on 24th March. The family announced a cash reward of Rs. 11,000 to the person who finds or inform about Gopal ji.
Shri Mehrotra, a resident of Delhi's Ramesh Nagar had taken the deities of Laddoo Gopal for darshan at Banke Bihari temple in Vrindavan, where it went missing.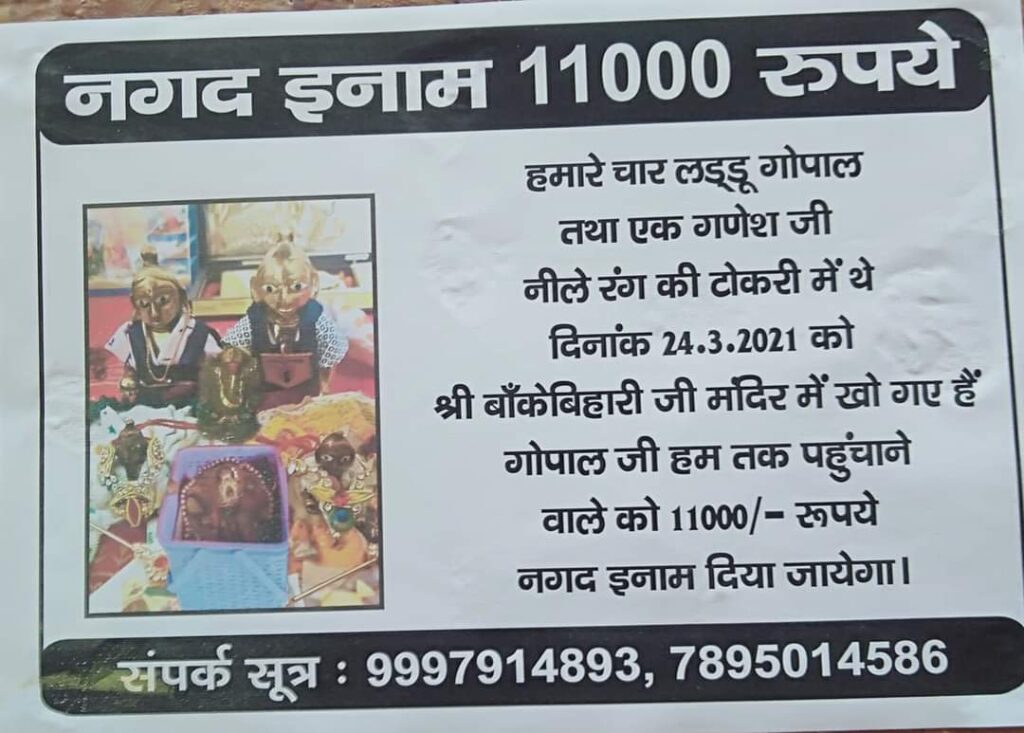 According to the family sources, they had been worshipping Laddoo Gopal for 27 years. The family went to Barsana on 23rd March to attend the festival of Holi. The next day, they went for the darshan at Banke Bihari Temple. The family was carrying four deities of Gopal ji and a deity of Ganesh in a blue basket.
On reaching the temple, the family requested Shri Sharad Goswami at the Banke Bihari Temple to place the basket in the temple with Bihari ji. On request of the family, Goswami ji had kept the basket in the Jagmohan. After Rajbhog Aarati when the family went to take the deities from the temple, they found them missing.
The family had been searching for Gopal, since it went missing. It was when they failed to locate the deities; they decided to announce a cash reward of Rs. 11,000 by printing posters and pasting them on the walls of Vrindavan.
After seeing the social media posts and the news on the local dailies, Smt. Sangeeta Sapra telephoned the Mehrotra family to inform them about the Gopal ji.
Smt Sapra said, "Every time we come for darshan, we do some seva in the temple. I was cleaning the flowers spread in the temple on that day. A lady came to me with the basket containing the deities and asked me to hold it. She said that that she would take the basket back after having darshan."
"I waited for her outside the temple till 1.45 pm, but no one came to collect the basket. When I opened the basket, I found four Laddoo Gopals and a Ganesh ji. I took them to my home and established in my home temple," added Mrs. Sapra.