Radha Ballabh of Shri Hit Harivansh
Given the amount of time Thakur ji spends enjoying the many elaborate services behind the veil (pat), he has rightfully earned the moniker 'Radhavallabh – Darshan Durlabh'.
Vrindavan 2021.10.20 (VT): Our destination for day 5 of Braj Darshan with Vrindavan Today is Shri Radhavallabh Temple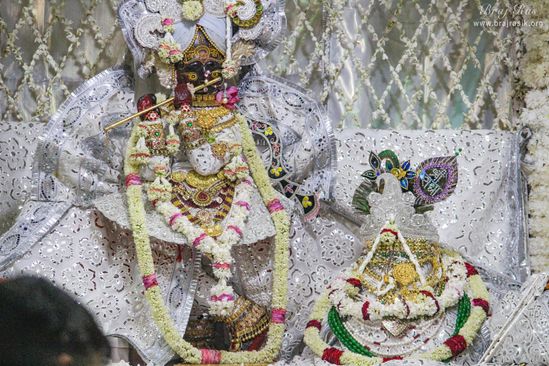 मुरली वादनानन्दम्, राधिका चित्त चन्दनम्।
श्रीराधावल्लभं वन्दे, हरिवंशैक जीवनम्।।
Glory to Shri Radhavallabh who enraptures Shrimati Radhika with the sweet sounds of His flute. He alone is the life-breath of Shri Harivansh
The Radhavallabh Temple is one of the seven ancient and most popular temples in Vrindavan. Founded by Mahaprabhu Shri Hit Harivansh, it emphasises devotion to Shrimati Radhika who even though non-different from Her lord, signifies Her presence through a crown placed next to Him.
The temple follows the tradition of 'saat aarti, panch bhog' (seven aarti, five bhog) as part of ashtayam seva. Another well-preserved custom here is that of samaj gayan where verses from Shri Harivansh's compositions such as 'Hit Chaurasi' and 'Sphut Vaani', Chacha Hit Vrindavandas's 'padbandh' and Dhruvdas' 'Bayalis lila' are sung for the deity's pleasure every night. Shri Radhavallabh Lal's Byaula Utsav (marriage), Khichdi Mahotsav and Radhashtami celebrations are particularly popular.
Given the amount of time Thakur ji spends enjoying these loving services behind the veil (pat), he has rightfully earned the moniker of 'Radhavallabh – Darshan Durlabh' (one who gives darshan with great difficulty). Devotees feel blessed to have a vision of this most endearing and elusive Thakurs of Vrindavan.
Shri Hit Harivansh is regarded as the incarnation of Krishna's flute. Divine inspiration brought him to Vrindavan at the age of 32, until when he lived in Deoband. On the way he had to rest for a night at Chirthawal village where, appearing in a dream, Radharani told him to get married to the Brahmin's daughters. He received the vigraha of Shri Radhavallabh lal as 'kanyadaan' during the ceremony.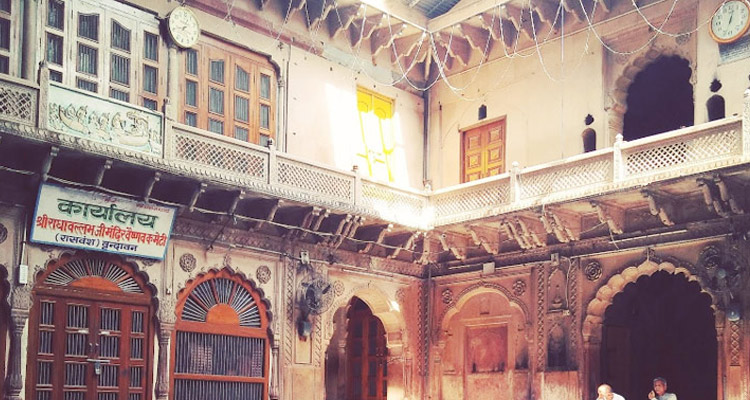 When Hitacharya came to Vrindavan it used to be a desolate forest. Arriving here, he first served the deity at Madan Ter (Unchi Thaur). Seeing Thakur ji's entrancing vigraha and Mahaprabhu's devotion to Him, Brajwasis chimed in enthusiastically to celebrate Shri Radhavallabh's first patotsav (appearance day) on kartik shukla trayodashi. The deity was also served at Sevakunj for nearly 50 before being moved to the temple.
The old temple was built by Emperor Akbar's treasurer Sundardas Bhatnagar in 1626 AD. Akbar had allotted 180 bigha land to the seven ancient temples of Vrindavan, of which 120 bigha alone went to Shri Radhavallabh. During the reign of the Mughal tyrant Aurangzeb, the spire atop the red sandstone structure was destroyed. Thakurji was moved to safety in Kamyavan (sambat 1727). He is said to have returned to Vrindavan in sambat 1800. Shri Radhavallabh Lal also spent a year in hiding at Gadadhar Bhatt's Goshala.