Students use paintbrushes to address Yamuna Pollution
The students of Bhaktivedanta Gurukula and International School gave the message of 'Environment Protection' with the paintbrushes and pencil at the 'Paryavaran Khalsa' camp at 'Vrindavan Kumbh'.
The hour long painting activity aged between 10 and 16 took place at the camp set up by 'Friends of Vrindavan' for environmental activities. The students were given the theme of 'Yamuna Pollution' and 'Deforestation'.
The participants expressed their concern on the both the issues with paintbrushes and pencils. As it is said one picture is worth thousand words, the paintings made by students showed the depressing reality of the condition of the environment in Braj – Vrindavan.
After the painting activity the students explained how fast the world is losing the nature's gift of trees and rivers. Once green, Vrindavan has seen unrestrained loss of greenery in the name of development. The groves and forests have been replaced with the new townships and housing societies. Thousands of trees that were the ambiance of the original character of Vrindavan have been cut in the greed of making money.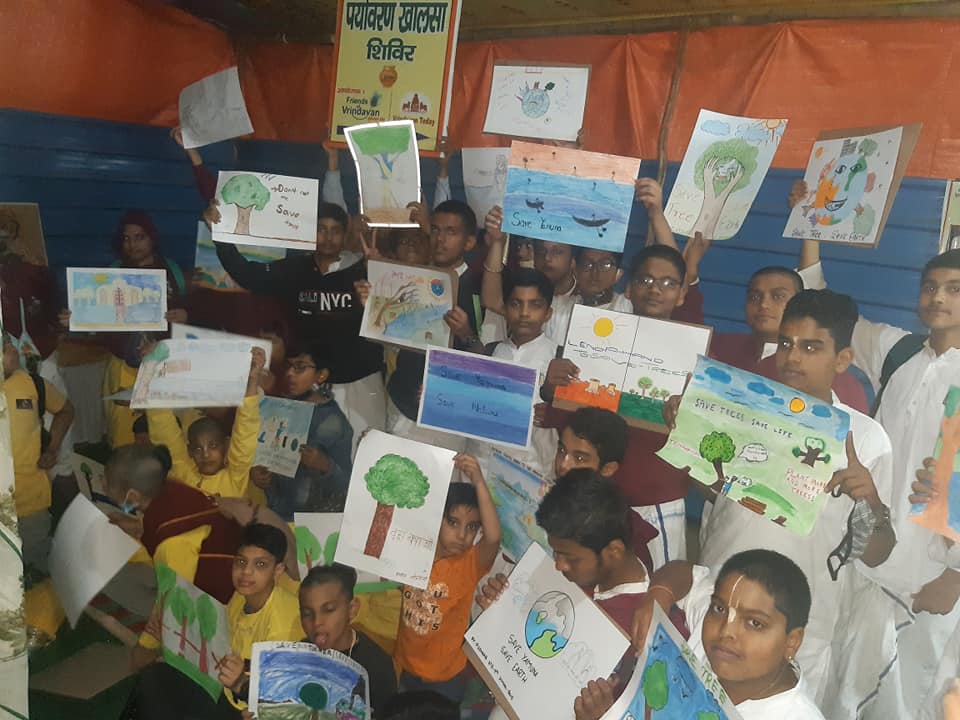 In other hand, the Yamuna which is the life line of Vrindavan is polluted and its water is not fit for bathing. The sewerage flowing into Yamuna has killed the river. Yamuna being the wife of Krishna is worshipped by His devotees. The government must take all the necessary steps to ensure the river flows uninterrupted and unpolluted.
Talking to 'Vrindavan Today', Bhaktivedanta Gurukul's Principal Shri Radhakanta Das said, "While giving value education and teaching the Vedic lifestyle in Gurukula, we also train the students to save environment. We have been partners with 'Friends of Vrindavan' in Eco School activities for a decade."
"We have done several activities together to ensure that the children become conscious to save the mother earth by adopting eco-friendly habits," added Shri Radhakant Das.