Sudevi faces shortage of space to keep the suffering cows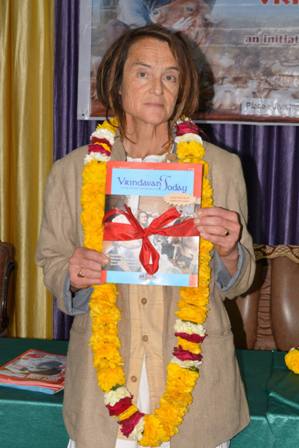 Shri Radha Surbhi Goshala is reeling under the problem of space crunch. The Goshala in Radhakund is said to be the most popular Goshala in Braj. The Goshala is spread over two acres of land and it houses over 2400 cows and bulls. The cattle are kept in small pens and there are separate enclosures for the ill ones.
Majority of the cows brought to the Goshala are the ones that are homeless, deeply suffering, handicapped and injured. The remaining are rescued by 'gaurakshaks' from cattle smugglers. Everyday this Goshala receives cows, calves and bulls that are mostly injured.
The injured, handicapped and abandoned cattle are given proper medical care and nursed by the Goshala staff. All the cows are kept well and properly fed to give them a feeling of their own home. They live there till the end, and when they die, they get a dignified farewell by proper burial.
This Goshala is run by Padma Shri Awardee Sudevi Dasi, (Friederike Irina Bruning). The 63 year old German animal rights activist received the fourth highest Indian Civilian Award for serving the cows. While the cows and bulls are given proper care in her Goshala, the current available space is not enough to accommodate such a big number of cattle. Every day on an average of 10 new cows, calves or bulls are brought to the goshala.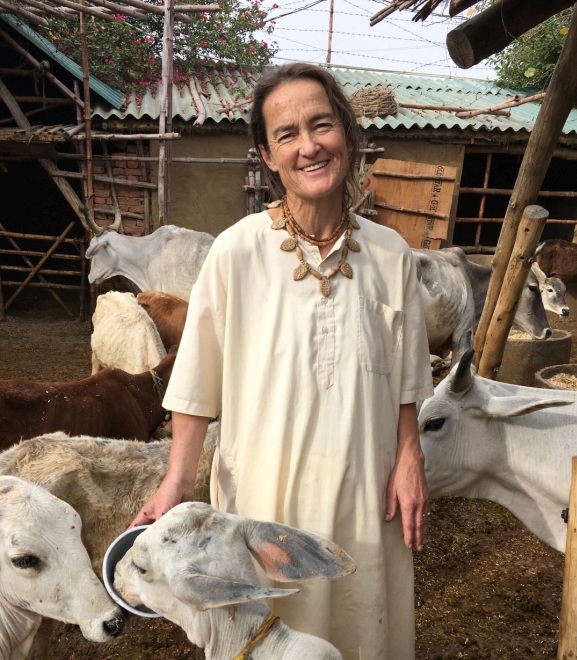 Sudevi Dasi has requested the Uttar Pradesh Government to provide her a land to set up a bigger Goshala. Talking to the media she said, "We need a big piece of land desperately to accommodate cattle properly. We can't turn away the people bringing sick and injured cows to our Goshala. We are running out of space to keep more cows. It is getting difficult with each passing day."
"Many people came to our goshala and made tall promises to get a new land for our goshala, but they never turned back. Our voice is not reaching to the UP Chief Minister Yogi Adityanath, who is also a great cow lover himself. He is not aware of the problem we are facing to serve the cows. If he is made aware of the situation of our Goshala, we trust that a land for the cows will be immediately provided." said Sudevi.
Sudevi Dasi has been running a Goshala, since 1996, caring cows of Braj. She has rescued more than 20,000 cows since she started the Goshala. She serves the cows with her own hands and dedicated her life for the cows in distress.
Gosevak Pt. Damodar Shastri of Vrindavan said, "The government must provide land to Sudevi Dasi to serve the cows. She is doing an exemplary work, which the government has recognized by honoring her with the fourth highest civilian award of India" " If she is not supported by the government to serve her cause, then what was the use of giving such honor?," asked Shastri.