Navratri Special (Day-1): Shri Chamunda Devi of Vrindavan
April 2 to 10, 2022 India is celebrating the festival of Chaitra Navaratri – the nine nights dedicated to Devi. Like everything else, Navratri in Braj is also subsumed in Krishna Bhakti, whether through the worship and contemplation of Radha and her ashtasakhis or through the nine manifestations of Devi associated with Krishna lilas in various forms and names. Everyday during 'Navratri' our article s will take readers on the trail of Braj's own shakti peethas – the nine energy centres dedicated to celebrating the feminine. On the first day of Navratri we pay our obeisance to Shri Chamunda Devi of Shri Dham Vrindavan.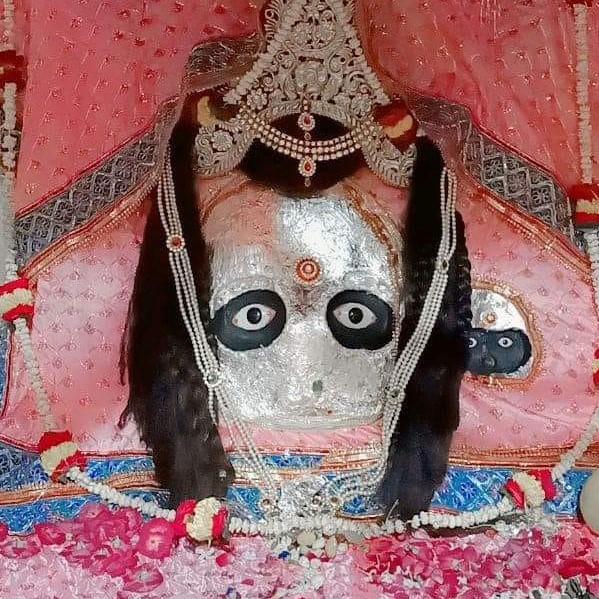 ॐ ऐं ह्रीं क्लीं चामुण्डायै विच्चै
Chamunda Devi, Vrindavan
One of the first mystical experiences Chaitanya Mahaprabhu had on coming to Vrindavan was the darshan of a little girl. Seeing her all alone in the desolate forest, Mahaprabhu was surprised. Nevertheless, he requested her to guide him to Vrindavan. The girl told Mahaprabhu that he was standing at the entrance of Vrindavan; it was where Vrindavan began, and then, she disappeared.
On returning to Jagannath Puri, Mahaprabhu shared all his experiences including the above with his disciples and associates. While he was sending Roop, Sanatan and other goswamis to Vrindavan for its rediscovery and restoration, he revealed to them that the little girl he had met there was none other than Devi Yogamaya. Mahaprabhu instructed them to build a temple for her at that spot. The shrine, which is perhaps the first one built by Roop and Sanatan Goswami in Vrindavan, became known as Chamunda Devi.
It is believed that Shri Radha herself guards the entry to Vrindavan as Chamunda Devi. It is only by her will and causeless mercy that one can enter Dham, and live there under her divine, motherly protection.