MP Hema Malini met Gadkari for Braj Chaurasi Kos Parikrama Development
2022.04.01 (Vrindavan Today News): The Ministry of Road Transport and Highways is planning to rebuild and expand the Braj Chaurasi (84) Kos Pariyojana in the district of Mathura, spanning across borders to parts of Haryana and Rajasthan. This new developmental work is proposed to facilitate the travel and convenience of pilgrims to this holy site.
The Chaurasi Kos Parikrama Marg of Braj is a road in Mathura District, connecting all key religious shrines of Braj.
Devotees undertake this pilgrimage barefoot on this 269 km road round the year, as a Mathura seer commented. Even though this Parikrama has ancient roots, it is highly disorganised of late. Devotees carrying out this Parikrama face a lot of hardships and trouble due to this lack of organisation. To alleviate the suffering of pilgrims at the earliest, Mathura MP Hema Malini met with the honourable Minister of Road Transport and Highways, Shri Nitin Gadkari, to discuss the project and put forward a memorandum of appeal to expedite the same.
This project was announced by the National Highway Authority of India (NHAI) with a proposal of Rs. 5000 crore. On Tuesday, March 30, MP Hema Malini along with the UP Braj Teerth Vikas Parishad Vice Chairman, Shri Shailajakant Mishra, met with the honourable minister. She emphasized the importance of Braj being a prominent place of worship as it is the birthplace and hometown of Lord Krishna. Crores of pilgrims and tourists visit Braj throughout the year.
This high volume of traffic and foot fall led to the decision of declaring the Parikrama route a national highway, designated as NH108. This project would help developing Padav (camps) areas along the route. Smt. Malini also discussed the 2 roads in connection with the Braj Parikrama route with Shri Gadkari.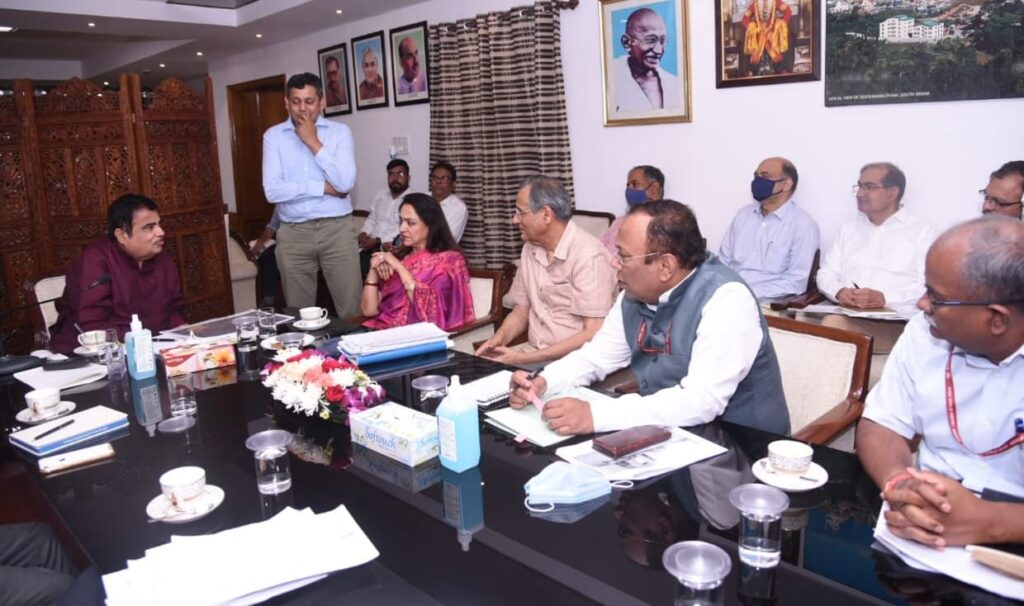 UP Braj Pilgrimage Development Committee has made a conceptual plan to decongest the overcrowded roads to Vrindavan by proposing an elevated road connecting Vrindavan, Gokul, Brahmand Ghat and Chitraharan. This proposal was submitted by Chief Secretary UP to Chief Secretary Govt. of India and had requested to complete the elevated road on priority. UP Chief Minister Shri Yogi Adityanath also wrote a letter to the Central Ministry regarding the proposal. The elevated road would be a part of the Braj Chaurasi Kos Marg and will merge into NH19, ahead of the Mathura refinery.
Smt. Malini also put forward a memorandum of appeal to maintain and decongest the various squares in and around Mathura city.
Crores of devotees visit Braj every year. There are many intersections which connect Mathura and Vrindavan to NH 19 Highway. Some of the prominent ones are Chatikara diversion, Gokul Restaurant square, Govardhan T Point, Mandi square, Maholi road square, and Township T Point. These are major places which people use to reach and return from Mathura and Vrindavan. Flyovers have been constructed at these connecting places. However the water drainage in the Service Roads is not proper and lot of debris is lying on these service roads. This creates lot of hurdles for the travellers. Smt. Hema Malini also requested for proper maintenance of these connecting places to avoid inconvenience to devotees.
Govardhan Connect to be made ready
Crores of pilgrims throng Govardhan Parikrama every year. During the auspicious days from Ekadashi to Poornima there is heavy rush of devotees, and this creates traffic jams as the roads leading to Parikrama get choked. A proposal to connect Govardhan to National Highway 19 has been made. This proposal, "Govardhan Connect" is expected to be adopted by NHAI. Govardhan Connect would connect Chatikara and Hindustan College to NH 19 Highway. MP Smt. Hema Malini stressed that this would provide permanent solution to the regular traffic problems which people face and also provide a big boost to the tourism in this area. She once again requested that the project be adopted by NHAI.