481st 'Prakatyotsava' of Shri Radharaman
Devotees Celebrate Appearance Day of Thakur Radha Ramana Lal Ji with Fervor and Devotion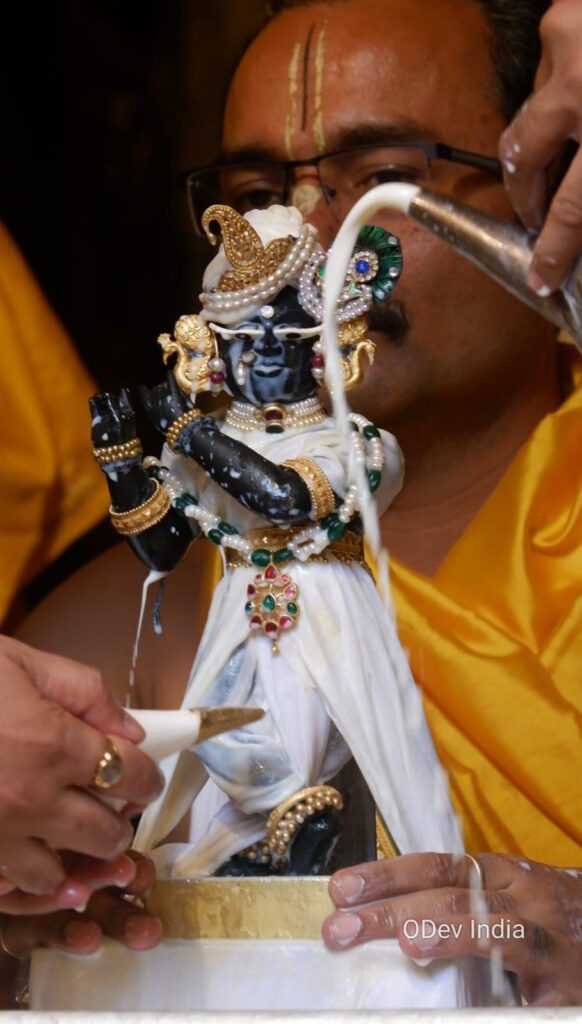 2023.05.06 (Vrindavan Today News): Shri Radha Raman Temple, one of the Sapta Devalaya Temples of Vrindavan, celebrated the appearance day of Thakur Shri Radha Raman Dev Ju with great fervor and devotion on Friday. Shri Gopal Bhatta Goswami manifested Shri Radharaman on this day of Baishakhi Purnima. The temple's streets were filled with the sounds of devotional singing and worship, as devotees from far and wide gathered to celebrate the auspicious occasion.
The devotees danced and sang throughout the day, expressing their deep reverence and devotion to their beloved Lord. The temple's galis (lanes) were crowded with people engaged in bhajan sangeet (devotional singing) and seva-puja (worship service).
The temple was abuzz with devotees from early morning, chanting and singing hymns in devotion to their deity. The abhishek, or holy bathing ritual, of Thakurji began around 8.30 am with the aarti and Mahabhishek with Panchamrit, a mixture of milk, curd, honey, sugar, and ghee, amidst the chants of "Badhai ho, badhai ho" by the devotees. The air was filled with the sound of bells and hymns as the devotees immersed themselves in the holy ceremony.
The police and security personnel had to put up barricades to control the overwhelming crowd, which swayed to the beats of the drums and the sound of the conch shell. The temple administration had made elaborate arrangements for the devotees, including arrangements for drinking water and prasad distribution outside the temple.
Followers hailing from different corners of the nation and beyond came together to commemorate the 481st appearance festival of their beloved deity, rejoicing through the day with soulful renditions and devotional dance to the tunes of hymns such as "Radha Raman Radha Raman Radha Raman Kaho."
To handle the influx of visitors, the police administration and temple management allowed entry to the temple from the new hall adjacent to the temple building. Subsequently, the devotees were evacuated from the Singhapur gate via the Patitpavana gate.
Also read: https://vrindavantoday.in/the-marvelous-history-and-rituals-of-shri-radharaman-temple/