Bhagvat Saptah to save Braj's natural resources from Pollution
A Shrimad Bhagvat Saptah Yajna is being organized at the 'Paryavaran Khalsa' camp in Vrindavan's Vaishnav Maha Kumbh. The Seven day long Bhagvat Saptah began on Ekadashi, on the day of Second Shahi Snan by Dr. Bhavesh Dubey (Gwaria Brajwasi). The 'Katha' focuses on Shri Krishna's actions in saving the environment.
Scores of environment lover devotees gathered during the 'katha' to listen about the Divine acts of Shri Krishna in protecting the Ecology and Mother Earth. Gwaria Brajwasi highlighted the true meaning of Lord's divine acts in conserving the ecology. He said, "Lord Varaha saved the Mother Earth from getting submerged in the water. Spirituality and Environment conservation go hand in hand."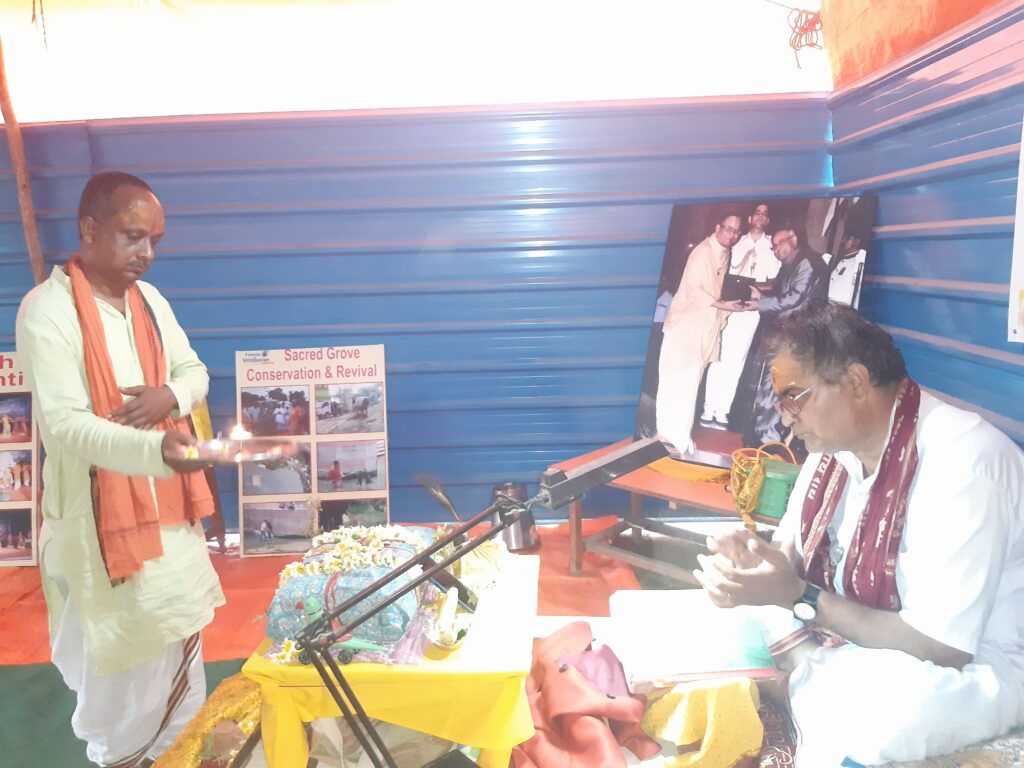 The Bhagvat Saptah involves reading, preaching, and interpretation and singing of verses and it was filled with colors of devotion, laughter, tale of separation and union with Shri Krishna. During the 'katha' Gwaria Brajwasi, the main orator of the katha, explained every aspect of the religion in connection to the preservation of the environment. Shrimad Bhagvatam provides that light which enables Jiva to enjoy the nature and experience the wonderful freedom of liberation.
Shri Deepak Goswami, assisting in 'Katha' by reading the original verses of Shrimad Bhagvatam said, "Yamuna was much polluted during Shri Krishna's time due to the poison of the serpent Kaliya. The Lord didn't allow to increase the level of pollution, but forced the serpent to leave Yamuna by chastising him." "Being the devotees of Shri Krishna, we must not allow the pollution to rule our lives," added Shri Goswami.
Jagannath Poddar, Director of 'Friends of Vrindavan' said, "The purpose of organizing the 'Bhagvat Saptah' is to spread awareness of the deteriorating ecological conditions of the hills, forests, groves, kunds in Braj – Vrindavan', with the special focus on Yamuna." "No activism can help without the Divine intervention to save our natural resources," added Shri Poddar.