Second Shahi Snan of Vaishnava Mahakumbh held in Vrindavan
Lakhs of devotees took dip in the Yamuna during the Second Shahi Snan of Vrindavan's Vaishnava Mahakumbh on Vijaya Ekadashi. The Shahi Snan followed the 'Shahi Peshwai' in which the Sadhus and Mahants took out a grand procession which marched past the streets of Vrindavan. The Peshwai marks the arrival of the members of an akhara or a sect of sadhus at the Kumbh Mela.
The Sadhus performed acrobatic skills and breathtaking display of their martial skills with the help of the swords. The procession was pomp and ceremony with elephants and horses. The Royal Procession began from the Kumbh Mela site, then it went through the different streets of Vrindavan, where the shopkeepers and residents welcomed it by showering flowers.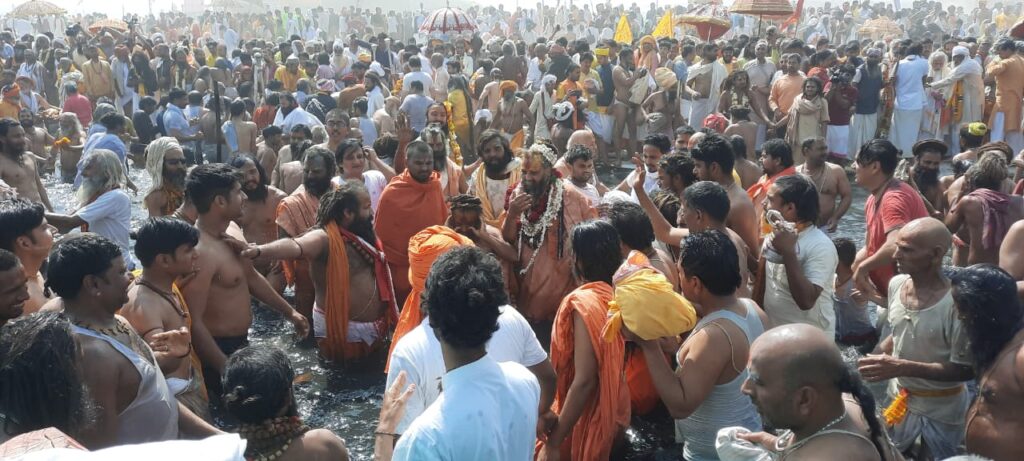 The three Ani Akharas of the Nirvani Ani Akhara, Digambar Ani Akhara and Nirmohi Ani Akhara led the Peshwai, followed by the Mahamandaleshwars and seers of the other Khalsa. The newly built Devraha Baba Ghat echoed with cheers since early in the morning. It was a unique experience for the onlookers. The Sadhus took the Royal bath in Yamuna after returning from Peshwai.
Though the fresh water was released in Yamuna from the Ganga canal before the Shahi Snan, it was insufficient to make it fit for bathing.