Braj Raaj Dauji covered with quilt to protect Him from chilling cold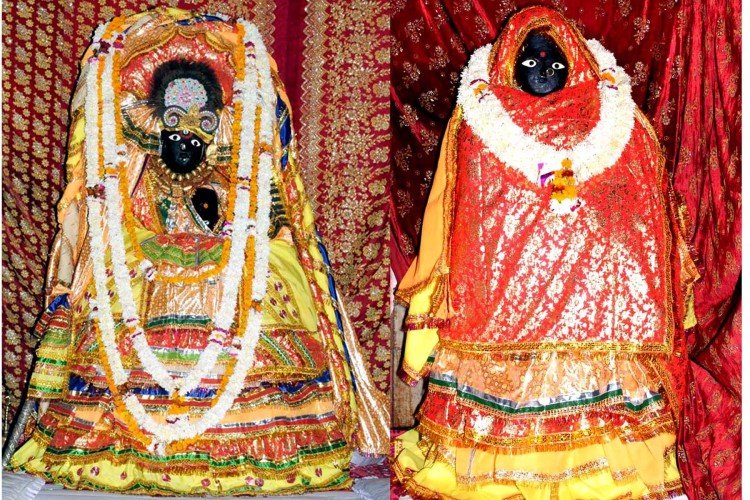 2021.12. 20 (Vrindavan Today News): Brajraj Thakur, Shri Dauji Maharaj's 441 Prakatoksav was marked with a delightful celebration on Agahan Poornima on Sunday. Lakki Mela or Fair is organized every year during this time which lasts for one month. Traditionally lord Dauji is covered with a quilt on every Margshish Poornima. This festival coincides with the foundation day ceremony of the Dauji temple in Braj. This is also known as Lakki Mela due to the large number of devotees that gather here for this occasion.
This ritualistic event is also known as Gaddal Poornima, getting its name from 'gaada' i.e quilt. This signifies that the cold climate has begun in Braj and one should start protecting themselves from cold. At this time, the lord is covered with a quilt. Keeping in mind the harsh cold climate, there are few changes done in the daily routine like going to bed early with a late morning rise. There's a change to their cuisine and dresses too.
Inside the temple, there's a beautiful deity of the divine couple. According to the archeologists, the deity established in the temple is of lord Krishna's era. This temple is one of the oldest pilgrimage sites in Braj. The beautiful blackish deity is 8 feet tall whereas the width is 3.5 feet and is seated on a grand throne. On its back there is 'Sheshnag' casting a shadow. In front of Brajraj there is a beautiful deity of His Consort Revati Mata.
It is said that Kheer was offered to Brajraj when he appeared and even now devotees are seen offering this in Braj Bhog. Whereas in the Bal Bhog, Makhan and Mishri is being offered to the lord.
Crowds of devotees were enthralled to participate in the worship of Dauji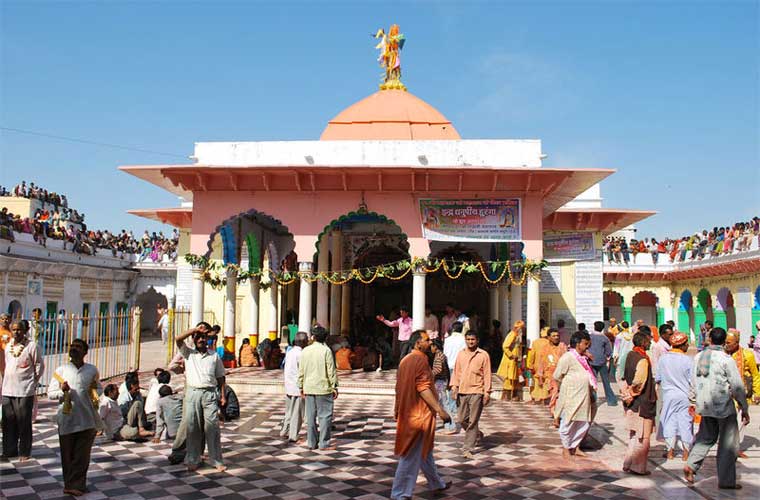 Devotees offered bhoga of Makhan and Mishri to the lord. They were seen dancing on various bhajans in the spirit of devotion. Deities were beautifully dressed after Maha Abhishek. Their gorgeous form fascinated everyone who came to seek their blessings. The temple was elegantly decorated and music was being played, while the scholars recited the Balbhadra Sahastranama.
Lakki Mela was commenced by Vidhayak Puran Prakash, Chairman Kamal Kumar Pandey and SDM Devendra pal Singh. Nagar Panchayat has made provisions that include good electricity supply, water availability, cleanliness and water tankers have been arranged for the shopkeepers, vendors, circus staff and other people engaged in such services.
Chairman Kamal Kumar Pandey has said that this time there would be cultural and entertainment programmes too. He also assured that covid norms will be followed strictly. Vidhayak Punam Prakash said, " This Mela is historic, legendary and ancient. We're working to make this event a grand success."
The present day temple was built by Shyamlal Seth from Delhi. It is believed that the deity of Dauji Maharaj and Revati Mata was manifested in the year 1582 to Goswami Shri Gokulnathji, who's the grandson of Shrimad Vallabhacharya Mahaprabhu. A grand temple was built for Dauji Maharaj in 1983. The custom has been carried on since then. The seva of the deities were handed over to Shree Kalyan Dev whose family is engaged in this service even today.