Cow-dung images of 'Govardhan Nath' special attraction on Govardhan Puja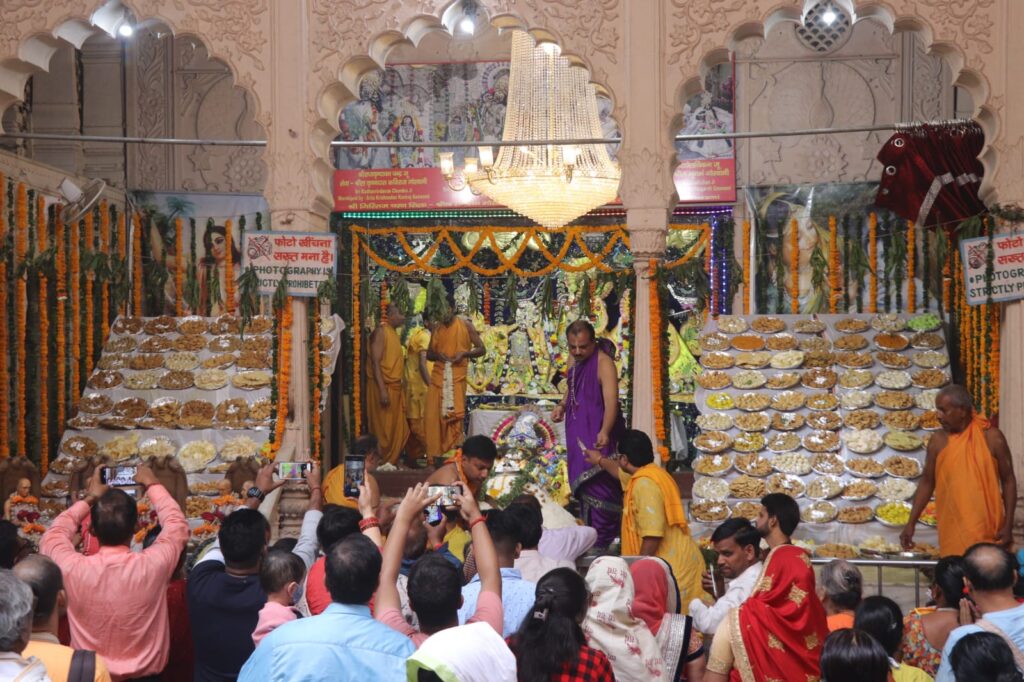 2021.11.05 (Vrindavan Today News): Govardhan Puja is one of the most special days of the year for the Brajwasis and the devotees of Shri Krishna.
Five thousand years ago, Shri Krishna instructed the Brajwasis to worship the Hill of Govardhan, and revealed that the Hill is a form of His own self. During that first Govardhan puja, the Brajwasis worshipped Govardhan by offering Him huge amounts of food, and Shri Krishna accepted their offerings, in the form of 'Giriraj'.
Brajwasis have been following the custom since the time of Shri Krishna. Like every year, the Brajwasis worshipped Govardhan Nath and offered Bhog to Him. They performed abhishek by bathing the 'shilas' of the sacred hill with milk and yogurt and other dairy products. Flowers and new clothes were offered and lamps were lit for him.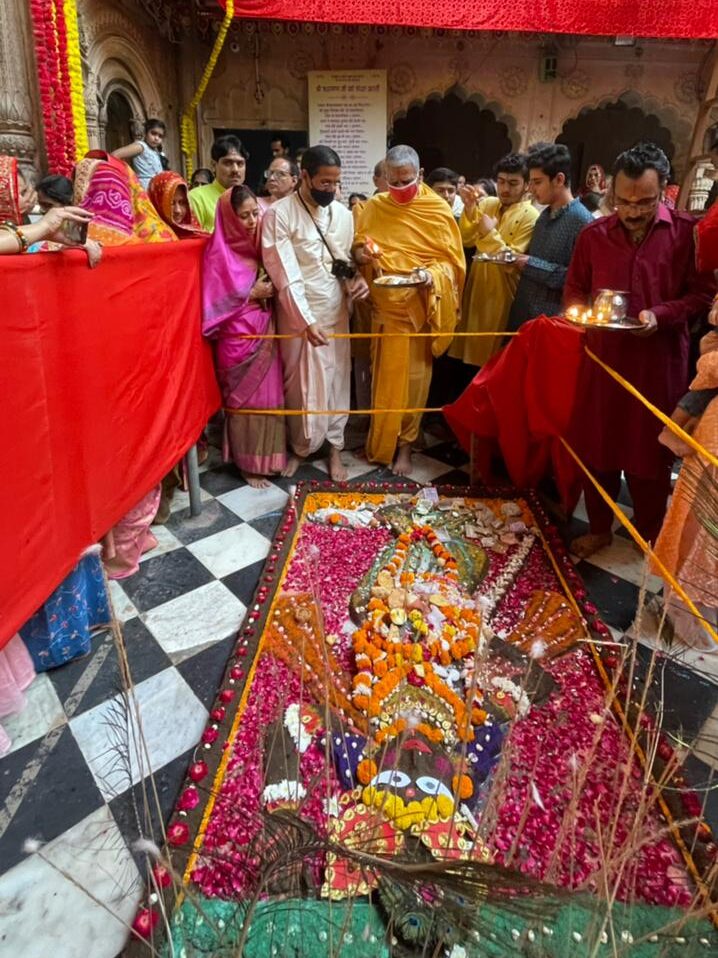 Many of the Brajwasis performed Giriraj Parikrama on this day.  Throughout the villages of Braj, the Brajwasis made the cow dung hillocks and the statue of Shri Krishna lifting the hill.  The Cow dung replica of Govardhan Nath worshipped in every house of Braj. Conversely, many devotees from Bengal replicate the mountain with a pile of rice, which is then offered to the deities.
In Vrindavan's ancient temples, Chhappan bhog (56 types of food) was offered to the deities and mountain of rice was also made in some temples. Images of ''Govardhan Baba' was artistically carved out of cow dung in the temple courtyards. It was ceremoniously worshiped with special rituals. Devotees from several parts of the county and foreigners visited the temples and celebrated the 'Govardhan Puja'.
In Govardhan, hundreds of thousands of devotees performed Govardhan Parikrama – the sacred walk around Govardhan Hill. The main temples like Giriraj Mukharvind in Jatipura saw huge crowds of devotees waiting to offer abhishek, while others offered their worship in the more isolated areas of the forest around the hill. "Govardhan Baba" (cow dung replicas of Govardhan) could be seen all along the Govardhan Parikrama path. Chhappan bhog was offered to deities by many devotees in order to obtain blessings and good luck on this auspicious occasion.
At Mansi Ganga and Radha Kund, the steps of the holy lakes were covered with thousands of lamps.