Navratri Special (Day-7): Maa Bandi, Anandi and Manovancha Devi of Mahavan
2022.04.08 (Vrindavan Today News Service): April 2 to 10, 2022 India is celebrating the festival of Chaitra Navaratri – the nine nights dedicated to Devi. Like everything else, Navratri in Braj is also subsumed in Krishna Bhakti, whether through the worship and contemplation of Radha and her ashtasakhis or through the nine manifestations of Devi associated with Krishna lilas in various forms and names. Everyday during 'Navratri' our articles will take readers on the trail of Braj's own shakti peethas – the nine energy centers dedicated to celebrating the feminine. On the seventhday of Navratri, we pay our obeisance to Maa Bandi, Anandi and Manovancha Devi of Mahavan.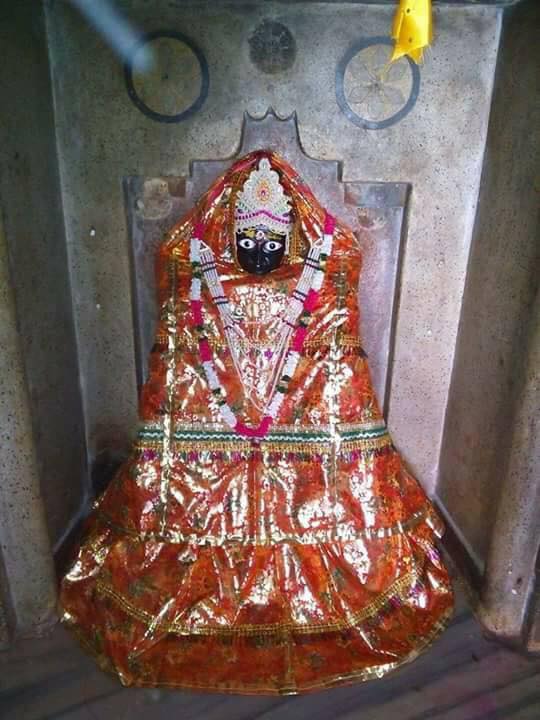 The Devis Bandi, Anandi, and Manovancha are the clan goddesses or kuldevis of Shri Krishna. Krishna and Balaram's tonsure ceremony, and also that of Pradyumna, Aniruddh, and Vajranabh from the successive generations, were held at their temple in Mahavan.
The miracles of Ma Bandi-Anandi are narrated in the third and fourth chapters of the tenth canto of Shrimad Bhagavatam. When Vasudev had to sneak out of Kamsa's prison to exchange Krishna with Nanda and Yashoda's daughter in Gokul, Ma Bandi not only freed him from the tethers, but also caused the gatekeepers to go into deep sleep and the gates to unlock miraculously. Ma Anandi, on the other hand, was the one who showered Gokul with 'anand' (joy) on the appearance of Krishna.
It is customary for new brides of the Yaduvanshi Jadon clan pay their first respects to Maa Bandi-Anandi after marriage. The Anand kund (pond), where their vigrahas were found, is situated near the temple. According to the Garga Samhita, Devi Bandi and Anandi presented Shri Radha with beautiful tilak and earrings for her Maharaas shringaar.
Devi Manovancha answered Yashoda's prayers by protecting her dear son from the many troubles that kept befalling him over and over again. Even today people pray to her for relief from afflictions like squint eye and stammering, and offer silver tongue and eyes to Devi when their wishes are fulfilled.