Hema Malini launched the video of her rendition of 'Shikshashtakam'
The BJP MP was speaking at the Shikshashtak Manorath jointly organised by Shri Chaitanya Prema Sansthan and Vrindavan Research Institute. Her rendition of the Shikshashtak was unveiled at the event.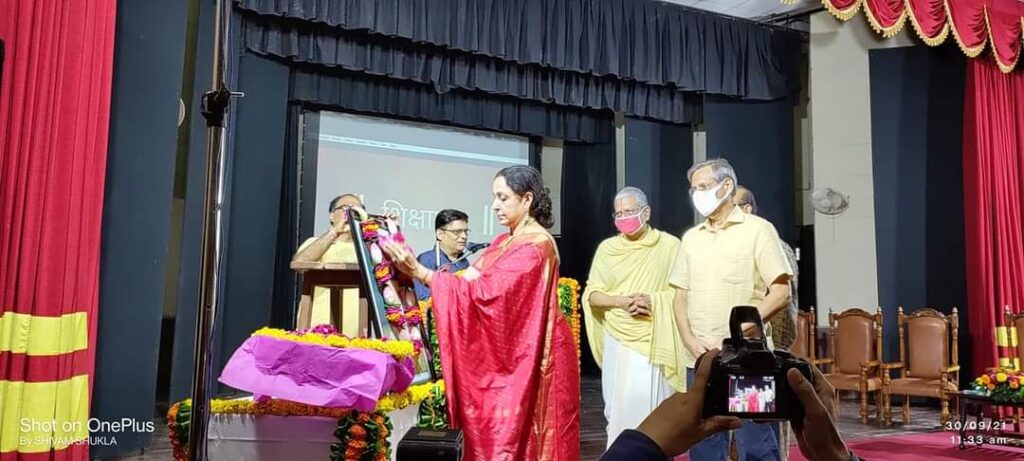 Vrindavan, 2021-10-02 (Vrindavan Today News): At the Shikshashtak Manorath jointly organized by Shri Chaitanya Prem Sansthan and Vrindavan Research Institute (VRI), Mathura MP Hema Malini inaugurated the video of her rendition of the Shikshashtak as an offering to the divine, the concept of which was given by Acharya Shrivatsa Goswami.
Speaking as the chief guest at the VRI event held on Thursday she expressed deep affection and gratitude towards the land of Braj and all its facets that have attracted her in mystical ways. Her special inclination towards the tradition and teachings of Shri Chaitanya Mahaprabhu became the motivation behind the Shikshashtak video which was launched at the event. Hema Malini said that she felt immense tranquility and joy while rendering this most venerable of compositions of The Golden Avatar.
Acharya Shrivatsa Goswami of Shri Radharaman Mandir (also head of Shri Chaitanya Prem Sansthan) who graced the Thursday event as one of the main guests reiterated the significance of devotion as the essence of Vrindavan. Bhagvatacharya Devkinandan Thakur, UPBTVP vice-chairman Shailja Kant Misra and Pundrik Goswami, too, put forward their thoughts on the subject.
As part of the Shikshashtak Manorath, a comprehensive presentation on the written tradition of the text was organized at VRI auditorium. Details of the exposition were compiled in the form of a brochure which was released by Hema Malini. Post the inauguration, VRI senior researcher Dr. Rajesh Sharma read out its contents of the information booklet to the guests. The event was coordinated by Braj littérateur Dr. Brijbhushan Chaturvedi.
Radhakrishna Pathak, vice-chairman of Mathura-Vrindavan Municipal Corporation, gifted copies of Anusuya Jhunjhunwla's Sahaj Ramayan to the dignitaries. Prominent personalities such as Odissi dancer Kunjlata mishra, Padma Shri Krishna Kanhai Chitrakaar, Indradyumna Swami, VRI director Satishchandra Dikshit, and Secretary Praveen Gupta were present.
The day also marked the beginning of VRI's seven-day Sanjhi Mahotsav as part of which various conferences, live workshops, special Jal Sanjhis and award ceremonies honouring Sanjhi artists and researchers will be organised until October 6.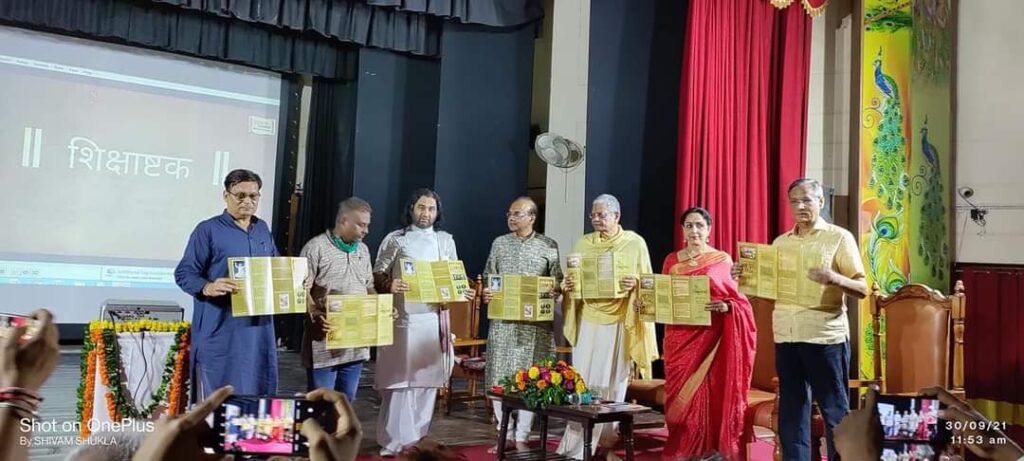 Inaugurating the festival Hema Malini acknowledged it as a prominent milestone in the long-drawn journey to preserve Braj art and culture. She emphasised on the need for more such initiatives to motivate the youth and young artists towards these endangered art forms, because ultimately they will be the generational link carrying it forward.
Sharing similar sentiments Acharya Shrivatsa Goswami and BTVP's Misra also pointed out that festivals of this kind can be highly effective in saving the artistic and cultural heritage of Braj. VRI Secretary Praveen Gupta shared that the objective of Sanjhi Mahotsav is to educate devotees, art/culture enthusiasts and people in general about Sanjhi.