'Shelter house' for the patients' attendants inaugurated by Hema Malini
2022.03.29 (Vrindavan Today News): Mathura MP Smt. Hema Malini inaugurated a newly constructed block named as Laxmi Niwas at Shri Rama Krishna Mission Sevashram Hospital on Monday. This block will serve as a shelter house for the attendants of the patients and residential quarters for the doctors. Smt. Hema Malini inaugurated the building by cutting the ribbon amid the Vedic chants, in august presence of the saints and dignitaries.
After the ceremony, she carried out an inspection of the hospital, where she was greeted by the patients referred as Rogi Narayan.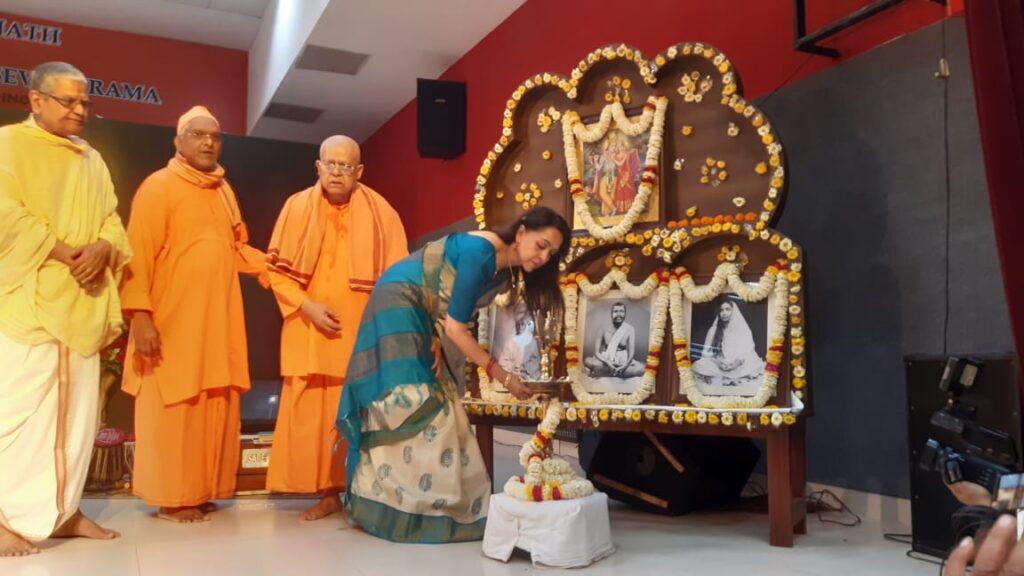 Swami Suprakshananda, the Secretary of Ramakrishna Mission Sevashram Vrindavan said, "We felt the need of a shelter home for the attendants of the patients during the times of Covid, when the hospital was full of patients, and the attendants had to go through the difficult situation waiting outside under the open sky inside the hospital campus." "Due to the diverse services provided by the hospital under one roof at very low charges, people from near and far alike come here to get treatment," added Swami ji.
Giving a detailed account of the history of Sevashram, Swami Kalikrishnanand Maharaj, in-charge of the hospital said that just as a small seed travels to a huge banyan tree, in the same way, Sevashram started from a small clinic and today is globally known as the Ramakrishna Mission Sevashram, Vrindavan, running a 300 bedded multi-specialty hospital with modern facilities.
Acharya Shrivatsa Goswami from Shri Radharaman Temple said that this hospital has proved to be a boon for the people of Braj. He described the essence of 'Seva' in Vrindavan. He said that Rama Krishna Mission is the epitome of seva to the human kind.
Swami Raghavendranand Maharaj, secretary of Ramakrishna Mission Ashram, Gwalior, believes that service to man is the service of God. He said that he was the first Covid patient of 'Sevashram', where he was treated without any discrimination by the medical staff. He got recovered due the selfless services of the doctors, nurses and other medical staffs of the hospital.
MP Hema Malini said, "When I heard the proposal to inaugurate Laxmi Niwas and I came to know that people coming from far flung areas who do not stay outside in hotels etc. or attendants of patients in the hospital will have free arrangements for their stay. I could not stop myself for this task."
On this occasion, Chairman of the Managing Committee of Ramakrishna Mission Sevashram Vrindavan AK Kaul, Dr. AK Lahiri, Dr. Than Singh Tomar, Dr. CK Gupta, Dr. Pranav Dev, Dr. Masta, Dr. Prashant Pathak, Dr. Amit Kumar Gupta, Dr. Vaishali, Dr. Prashant Sharma, Dr. Meenakshi, Dr. CP Chaturvedi, Dr. Vikram Singh Yadav and Dr. Subodh Kumar Singh were also present.