Suspension bridges to be built in Mathura – Vrindavan
Mathura – Vrindavan are following the development model of the pilgrimage stations of Haridwar and Rishikesh. The UP Teerth Vikas Parishad has proposed three suspension bridges, to be built on Yamuna in Vrindavan and Mathura. While the two bridges will be built to connect the Dwarkadhish temple in Mathura, the third bridge will be built in Vrindavan to connect the Banke Bihari temple from the Belvan side.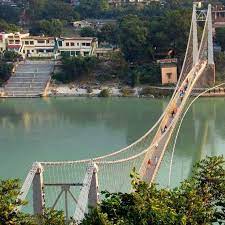 A Technical team, consisting of the officials from the Mathura Vrindavan Development Authority, Irrigation department and Public works department visited the probable locations along with the executives of the company entrusted to make designs for the bridges. The team visited the Swami Ghat area and Masani for the feasibility study of building the suspension bridge.
They also visited the Vishram Ghat to explore the possibility to build the bridge there to get easy access to the Dwarkadhish temple. Later, the team visited the Nidhivan, Cheer Ghat area of Vrindavan in search of the proper location for the ambitious project.
Nagendra Pratap, the CEO of the UP Teerth Vikas Parishad gave suggestions to head of the 'Design Associate' head Jay Kartikar. MVDA Officer on special duty Kanti Shekhar Singh, AE irrigation Sanjeev Tiwari, Assistant Engineer PWD RP Singh and Mayank Garg visited the site.
According to the officials, the ancient temples have become increasingly inaccessible to reach due to the congestion in the narrow lanes. These temples are situated in the densely populated area, where the roads can't be broadened. Constructing the suspension bridges are the only option left to connect the ascetics to the temples. Once in place, the bridges will prove to provide a major relief to the thousands of commuters who will be able to reach the ancient temples by hiring an E – Rickshaw or just by walking on the bridge.
The team left undecided on the study. The locations of the bridges are yet to be finalized.