Chandra Sarovar being developed as a Cultural Centre
Surdas Bhajan Sthali to be Featured on World Tourism Map
Rs. 2.4 Crore being spent on Beautification Efforts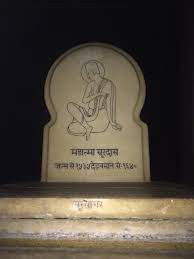 2023.04.09 (Vrindavan Today News): Soordas' Bhajansthali Chandrasarovar is set to find place in the world tourism map. The Uttar Pradesh Braj Teerth Vikas Parishad has taken the initiative to develop Chandra Sarovar as a Cultural Centre. The Government of Uttar Pradesh has allotted an amount of Rs. 2.4 Crores for this project. The Developmental initiative includes the construction of a library, a meeting hall, an interpretation center, and a solar plant. A documentary film on Surdas's life is being produced by a Mumbai agency and will be screened at the Interpretation Centre. The documentary is also the part of  the beautification project.
The mausoleums of Krishna devotees Raskhan and Chand Bibi, situated on the banks of the Yamuna in Ramanreti, have already been conserved, and a library for Braj literature has been built there. A 20-minute documentary film can be seen at the Interpretation Centre in Ramanreti. Conservation of Raskhan Samadhi is being done by GLA method. These mausoleums have become a popular tourist attraction after being in a dilapidated condition for a long time.
The beautification of Chandrasarovar Parsauli is expected to attract more tourists to the places of worship and meditation of Lord Krishna's devotees in Braj Bhoomi. To further promote the site, a two-day program will be held on the birth anniversary of Surdas on 25 and 26 April. The first day will include a conference of poets of speech, and the second day will include cultural programs. Surdas is considered to be one of the foremost among the devotional poets of Braj, known for his unique poetic talent despite being blind.
Officials, including Braj Teerth Vikas Parishad CEO Nag Pratap and Deputy CEO Pankaj Verma, visited Parsauli Chandrasarovar to inspect the ongoing construction work. The construction work includes the building of a library, a Conference Hall, an Interpretation center, and a solar plant. The project also includes the construction of a Chatri, a block near Surkuti and a Gate with a budget of Rs. 68 lakh. A Solar plant is also being set up at Chandrasarovar at a cost of Rs 24 lakh. The work of toilet block, pathway, parking, and boundary wall has already been completed.