Hariyali Amavasya celebrated in Braj temples; Jhulanutsav begins
2021-08-09 (Vrindavan Today News): The auspicious month of 'Shravan' signals the arrival of two of the most awaited traditional festivities in Braj – the mesmerising 'ghatas' and 'Jhulanutsav' or the swing festival. 
In order to make Thakurji relish the beauty of Braj which is at its verdant best during the rainy season, different kinds of 'ghatas' are organised in temples. Blue, green, black – their myriad hues bring alive the woods, rivers, clouds, thunder and even the rain within the precincts of the shrine.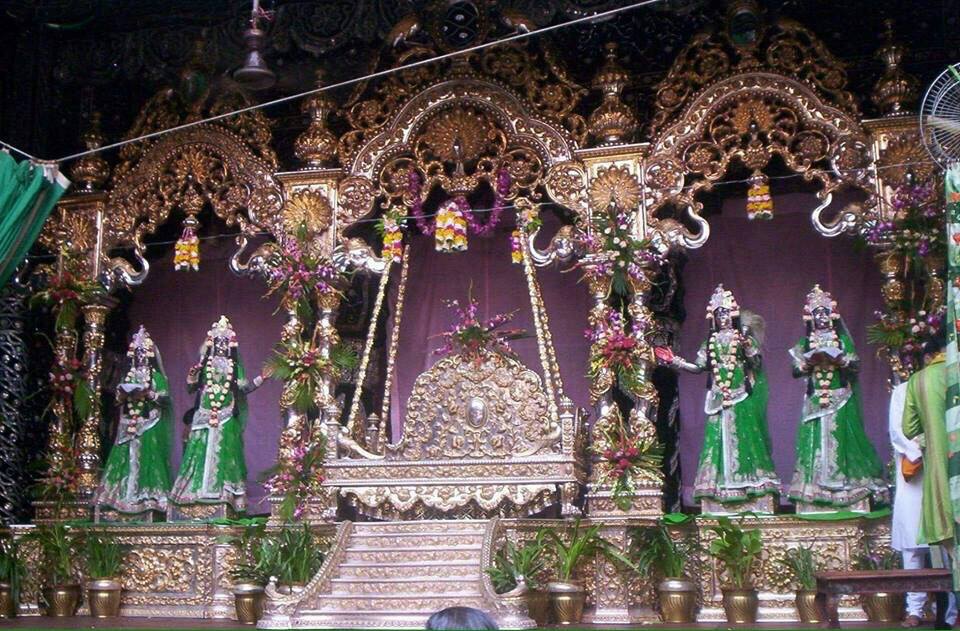 Hariyali Amavasya – the new moon of Shravan – which fell on Sunday (August 8) this year, marks the beginning of these observances.
At the ancient Keshav Dev temple situated within the Shri Krishna Janmasthan Complex, the day began with a grand abhishek of the deity. Donning a gorgeous green 'poshak' thereafter, Thakurji was given the royal seat on a silver swing ('Jhula' or 'Hindola'). The temple's 'bhajan mandali' sang melodious songs for His pleasure, which was enhanced manifold by the lush 'Hari (green) ghata' surrounding Him.
Vijay Bahadur Singh from the temple's management committee informed that devotees will be able to enjoy the special 'darshan' from Amavasya (Sunday) to Hariyali Teej, which falls on Wednesday (August 11).
At the Dwarkadhish Temple similar rituals and festivities were organised in accordance with Pushtimarg traditions. Thakurji's cows and mischievous monkeys frolicked in the 'jagmohan' that was resplendent in lush green leaves and fragrant seasonal blooms. As part of the swing festival, the temple also observed the 'kesari makhmal hindola manorath' at the time of the sandhya aarti on the next day of Amavasya.
Among the holiest of months, Shravan is also considered very dear to Lord Shiva, with Hariyali Amavasya and 'Shravan Somvaar' (Monday) being particularly significant. Devotees thronged prominent Shiva temples on both days to seek the blessings of Mahadev. (AS)
…