Kent RO donates two Oxygen Enhancer machines
At the time when the health care system is crumbling due to the crisis with hospitals struggling to provide oxygen and crucial medicines to the infected patients of Corona virus, the information of someone donating Oxygen enhancer machines for general public of Mathura brings some hope for Brajwasis.
On the request of Smt. Hema Malini, the Member of Parliament from Mathura, the Kent RO Systems Limited has donated two Oxygen enhancer machine for the residents of Mathura. Each machine would produce 25 liters oxygen per minute, which could serve ten patients per day round the clock.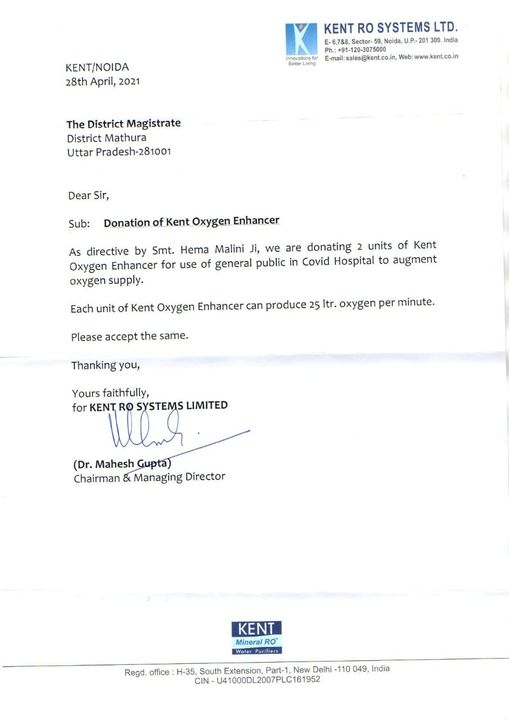 The enhancer machines have been installed at Maharshi Dayanand District Hospital in Mathura and 100 bedded Government Hospital in Vrindavan. It has already begun functioning in both the hospitals and the patients are being benefited with its service.
Shri Janardan Sharma, the representative of Smt. Hema Malini said, "This comes at a time when India is facing an acute shortage of medical oxygen due to the increasing number of Covid -19 cases. The serious patients who require only the oxygen bed will be immediately provided the oxygen facility in these hospitals."
In the letter addressed to the District Magistrate of Mathura, the CMD of the Kent RO, Dr. Mahesh Gupta said, "As directive by Smt. Hema Malini Ji, we are donating 2 units of Kent Oxygen Enhancer for use of general public in Covid Hospitals to augment oxygen supply. Each unit of Kent Oxygen Enhancer can produce 25 liters oxygen per minute."
The pandemic of Covid – 19 has firmly gripped Mathura, as the District is witnessing an unprecedented surge in the SARS – COV-2 infection. There have been reports of oxygen crisis in the hospitals.
It should be noted Smt. Hema Malini is the dream endorser of Kent RO for more than a decade.