Couple helping people to fight Coronavirus with Ayurvedic medicines
It is time to realize true potential of Ayurveda against Covid – 19.  Dr. Abhishek Sharma and his wife Dr. Tapasya Sharma of Vrindavan have been helping people by sharing their 'Ayurvedic wisdom'. They have treated hundreds of people by prescribing Ayurvedic medicines to fight against the pandemic of Covid 19.
Striding against the tide and hegemony of Allopathic medicine, diagnoses and hospitals Dr. Abhishek Sharma has scripted history in a period of barely twelve years. He has successfully treated many patients who were affected by the Coronavirus. Apart from the Covid – 19, he has treated people who had lost hope after years of Allopathic and other treatments proved ineffective.
He believes that people are prone to diseases due to their unhealthy lifestyle in today's fast paced world. Ayurveda brings to us the solution to follow ancient system of life with modern perspective. It not only helps us to increase our immunity but also gives us the strength to fight against the deadly disease like Coronavirus.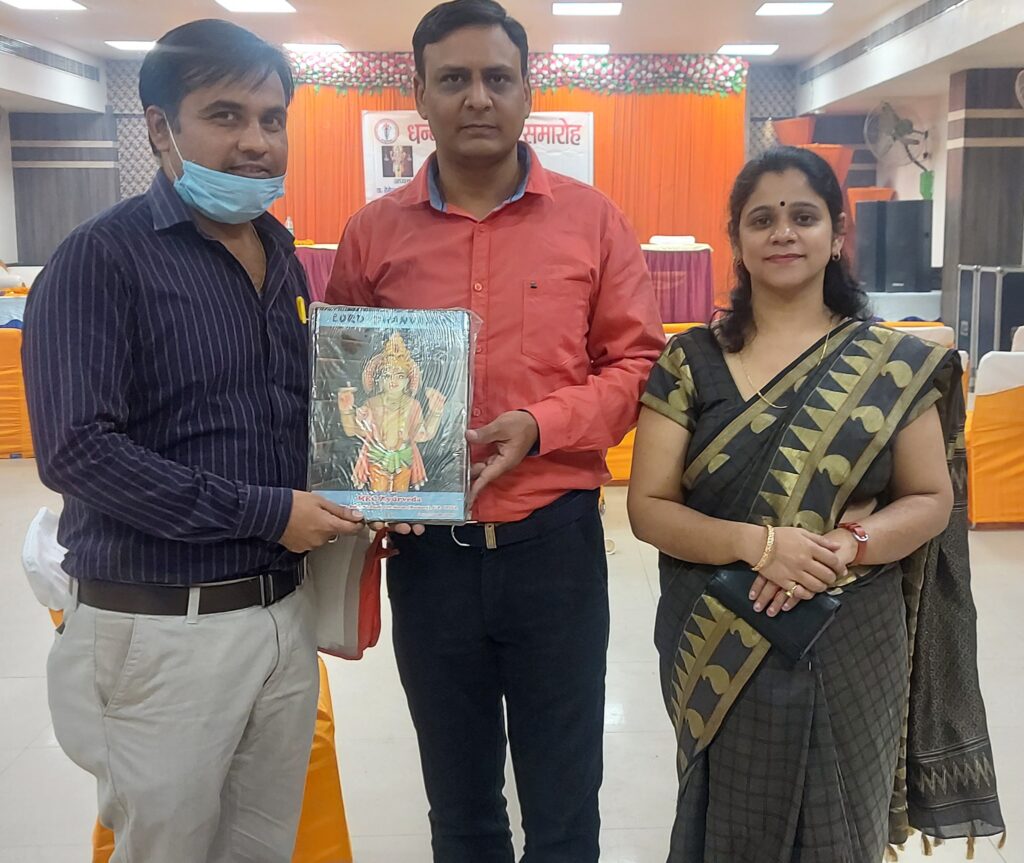 Ayurveda is an ancient system of medicine developed centuries ago and still widely practiced in modern times. The system is still very effective and can do wonders when it comes to fight against Coronavirus which creates lots of fear in the minds of people.
Talking to 'Vrindavan Today' Ayurveda experts Dr. Abhishek Sharma said, "A little change in lifestyle can be very helpful to counter any disease which effect in our inner system." He added, "Eating of natural herbs in food builds up our immunity. However, the immunity level decreases with age so we need to take special care of our elders." "We have been suggesting the home remedies of spices and herbs to the patients on telephone who live far from our hospital. We are providing our services to around 200 patient everyday either on phone or they visit our facility, "added Dr. Abhishek.
He suggested medicines like lavangadi vati and kanth sudharak vati for sore throat, swarna vasant malti and chyavan prash to improve immunity. In fever, giloy dhan vati, tibhuvan kiri ras, Laxmi Vilas ras and sudarshan ghan vati could be of use and in cough maha laxmi vilas ras, swars kas chintamani rasa and sitopladi churan can be taken. He also suggested the nasal drops of Anu taila for blocked nose and recommended gargle with lukewarm water.
His wife Dr. Tapasya Sharma said, "In present time, problems we face are unbalanced diet, irregular lifestyle and social media addiction which lead a person to welcome life threatening diseases. The result is poor immunity and the body becomes prone to various diseases which also includes life threatening Coronavirus. Ayurveda suggests the ways of ancient lifestyle like Yoga, balanced diet and happy mind to live a health life."
"To fight a life threatening disease like Coronavirus one need to change their food habits and include yoga which can boost their immunity and help them fight. He suggest some ways like chewing food, eat Indian traditional food, forget the hotel eating concept, morning exercise, eat on time, evening food with family, outdoor games which leads to happy and healthier life in this modern age," added Dr. Tapasya.
Dr. Tapasya Sharma is an Ayurvedic physician and Panchakarma specialist, has used classical Panchakarma therapies such as Abhyang, Swedan, Vaman, Virechan, Nasya Jaloka, Akshi Tarpan and Shirodhara to treat patients from India and abroad. She has also trained doctors from several countries in Panchakarma therapy. Dr. Tapasya has completely cured people with chronic thyroid dysfunction, skin disease, and joint / knee pain. Her medicine and diet plan has helped people suffering from obesity lose 30 – 40 kgs.
The couple runs MRC Ayurveda & Research Center, a multi specialty Ayurveda and Panchakarma hospital in Vrindavan to spread the ancient system to their patients from India and abroad. They also plan to open another centre in Jalandhar, Punjab. They believe in pure way of treatment to the patients.
In addition to curing physical ailments, the holistic practices at MRC Ayurveda rejuvenate patients mentally and spiritually, in contrast to the depressing modern medical set ups that take a toll on a person's overall well being. Along with natural Ayurvedic medicines and practices such as Panchakarma and Kshar Sutra, patients are treated in a sanctioned atmosphere with special attention given to diet and proper 'daily routine'.