Land acquisition phase for Braj 84-kos Parikrama development project
The initiative is part of the 10-year Braj heritage conservation project that was announced late last month
Vrindavan, 2021-10-14 (Vrindavan Today News): Stepping up efforts on the 10-year conservation project that was recently announced to protect Braj heritage including places of religious, cultural and historical importance, the Uttar Pradesh Bran Teerth Vikas Parishad has entered the next phase involving acquisition of land for construction of public facilities at major sites along the Braj 84-kos Parikrama.
In a letter sent to the Sub Divisional Magistrates (SDM) of 20 tehsils (administrative divisions), the BTVP has sought proposal for land acquisition at respective key locations falling under the Parikrama. The tehsil administration is required to identify 6, 3 and 1.5 acres of land as per availability and scale of project at that particular site.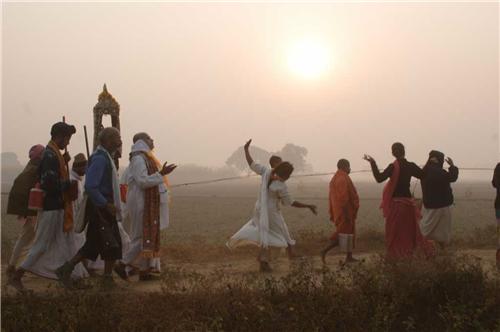 The BTVP intends to make the 84-kos Parikrama fully equipped with all facilities such as drinking water, tin shades, and public toilets so that devotees who undertake this religious observance in large numbers every year do not have to face any inconvenience. Once the Parikrama season is over, these facilities can also be used by the villagers for community and personal events such religious gatherings and marriages, to name a few, said BTVP CEO Nagendra Pratap.
A team of BTVP officials visited important 84-kos Parikrama sites in Govardhan on Tuesday to review the on-ground situation.
As part of the 10-yr conservation plan announced late last month, 27 main locations in the Braj 84-kos Parikrama fallingwithin the state's limits were identified for conservation and development. The four sites in Rajasthan and Haryana will not be covered. During the meeting convened to discuss the details of the project, it was decided that government land will be allotted for construction of public facilities at the identified spots wherever available. In case of unavailability, government will buy land for the said purpose.