Latthe ka Mela: Wrestlers demonstrated their skill
Rangji Temple organised the 'latthe ka mela' on Wednesday (September 1) as part of Nandotsav celebrations. The popular event was suspended due to covid restrictions last year.
Vrindavan, 2021-09-03 (Vrindavan Today News): Vishnu Pehelwan, one of the members of the wrestlers' group led by Radhakrishna Pehelwan, emerged victorious at the 'latthe ka mela' organised by Rangji Temple as part of Nandotsav 2021. The triumphant wrestler was the first one to reach the summit of the 40-ft-high slippery wooden pole; his ascent made difficult by spurts of oil-mixed water being sprayed by the spectators.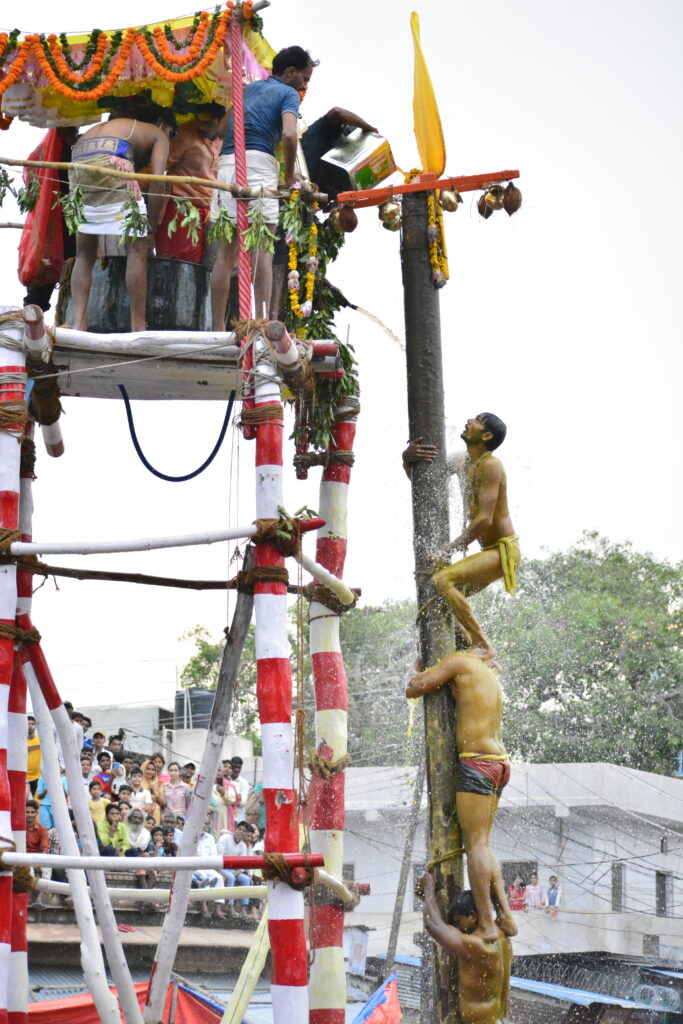 On Wednesday evening as Bhagwan Shri Goda Rangamannar came out of the temple's 'grabha griha' and reached 'singh dwar', swarms of devotees who were waiting with bated breath for the public spectacle to begin started chanting victory to the Lord. Wrestlers of various 'akhadas' rushed to seek his blessings before entering the contest. The nail-biting match commenced after a round of 'dandavats' (prostrations before the deity).
As the mission to scale the 40-ft-high wooden pole in pursuit of the 'kalash' hiding all sorts of goodies – including cash – began, the wrestlers demonstrated their skill in forming intricate human pyramids and holding on to them, even as spectators of the temple community playfully splashed oil-mixed water on them to make the climb more slippery and arduous.
After a good forty minutes of struggle during which various 'akharas' locked horns with each other , the troupe of 40 wrestlers led by Radhakrishna Pehelwan got a chance to try their hand at the sport. Among them Vishnu Pehelwan stole the limelight by becoming the first person to reach the top of the pole. Lakhanlal Pathak from the temple's management honored the winning team with Thakurji's 'prasad' before presenting them their prize.
The enactment of Kanha's 'makhan chori lila' in such public events is a ubiquitous element of Janmashtami celebrations, especially in the north and west regions of the country. Celebrated elsewhere as 'dahi handi', in Vrindavan, Rangji's 'latthe ka mela' is the most popular form of it. Held on the second day of Nandotsav, 'latthe ka mela' is a much – awaited event in the temple town which is attended by scores of people every year. It is enjoyed by the old, young, and kids alike. Given the gala affair returned after a one-year gap on account of pandemic-induced restrictions in 2020, the excitement this year was palpable.