Locals protest the installation of iron Barricades
Controversy Erupts Over Iron Barricades Installed on Banke Bihari Mandir Marg in Vrindavan
2023.04.15 (Vrindavan Today News): The District Administration of Mathura has been trying different ways to control the crowd going to the Banke Bihari Temple. It had put the bamboo barricades to make the arrangements for the queue. It seemed to have failed, as the shopkeepers and the locals took off the bamboos used to make the barricades. After the failure of bamboo stick barricades earlier this week, the administration has now erected big iron barricades in the middle of the road, causing concern among the locals. The installation of the iron barricades has become an issue to protest, among the traders and the local residents.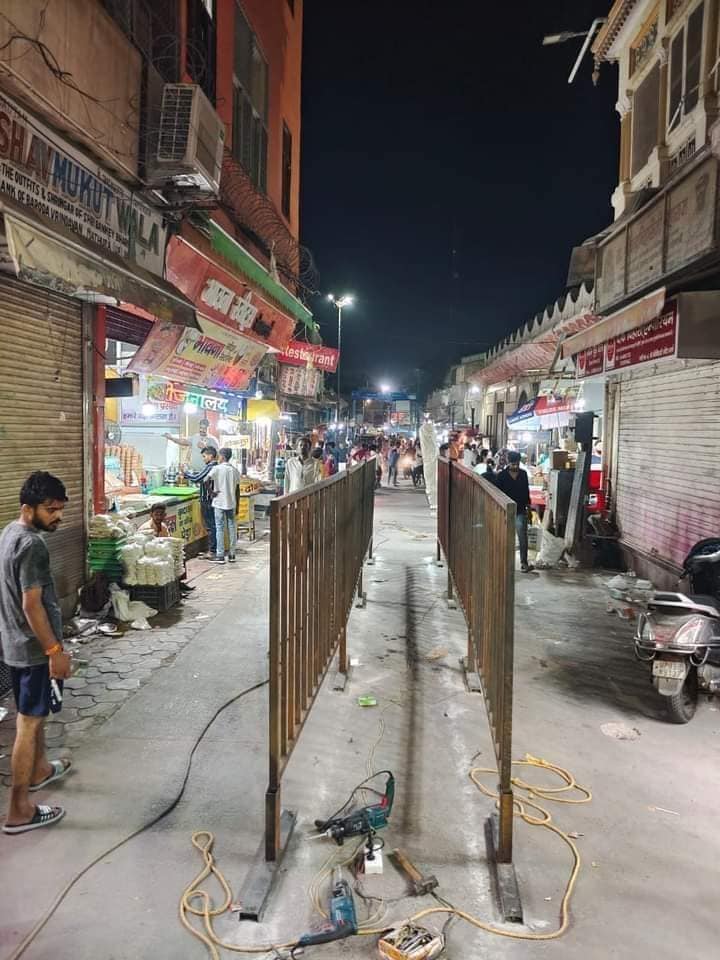 On Wednesday, bamboo barricades were set up along the roadside from Vidyapeeth Chauraha to Jaipuria Bhawan. However, they were uprooted by locals in the afternoon, and a confrontation with the Municipal Corporation team ensued when they attempted to re-erect the barricades near Mor Bhavan.
The administration's new approach has involved the installation of large iron barricades in the middle of the road, alongside the bamboo barricading on one side. The Banke Bihari Vyaparik Association has voiced its concerns about the move, with President Amit Gautam stating that it will harm the traders' business and not provide relief to devotees.
Gautam has criticized the administration for not taking into account the ground reality and the interests of all stakeholders involved. He has called for a more balanced approach to crowd management and urged the administration to find a solution that benefits everyone.
Talking to 'Vrindavan Today', Shri Kapil Dev Upadhyaya, a local resident of the area said, "The installation of the barricades has ceased the traffic movement completely. If any medical emergency occurs in the locality there is no safe passage to take the patient to the hospital." "The plan is being made keeping the interest of the visitors in mind. The government has forgotten the interest of the native people of Vrindavan, which is ridiculous," said Upadhyay.