Low key 'Mudiya Puno' celebration in Govardhan
2021.07.24 (Vrindavan Today news): Mudiya Puno was celebrated in Govardhan amid strict Covid restrictions. While all the entry and exit points Govardhan were sealed, and the devotees from outside were not allowed to enter Govardhan, the District Administration gave permission to take out the traditional Mudiya procession with some provisions.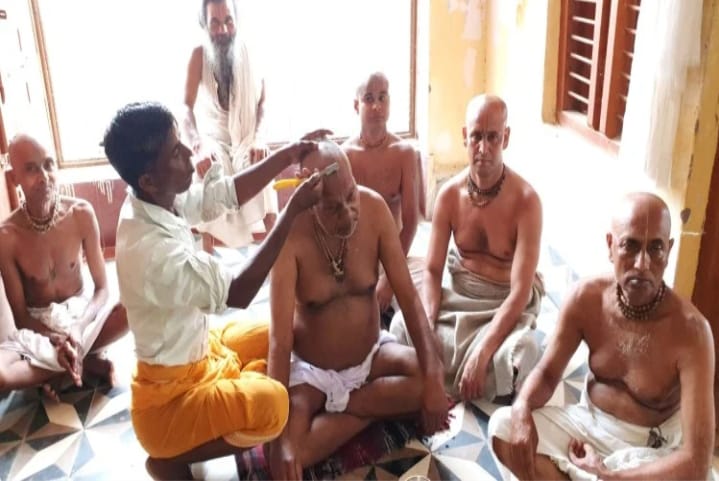 Due to the Covid restrictions sants were requested to maintain social distance to celebrate the tradition of the Mudiya Puno with low key affairs.
The saints from the Shyam Sundar Mandir and Mahaprabhu Mandir took out a Mudiya procession from the Chakleshwar area. The flags and signs were sent from Shri Raghunath Das Goswami Gaddi at Radhakund. The procession was taken out by the babajis carrying the flags and performing Harinam Sankirtan with the Harmonium, Mridanga and Kartal. The procession began from Shri Radha Shyam Sundar Mandir and passed through Dasvisa, Manasi Ganga, Haridev Mandir, Sounkh Adda, Danghati Mandir, Murari Kunj, Laxmi Narayan Mandir, Bara Bazar, Modi khana, Hathi Darwaja, Nagar Pancyat office and all the major spots of Govardhan.
The five day long festival begins from Ashada Navami, in which millions of devotees perform parikrama of the Govardhan hill and participate in the different religious events. The main rituals include the bathing in Manasi Ganga, Giriraj Parikrama and visiting the temples of Danghati, Mukharvind and Jatipura.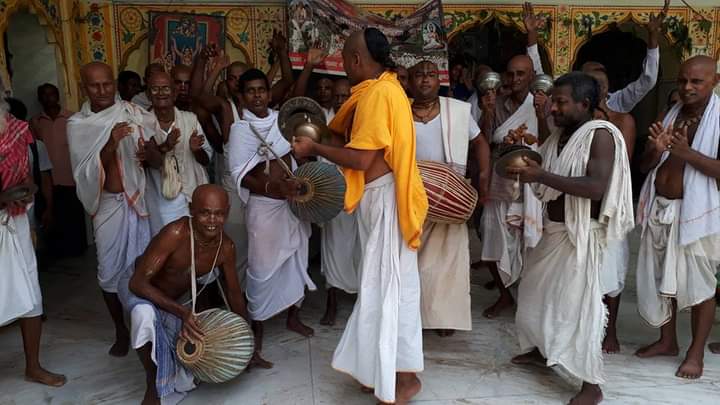 Shrila Sanatan Goswami (1488 AD to 1558 AD), one of the Six Goswamis of Vrindavan was believed to have disappeared on this day. The term 'Mudiya' refers to the shaving of heads by the followers of Shrila Sanatan Goswami.
Mahant Gopal Das Babaji from Mahaprabhu Mandir said, "Mudiya Puno in Govardhan is celebrated as the 'Tirobhav Mahotsava' of Shrila Sanatan Goswami pada. The Goudiya Vaishnavas in Govardhan mourned on the passing away of Shrila Sanatan Goswami pada. They had shaved their heads to pay their respect to the Great spiritual master. They circumambulated the Manasi Ganga, with the remains of Sanatan Goswami. The tradition of shaving heads, followed by the Nagar Sankirtan Parikrama is being maintained even today."
"It was 463rd year that the Mudiya Puno is celebrated with proper custom, amid the Harinam Sankirtan.