Navratri Special (Day -2): Nari Semri Devi
2022.04.04 (Vrindavan Today News):
April 2 to 10, 2022 India is celebrating the festival of Chaitra Navaratri – the nine nights dedicated to Devi. Like everything else, Navratri in Braj is also subsumed in Krishna Bhakti, whether through the worship and contemplation of Radha and her ashtasakhis or through the nine manifestations of Devi associated with Krishna lilas in various forms and names. Everyday during 'Navratri' our article s will take readers on the trail of Braj's own shakti peethas – the nine energy centres dedicated to celebrating the feminine. On the second day of Navratri we pay our obeisance to Shri Nari Semri Devi of Braj.
Maa Nari Semri, Mathura
Maa Nari Semri of Mathura is also known as 'Nagarkot Wali Devi' for she is an expansion of the divine goddess who resides in the Himalayan town of Kangra or Nagarkot, as it was historically called.
The story goes that Devi's bhakta Dhandhu wanted to bring her down from the lofty mountains to the plains of Agra with him. Pleased by his devotion, Devi agreed on the condition that he would not turn back to see if she is coming along, and if for whatever reason he happened to do so, she would settle down at that place forever. Dhandhu agreed, but as they approached the village of Nari Semri in Mathura, he grew impatient and turned back to check on her. Devi at once froze and established herself perpetually in the village. It was Nagarkot Devi's lila that Braj was blessed by her presence.
There are many legends and miracles associated with this temple, but one which everyone can witness is the special chaadar aarti where flames cut across a cotton sheet without burning it. The spectacle is carried out not once, but five times, for all to see.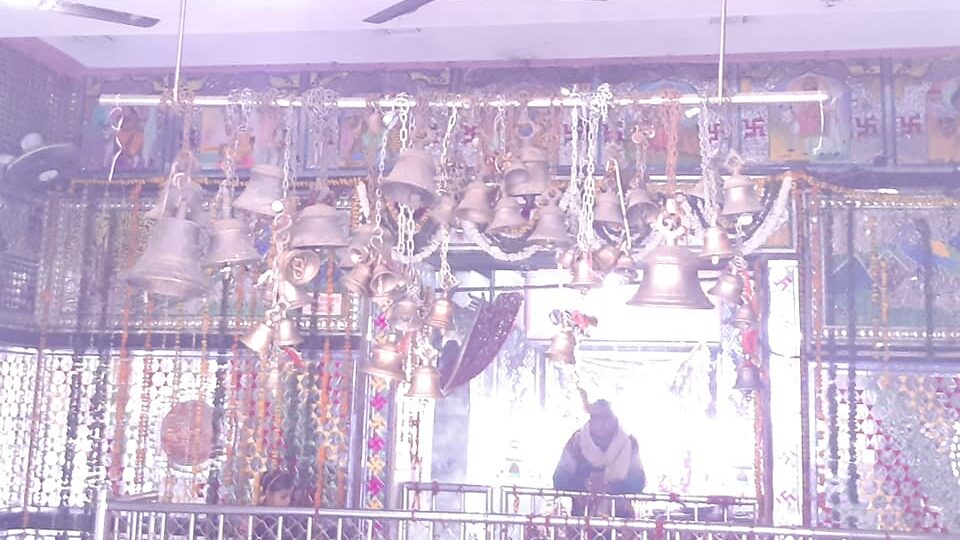 The aarti is performed by the descendants of Dhandhu who come down from Agra especially for this purpose. Four of them hold the white cotton sheet, while the fifth pujari manoeuvres the flame below it. Before beginning, they perform prolonged, elaborate rituals requesting Maa Nari Semri to cool down the flame of the wheat flour lamp so that it doesn't burn the cloth, and the aarti can be concluded without any obstacles.
Dhandhu's successors have upheld this miraculous tradition for generations. It is said that when the 'chadar aarti' is performed here, the doors of the main temple in Kangra are closed. During those auspicious hours Devi descends from her high altar to attend this mystical ritual in Nari Semri.