No regulatory measures on Bike taxis in Barsana
There is no regulation or any kind of permission to operate the Bike taxis in Barsana
It may prove fatal if the operation remains unregulated
2022.12.16 (Vrindavan Today News): The Bike taxis have become menace on the Brahmanchal hill at Barsana.  Scores of youths can be seen ferrying the passengers to the Radharani temple atop the hill. While it has become a means for income generation for the youths, the over speeding and the careless driving are causing road accidents which may become fatal some day. Several cases of the skidding of the bikes and injuring the passengers have been reported in last few months.
Passengers who hire bike taxis are left to fend themselves, thanks to the regulatory mechanism which is entrusted to ensure their safety and security. Triple riding on the bike is illegal, but the bikers carry two people to make a trip. They charge Rs. 100 for each passenger for to and fro to the temple. Not only the residents of Barsana, but the scores of youths from the neighboring villages and Rajasthan are engaged in this profession. More than 1000 bikes are providing service of the Bike taxi in Barsana. The Bike taxis take the passengers to the 'Ladli ji temple' situated at the top of Brahmanchal Hill and to other pilgrimage stations around Barsana. The illegal service causes traffic congestion on the foothill of the pilgrimage town.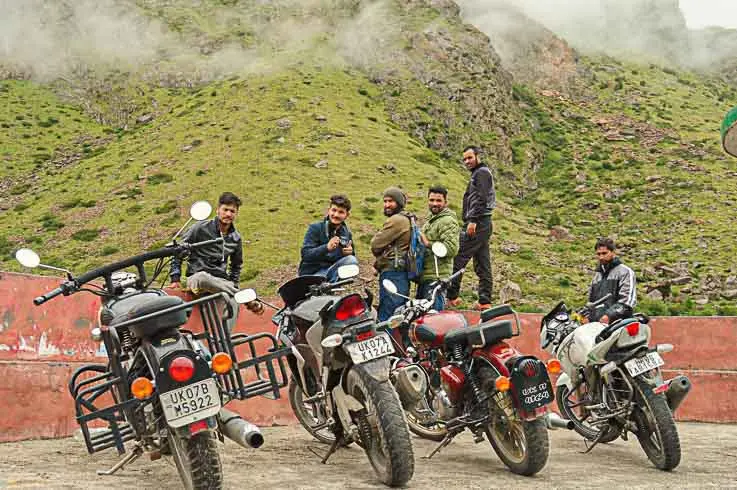 Last month four women from Gujrat were injured as the bikes skidded on their journey to the hill. When they thought to visit the local police to complain the rash driving, the bikers apologized from them and took them to a private hospital for medication.
According to the sources if the police try to regulate the bikers, the local residents stop them to take any action. They claim that it has become a means of income generation for many families. The District Administration has to frame a policy on how to regulate these bikers.
Hundreds of thousands of ascetics visit the 'Ladli ji' temple every year. The young people climb the hill easily but the senior citizens find it challenging. Till few years back the senior citizens and those who found it challenging to climb the hill took the services of the 'Doliwallahs' to the hill. It is with the changing time the 'Dolis' have been replaced with the motorbikes, which is easier to commute.