Poet Surdas's Bhajansthali near Govardhan renamed as Parasoli
The name of the village of Surdas's Bhajanthali, near Govardhan has been renamed as Parasoli. The Center has given its consent of renaming of Mehamudpur to Parasoli. The local residents of the village have been demanding to change the name, as the name of Mehmudpur was imposed on them during the Islamic rule. The village was name as Parasoli after the great sage of Rishi Parashar, who was born here.
A gazette notification has been issued renaming the village in Govardhan Tehsil. The proposal was pending with the government for a long time. There have been demands from the locals to change the name for 40 years. The 'Soordas Braj Ras-sthali Vikas Samiti' Parasoli Secretary Shri Ram Babu Kaushik has been leading the locals in different platforms to change the name. Talking to the media persons Shri Kaushik showed his correspondence with the different governments to rename the village. He said, "We demanded to rename the village in 1982 for the first time. We met several Chief Ministers of different governments ruled the state of Uttar Pradesh in time to time. They promised to change the name but never fulfilled the promise."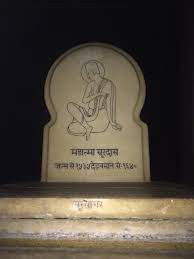 "The issue was brought to the knowledge of Chief Minister Yogi Adityanath in 2018 through the UP Brah Teerth Vikas Parishad. The Yogi Government started acting upon our demand immediately by taking steps to rename any place," added Shri Kaushik.
After taking no objection certificate from all the departments, the governor notified it on 24th March.
According to the gazette notification, Shri Renuka Kumar, the Additional Secretary of the Revenue Board of Uttar Pradesh and the relief commissioner had recommended to rename the village on 15th December 2020. Land Management Committee cleared the proposal on which the Union Home Ministry gave approval on 11 February.
Parasoli is located about 2 kilometers from the Anyor village of Govardhan on the left side. The lake of Chandrasarovar is situated in this village where Shri Krishna performed Basanti Rasalila with the Gopis. The Rasalila continued for the entire night of Lord Brahma but seemed to have finished in just few moments. The moon was stunned upone watching the awestruck beauty of the Rasa dance of Shri Krishna with the Gopis and thus couldn't move the whole night.
The Great Poet Shri Surdas spent 73 years of his life at Chandrasarovar of Parasoli and died here at the age of 105 years. The famous work of Poet Surdas, 'Sursagar' was written here. The Samadhi of Surdas is situated here on the bank of the Chandra Sarovar lake.