Barsana's Ladli ji: The Cherishing Daughter of Goswami Shri Narayan Bhatt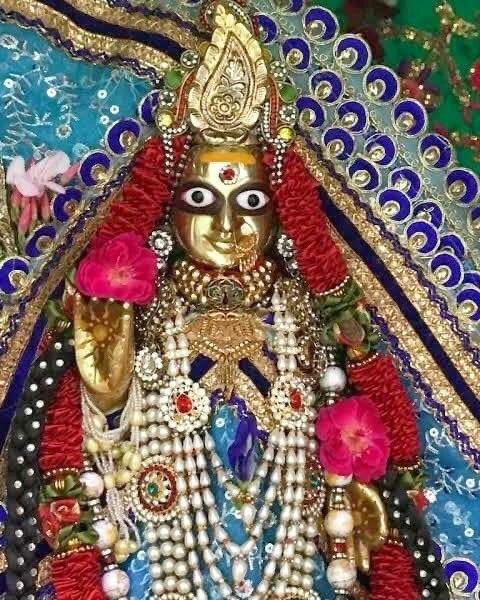 Shri Radha, the Queen of Vrindavan is known as Ladli ji in Barsana. The meaning of Ladli is 'beloved'; the name was given to Shri Radha by none other than Brajacharya Goswami Shri Narayan Bhatt.
The bond of Shri Radha and Goswami Shri Narayan Bhatt took a unique dimension 450 years before when he manifested the deity of Radharani in the Brahmanchal Hills of Barsana.
The narrative unfolds that after the manifestation of Shri Radha, Goswami Shri Narayan Bhatt ji adored Her as his own daughter. Their bond transcends the ordinary, and their story is etched in the annals of devotion.
Goswami Shri Narayan Bhatt, hailing from South India, embarked on a journey to Brajbhumi. Upon reaching Barsana, he sensed Radha's divine presence atop the Brahmanchal Hill. Narayan Bhatt's devotion was so profound that he began worshipping Shri Radha as his own daughter. It was this extraordinary bond that led to Radha being endearingly called "Laadli" or "Beloved Daughter" by the people of Braj.
According to Narayan Bhatt Charitamrita, Shri Radha was manifested to Goswami Shri Narayan Bhatt in 1606. Inspired by the divine encounter, he laid the foundation of a temple on the Brahmanchal Hills dedicated to His Beloved Daughter Radha. He also formulated the rituals and practices of worship by establishing a rich tradition that continues to this day.
Legend has it that during his pilgrimage along the Godavari River, Shri Krishna Himself appeared to Goswami Shri Narayan Bhatt and instructed him to discover the places of the Divine Couple's pastime. Shri Narayan Bhatt was humbled by the Divine Instruction, and in return He sought Lord's guidance on identifying Braj's exact locations of the divine pastimes. (VT)
In response, Lord Krishna promised to accompany him and manifested as a deity of Gopal to lead the way. Thus, Braj was rediscovered, and its sanctity reinstated.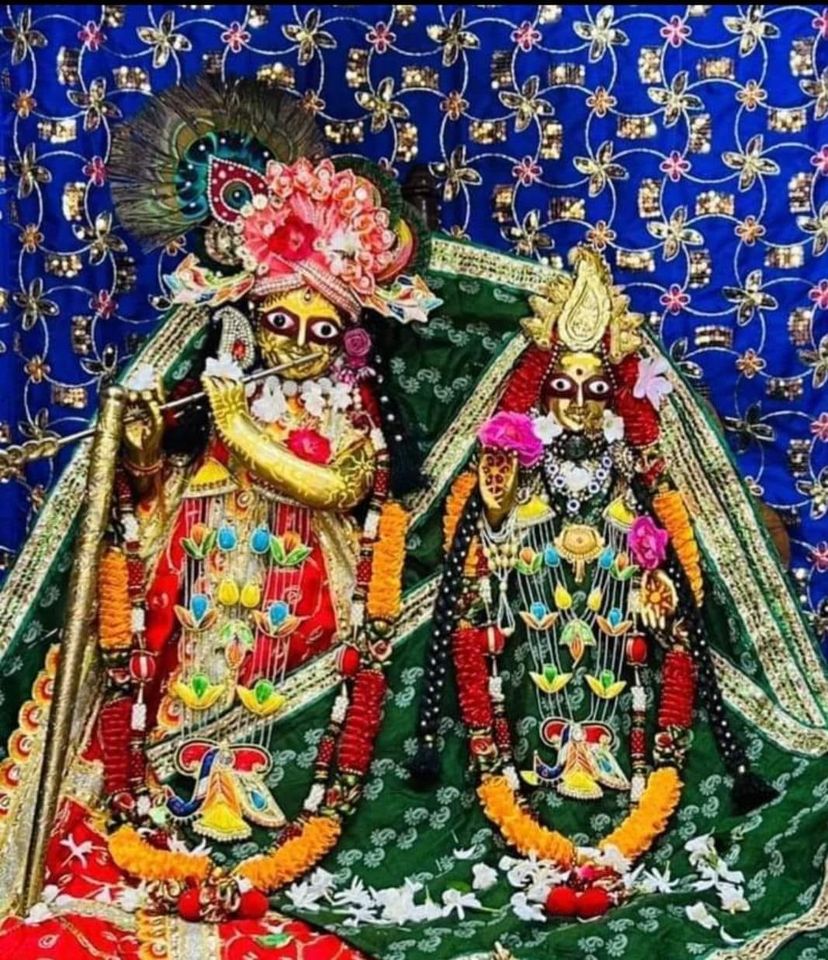 Upon arriving in Braj, Narayan Bhatt dedicated seven years to meditation at Radha Kund, under the guidance of his spiritual master Shri Krishnanda Brahmachari from the Madhva – Gaudiya Sampradaya. Afterwards, he established a permanent settlement near Barsana, known as Unchaagaon, which also houses Lalita Sakhi, one of Radha's closest companions. Even today, descendants of Narayan Bhatt's lineage reside in Unchaagaon, preserving his legacy. (VT)
Goswami Shri Narayan Bhatt's contributions extend beyond Shri Radha's temple in Barsana. He is credited with rediscovering the lost sites of Krishna's pastimes and orchestrating reenactments (staging Rasa Lila) through local cowherd boys. He is also remembered for initiating the tradition of Braj Yatra (the pilgrimages to Braj).
Goswami Shri Narayan Bhatt's worship of Shri Radha as a daughter, his devotion, and his commitment to Braj's revival remain an enduring legacy. His teachings, passed down through generations, emphasize the profound connection between devotees and the Lordships, a bond that transcends traditional boundaries.In keeping with this tradition, only those initiated by the Goswamis of the Brajacharya Peeth can perform seva (service) to Laadli Ji, ensuring that Narayan Bhatt's unique devotion continues to thrive.