Hariram Vyas's beloved Yugal Kishore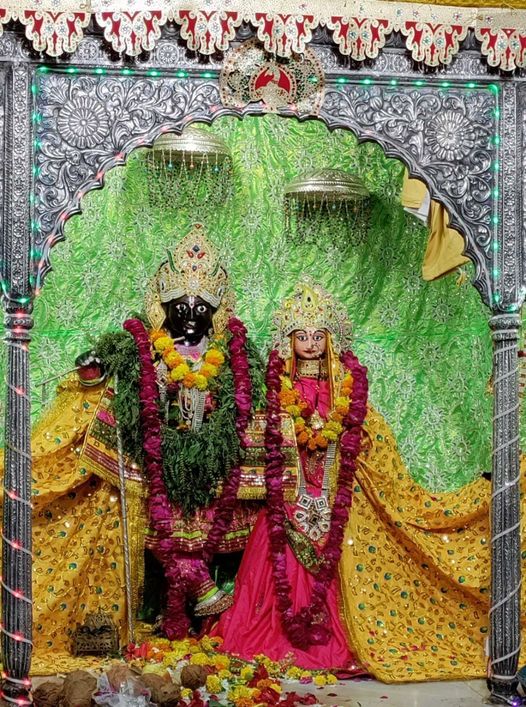 छठवें जुगल किशोर, ब्यास सुख दियौ अगाधा।
Vrindavan, 2021.10.21 (Vrindavan Today News): Thakur Yugal Kishore who manifested His mesmerizing yugal chabi to Shri Hariram Vyas is among the seven ancient Lords of Vrindavan. There are many accounts of His appearance in Shri Dham on Magh Shukla Ekadashi, sambat 1620.
It is said that He was found near Sevakunj in a 14-feet-deep well – Kishore Koop – that is still present in Vyas Ghera. Shri Hariram Vyas received the message about His appearance in a dream. Some attribute His appearance to another well, also called Kishore Koop, in the vicinity.
During the iconoclastic mughal rule the deity was rushed to Panna in Madhya Pradesh, where He resides today. However, according to alternative accounts, Shri Hariram Vyas came to Vrindavan with Him.
While stories around Shri Yugal Kishore's appearance abound, there's consensus among Vaishnavas about Vyas ji's being an avatar of Vishakha Sakhi. He was born to Shri Sumokhan Shukla (a Sanadya Brahmin from Madhva Sampradya) and Shrimati Devikadasi in the mystical town of Orchha situated on the banks of Betwa river. He came to Vrindavan to reside here permanently at the age of 42 in VS 1612. The ancient red sandstone temple of Yugal Kishore was founded by him.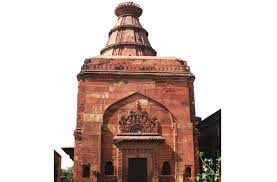 Once in Vrindavan, Shri Hariram Vyas spent the rest of his life serving His aardhya Yugal Kishore and the saints of Vrindavan, while perpetually enjoying Braj Ras. Swami Haridas and Mahaprabhu Harivansh, the other two rasik saints of Vrindavan, were his most dear associates on this blissful path of Nikunj/Rasopasana.
Together the three are known by the epithet 'haritrayi'.
वृन्दावन जान्यो इनहिं, हरिदास, व्यास, हरिवंश मिलि।। (भारतेन्दु हरिश्चंद्र)
Vyas ji's notable compositions include Siddhant, Shrigaar Ras Vihar, Nitya Naimaittik Lila Pad, Braj Lila Sakhi, Raas Panchadhyayi, Navratna (Sanskrit)and Swadharma Paddhati (Sanskrit). Radhakishore Goswami has classified 'Vyas Vani' under two subheads – 'Siddhant Ras Vishay' and 'Shringaar Ras Vishay' both of which describe the esoteric 'keli krida' of the yugal. He served the beloved in Sakhi Bhava, going beyond all judgements and dualities.
रसिक अनन्य हमारी जाति।
व्यास न देत असीस सरापा।। (व्यासवाणी)
Vyas ji lived to be hundred, entering nitya lila around VS 1669. His Samadhi in Vrindavn's Vyas Ghera was built by Veersingh Dev, the son of King Madhukar, in VS 1675.
Braj darshan with Vrindavan Today (Day 6): Shri Yugal Kishore