Uncovering the Origin of Barsana's Latthmar Holi
2023.02.25 (Vrindavan Today News): Barsana is a vibrant town in Braj that has become famous worldwide for its colorful and unique festival of Latthmar Holi. The festival has become a global phenomenon, attracting thousands of tourists every year. However, the origins of Lathmar Holi are steeped in history and have been shaped by the rich cultural traditions of the Braj region.
According to Madan Mohan Rasiya, a resident of Rangili Gali of Barsana, Shri Narayan Bhatt came to Braj from Maduraipattam village in South India around 500 years ago.
During his stay in Braj, Krishna appeared in his dream and asked him to uncover the lost pastime places of Braj. However, since it was difficult to remember the dream, Narayan Bhatt prayed to Krishna to accompany him and show him the places of pastimes.
It is said that after that, in the year 1569, Narayan Bhatt, along with Shrotriya and Goswami, daughters-in-law of Brahmin family, started playing Holi with Huriyares from Nandgaon with a rose stick in the Rangili Gali of Barsana. This marked the beginning of the Holi of flower sticks, which continued until 1618.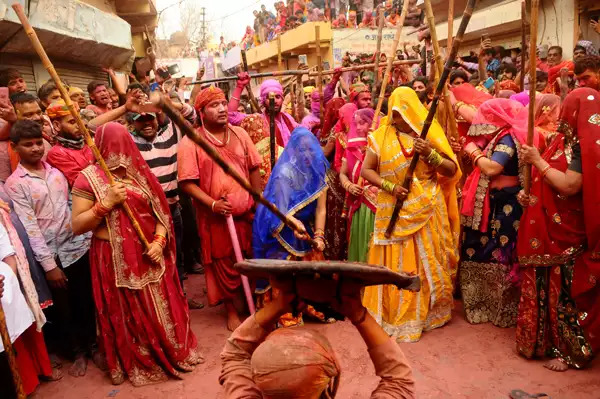 The original form of Holi, played with flower sticks, has been described in detail in Narayan Bhatt's composition, Braj Utsav Chandrika. Many other saints of Braj have also described Holi played with flower sticks in their writings.
Furthermore, the twelfth chapter of the Madhurya Khand of Garga Sahinta provides a vivid description of Barsana's Holi. In this chapter, there is a detailed description of cowherd women playing Holi with Shri Krishna using buckets filled with sandalwood, agar, musk, turmeric, and saffron solution.
Despite the evolution of Holi over the centuries, the essence of this festival remains the same – to celebrate the victory of good over evil, the arrival of spring, and the love between Radha and Krishna. As preparations for the Latthmar Holi are underway, the people of Nandgaon-Barsana are once again gearing up to celebrate this joyous festival with great enthusiasm and fervor.