Braj ki Holi and Dauji's Huranga in Modi's Man ki Baat
2023.02.26 (Vrindavan Today News):Prime Minister Narendra Modi will address the nation on his popular radio programme 'Mann Ki Baat' today on February 26, and this time, the focus will be on Braj's Holi and Dauji's Huranga. The preparations for the event have already begun at the temple of Dauji Maharaj in Baldev, where a big LED screen will be installed to broadcast the programme.
Last week, BJP District President Madhu Sharma reached Baldev and informed the party workers that the Prime Minister will be talking about Braj's Holi in the upcoming Mann Ki Baat.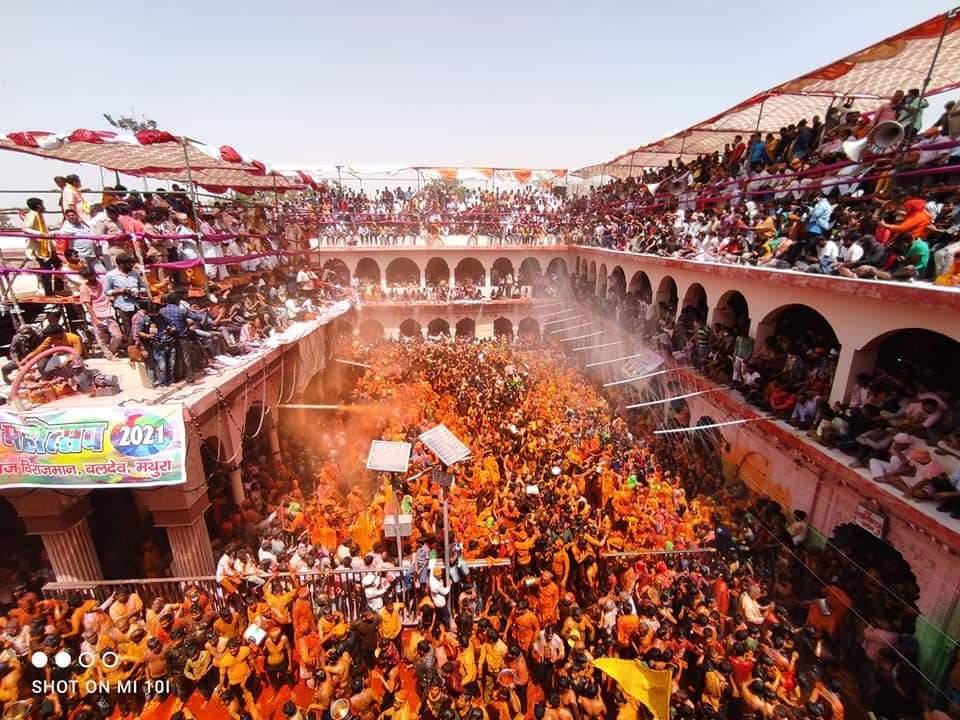 The timing of this year's Mann Ki Baat is perfect, as the Braj region is currently buzzing with the excitement of Holi. Barsana's famous Lathmar Holi will be celebrated on February 28, and Dauji's Huranga, another popular event, will take place after Holi. The Mann Ki Baat programme will be telecasted on February 26 at Bhagwat Bhawan located in Dauji Temple, where seating arrangements for 500 people are being made, and a big LED screen will be installed for the convenience of the audience.
During the Mann Ki Baat programme, the people of Pandey community will be present with the Prime Minister in traditional attire – Bagalbandi, and Dhoti. They are expected to provide valuable insights to Prime Minister Modi about Dauji's Huranga. The names of Dr. Ghanshyam Pandey and RK Pandey, who are associated with the temple, have been finalized for this purpose.
The Mann Ki Baat programme has been successful in establishing a direct connection between the Prime Minister and the people, and the people of Braj are eagerly waiting to hear the Prime Minister's thoughts on the festival of colors and the unique tradition of Dauji's Huranga.