Unique Shilas of Sawaman Shaligram
Kartik Braj Darshan with Vrindavan Today (Day 11)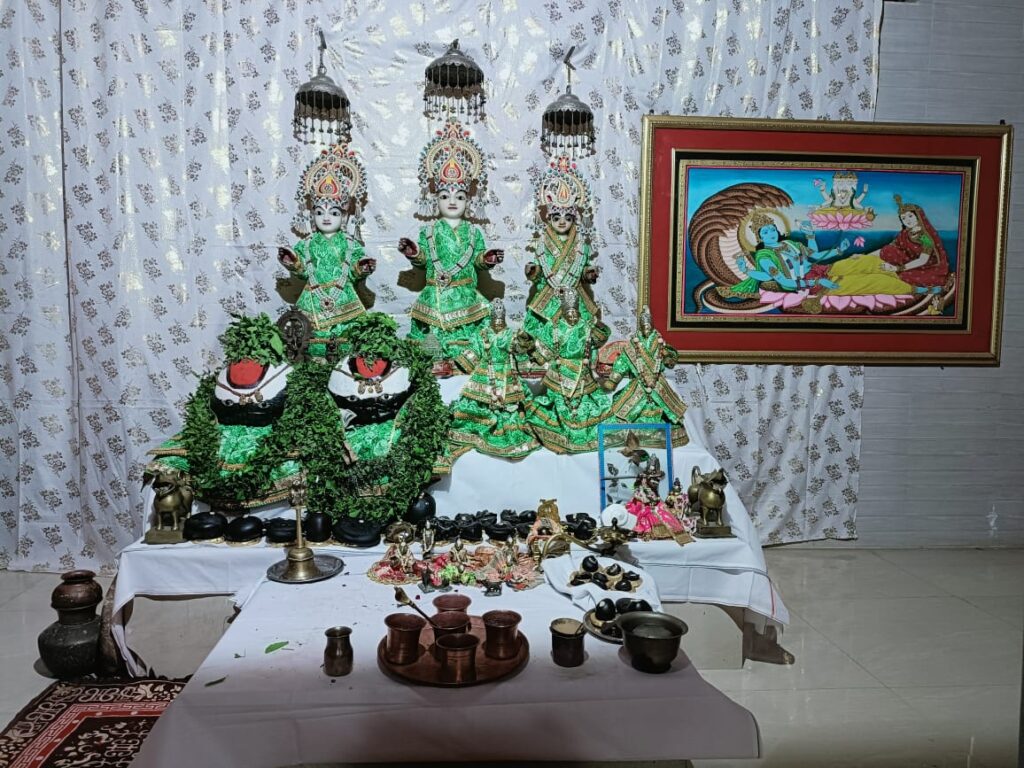 The temple belongs to the Ramanuj Sampradaya. It was built by Seth Sanehiram Dilkhush Ganediwal in 1723.
Vrindavan, 2021-10-26 (VT): Situated opposite the Shyamsundar temple in Loi Bazaar area of Vrindavan, is the little known Sava Man Shaligram Mandir. In this temple are worshipped two huge Shaligram Shilas, one weighing Sava Mann or 48 Kgs and the other, Ek (one) Mann i.e. 38.4 Kgs. Of them, the one that is spherical is named Narisngh Muktinarayan, and the other ellipsoidal shila is called Hiranyagarbha.
The temple belongs to the Ramanuj Sampradaya, and currently served by the temple mahant Shri Ram Acharya. According to Shri Laxmikant Acharya, one of the priest of the temple, Seth Sanehiram Dilkhush Ganeriwal built this temple in the year 1723. Along with the Shaligram Shilas, a beautiful Ram Darbar with life-like vigrahas of Bhagwan Shri Ram, Devi Sita and Shri Lakshman grace this quaint shrine. Every day the twin shilas are worshiped with Tulsi leaves.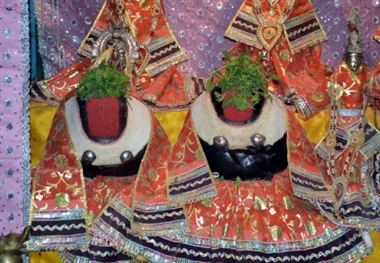 In addition to its unusual dimensions, the sava mann shaligram jodi is considered extraordinary due to the fact that It is venerable even if/when the shilas become 'khandit' (broken).
It is believed that a great saint of the Shri Sampradya was doing severe penance in the forests of Nepal, when appearing to him, Bhagwan Shaligram asked him to take His two vigrahas lying in the Gandaki for ages to Vrindavan for worship. Following the instructions, the saint dived into the river. However, he was distressed to find only one shila. While he was lamenting, a celestial sound prodded him to try once again. This time the attempt was successful; the second shila was also found. The yogi made a bamboo carrier for the deities and carried Them all the way to Vrindavan on foot.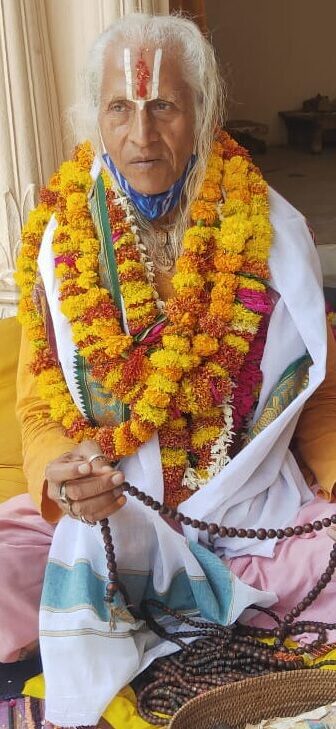 According to another account, the second shila was brought from a temple in Hyderabad's Sitaram Bagh area where it was kept alone. It is believed that just one Shaligram Shila is incomplete, hence in the interest of both (both deities and both 'bhakt' and 'bhagwan'), They came together in Shri Dham Vrindavan.
Shaligrams Shilas that are worshipped by Vaishnavas as Bhagwan Shri Vishnu are black coloured fossil-stones characterized by the presence of discus marks created by the ammonites. They are found on the banks of the Kali-Gandaki river (Damodar Kund) in Nepal. The lower Gandaki is popularly known as Mukti-Natha-Kshetra and Shaligrama-Kshetra.
The story of Shaligram is mentioned in the Puranas which state that in order to kill the asura Jalandhar, Bhagwan Vishnu had to defile his chaste wife Vrinda's sati dharma. When he did so by impersonating Jalandhar, she cursed Him to become a stone. This led to Shri Vishnu taking the form of Shaligram Shila.