Shyamananda's Shyamsundar
Kartik Braj Darshan with Vrindavan Today (Day 10): Shri Shri Radha Shyamsundar
During the month of Kartik Shri Shri Radha Shyamsundar give darshan in a different shringaar/rupa depicting the various lilas of Shri Krishna every day for 35 days.
Vrindavan 2021-10-25 (Vrindavan Today news): Day 10 of Kartik Braj Darshan with Vrindavan Today is dedicated at the lotus feet of Shri Shri Radha Shyamsundar who manifested from the heart of the Queen of Vrindavan.
शयामानन्दम् हृदानन्दम्, वृन्दारण्य पुरन्दरम्।
राधाभूषित वामाङ्गम्, नमामि श्यामसुन्दरम्।।
On the auspicious day of Basant Pachami in the year 1578 AD, Srimati Radharaniji manifested the Deity of 'Lalaji' (Shri Shyamsundar) from her lotus heart and presented Him to Jagadguru Sri Shyamananda Prabhu. Two years later, She manifested Herself in the deity form as 'Laliji' to the King of Bharatpur.
On the Basant Panchami of same year (1580 AD) She (Laliji) was married to Shyamsundarji (Lalaji) in Shridham Vrindavan.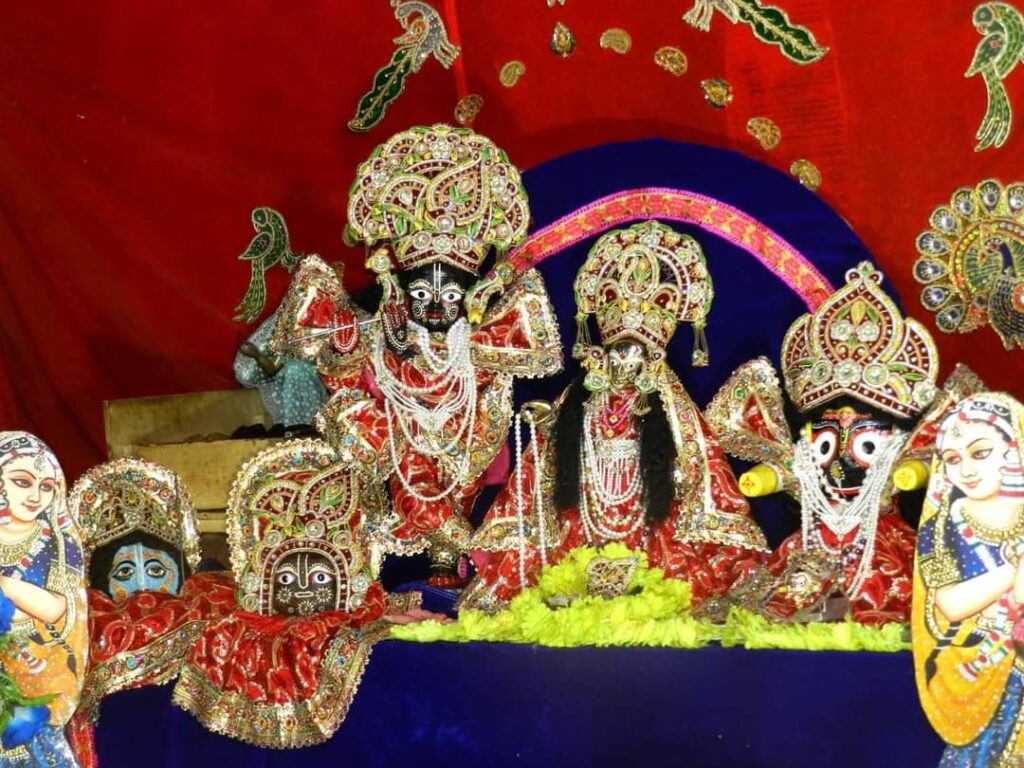 Basant Panchami is therefore rightly known among Brajwasis as 'Shyamsundar Panchami'. Grand celebration is held at the temple with harinaam sankirtan maha-yajna, sankirtan yatra, feast for the vaishnava-sadhus, chappan bhog, cultural programs, bhajans, phool bangla and maha-raas lila being organised. Shri Shri Radha Shyamsundarji are dressed like a Bengali bride and bridegroom for the occasion.
The day assumes greater importance because on the Basant Panchami of 1719 AD, the crest jewel among the Shyamanandi Vaishnavas and author of Shri Govinda-bhashya, Shrila Baladeva Vidyabhushana Prabhupada, consecrated the larger deities of Sri Sri Radha Shyamsundarji in the temple. For nearly 60 years, he was the sevadhikari of this Temple serving which he left the mortal world on Ganga Dashahara (26 May, 1768 AD) at the age of ninety.
During the month of Kartik Shri Shri Radha Shyamsundar give darshan in a different shringaar/rupa depicting the various lilas of Shri Krishna every day for 35 days. This observance is unique to the Radha Shyamsundar Temple. A day begins as early as 2.30 am with Nishant Lila of Radha-Krishna, and Kunj-Bhang Kirtan, and ends at 9.15pm with shayan aarti. On the full moon day of Kartika, Haimantik Maharaasa Lila takes place from 6 p.m. to 10 p.m.
About Shri Shaymananda Prabhu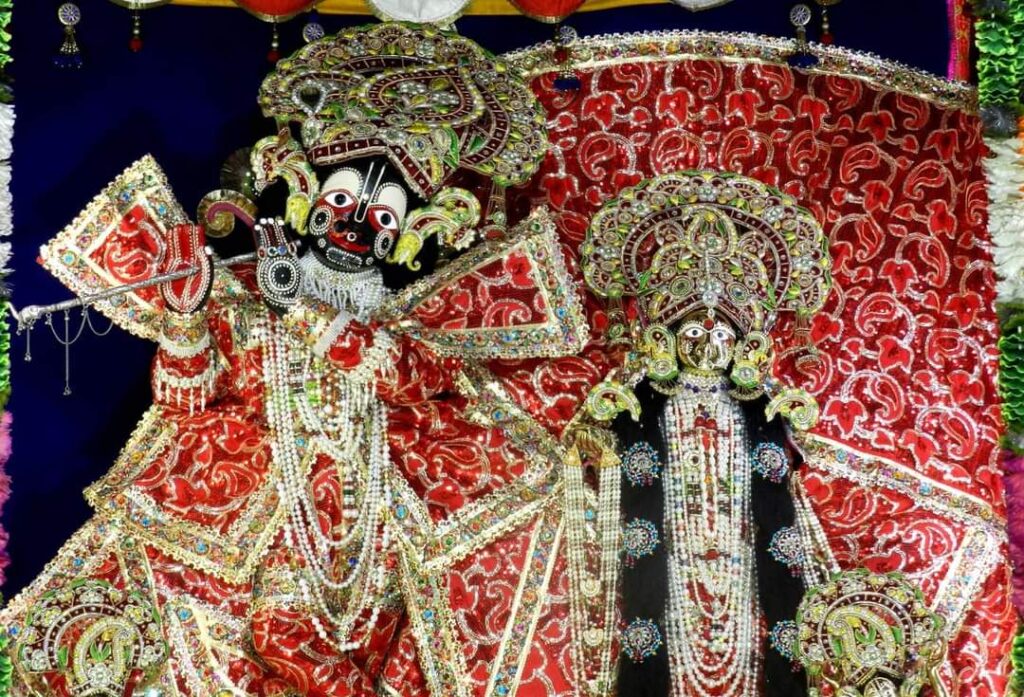 Shri Shyamananda Prabhu was born in village Dharenda of Midnapur (West) district of West Bengal on Madhu Poornima of the Chaitra month 1535 A.D. His original name was Dukhi Krishna Das. He was the disciple of Hridaya Chaitanya who in turn was the disciple of Gauri Das Pandit – the 'Subala' of Dwapar Krishna Lila. Being a dear student, Hridayananda sent Dukhi Krishna to Vrindavan under the tutelage of Shrila Jiva Goswami through whose association he developed a taste for serving Shri Radha-Krishna in the conjugal mood.
Shrila Jiva Goswami had instructed Dukhi Krishna to sweep the streets of Shri Dham which he did with utmost devotion, smearing himself with 'raj' of Vrindavan every day for years. One day, when he was serving Nidhivan thus, he found Radharani's noopura (anklet) lying on the ground. While he was still absorbed in ecstasy, He had the darshan of Lalita Sakhi who came looking for it. Realising that it was divine play, when She asked him to return the anklet which belonged to Her sister, Dukhi Krishna refused saying he would give it back only to the rightful owner.
To his great, unparalleled fortune the queen of Vraja, the merciful Shri Radhika appeared in front of him. Pleased with his devotion, She pressed the noopura against his forehead creating the noopura tilak on it. When Shrimati revealed the secret of this curiously atypical tilak on Dukhi's forehead to Jiva Goswami, he blessed him with the name Shyamananda. The noopura-tilak is worn by Shyamanandi Vaishnavas to this day.
Shyamananda Prabhu entered nitya lila in 1630 A.D. A twelve-day festival is held in the temple every year to commemorate his disappearance.