Vrindavan Abuzz with Akshaya Tritiya Activity
Devotees Gear Up for Akshaya Tritiya and Charan Darshan of Thakur Banke Bihari
With Akshaya Tritiya just around the corner, devotees in Vrindavan are gearing up for Thakurji's special summer service on Akshaya Teej. The temples are abuzz with activity as the servants and priests are busy grinding sandalwood on stone slabs to create huge amounts of sandalwood paste. This paste will be used to cover Thakurji's entire body from head to toe on the morning of Akshaya Tritiya, as part of the Lord's special summer service.
But that's not all. The devotees of Thakur Banke Bihari will also get the rare opportunity to partake in Charan Darshan – the annual event where they can see the lotus feet of their beloved deity. This year, Charan Darshan will be performed on April 23, along with Sarvang Darshan in the evening. Thakurji will be adorned with gold and silver anklets and smeared with sandalwood paste, as devotees throng to catch a glimpse of his lotus hands and feet.To combat the scorching heat, special Thandai bhog (cooling drink) and sattu laddoos will be offered to provide some relief to Thakurji.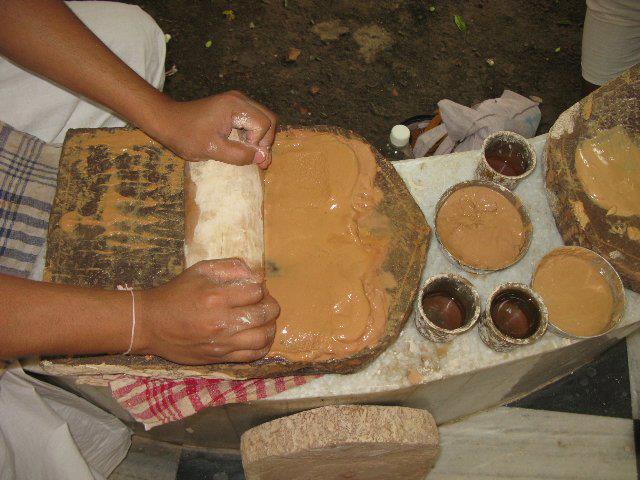 Mayank Goswami Bantu Maharaj, the sevayat of the temple, explains that the Charan Darshan is a rare opportunity for those who are unable to visit the Char Dhams, as the reward of doing Char Dham yatra can be attained by just having darshan of the lotus feet of Banke Bihari on this day.
The Radha Damodar temple is no exception to the hustle and bustle of activity, with sevayats collecting sandalwood for the past 45 days. Shri Karun Goswami Maharaj of the temple, highlights that Radha Damodar Lal is specially decorated with sandalwood on the day of Akshaya Tritiya. Devotees from all over the country flock to the temple for this captivating darshan, a sight that is both breathtaking and humbling.
As a multitude of devotees flock to Vrindavan, the district administration has put in place comprehensive measures to ensure their safety and comfort. Elaborate arrangements have been made by the district administration to ensure the safety and convenience of the lakhs of devotees thronging Vrindavan during the auspicious occasion of Akshaya Tritiya.
From ensuring cleanliness to managing parking of vehicles, every aspect has been taken care of. To further ensure the well-being of the visitors during the hot summer months, dedicated health teams have also been deployed.
CO Sadar Praveen Kumar Malik has assured that there is a religious atmosphere in Vrindavan on Akshaya Tritiya, with devotees engaging in charity and worship of their deity. The entire area is heavily guarded by police forces to ensure the security of the devotees.