Yamuna Waterway Among Key Projects Approved for Smart City Mathura-Vrindavan
Six-lane suspension bridges will also be constructed on the Yamuna at two places as part of the 15000cr initiatives that were approved.
Vrindavan, 2022-06-28 (Vrindavan Today News): Uttar Pradesh chief minister Yogi Adityanath, on his recent visit to Delhi, discussed several projects worth INR 15000 cr for the development of Mathura-Vrindavan under the smart city scheme with the concerned cabinet ministers.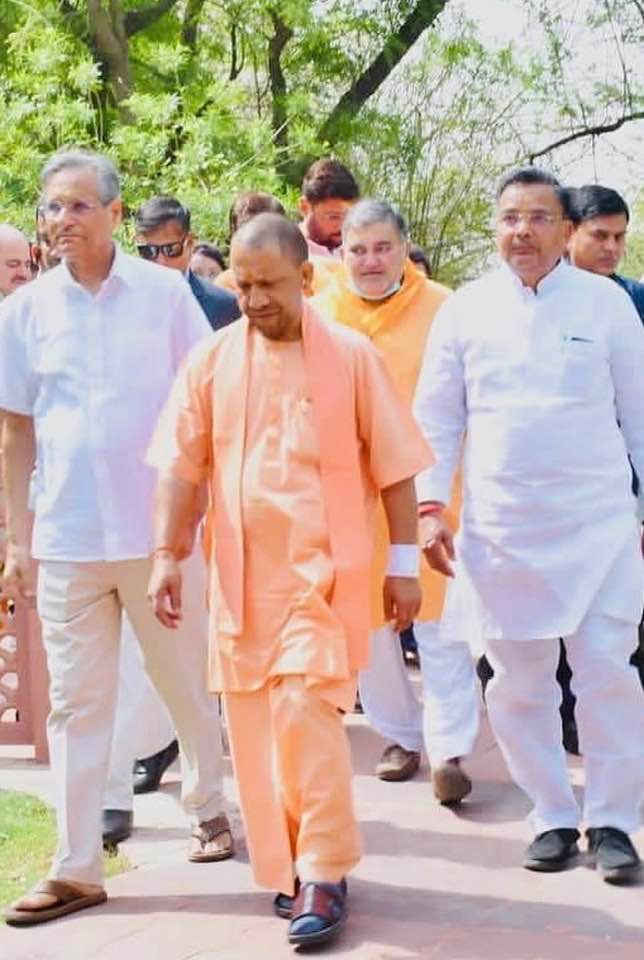 These included a 24km-long waterway 'Yamuna Jal Marg' between Vrindavan and Gokul on the Yamuna, development of Braj 84-kos parikrama and Mathura-Vrindavan rail routes as heritage highways, Construction of six-lane suspension bridge on the Yamuna, Mathura-Vrindavan and Govardhan bypass ring road, and other initiatives for cultural development.
The CM requested Minister of Ports, Shipping and Waterways Sarbananda Sonowal to initiate a DPR on the Yamuna Jal Marg. The waterway will be maintained by the state government.
As regards the 1000cr Mathura-Vrindavan 'Light Metro Rail', minister of railways Ashwini Vaishnaw shared that the project will be overseen by the Agra Railway Division as the nodal office. A 'Gati Shakti Unit' has been established for the purpose which will start working on preparing the DPR soon.
The light metro rail projects also includes the construction of six-lane suspension bridges on the Yamuna at two places.
The CM also requested minister of road transport and highways Nitin Gadkari to prepare the DPR for Mathura-Vrindavan and Govardhan bypass Ring Road as well as the development of Braj 84 kos parikrama which will entail the construction of two and four lane highways and kutcha and pucca roads among other things.
The Ring Road will enable direct access from Agra to Govardhan via Chatikara, thereby easing the traffic load on Mathura as commuters will be able to travel straight to Agra and Kanpur from Govardhan without entering the city. The Road will make use of the twin tracks on Govardhan Drain that will be connected to the national highway near Hindustan College.
UP Braj Teerth Vikas Parishad's Shailja Kant Misra, Nagendra Pratap and Jay Kartik were also present. Central minister for tourism and culture Kishan Reddy accented to the UPBTVP's proposal for conducting two yearly cultural events at the newly developed open-air amphitheaters at Chandra Sarovar Govardhan, Raskhan's Samadhi in Mahavan and the 1000 ft. auditorium at Gita Research Institute in Vrindavan to promote Braj culture.
Mukesh Kumar Meshram's (Principal Secretary Tourism & Culture, Government of Uttar Pradesh) suggestion to establish a world-class Connection Center under the Swadesh Darshan Yojana in Mathura and Ayodhya and to renovate Mathura, Lucknow and Kushinagar museums under the Museum Grant Yojana was also approved during the meeting.
The proposal for running 15-seater electric mini buses in Vrindavan was also deliberated upon to ease the traffic in the town.