Remembering Robyn Beeche's seva for Shri Radharaman
2022.06.25 (Vrindavan Today News): This year Vrindavan Today News was blessed with the good fortune of being able to document the Nikunj Seva Mahotsav in pictures, a glimpse of which is presented in this article https://vrindavantoday.in/featured/shri-radharamans-nikunj-seva-mahotsav/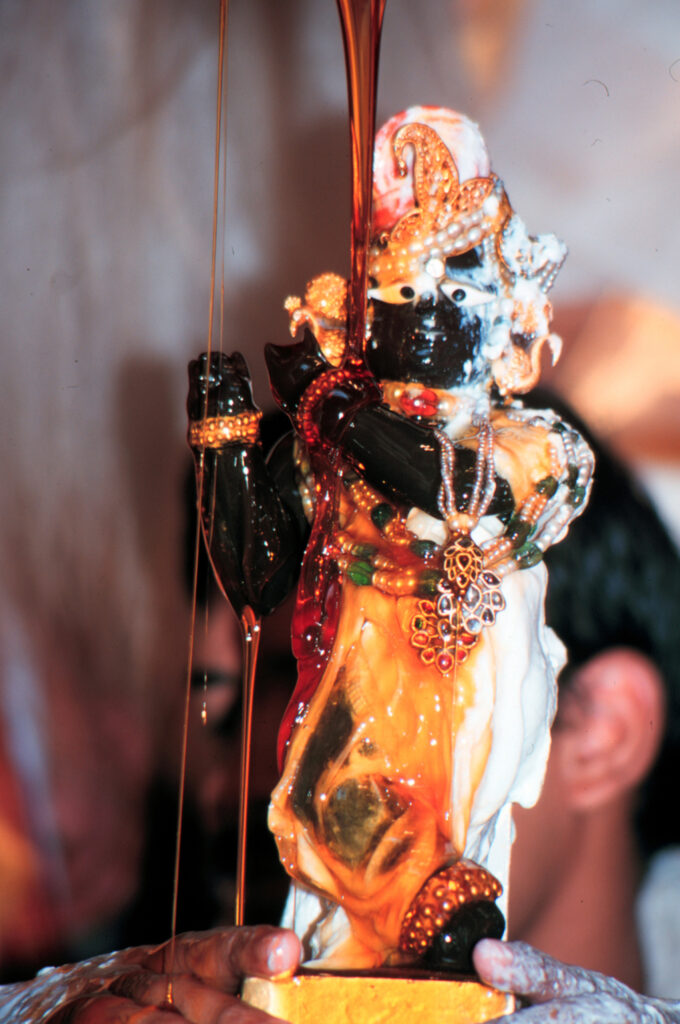 Unlike other media-shy Thakurs of Vrindavan, the camera-savvy Radharaman is known to have showered his grace on many Indian and international shutterbugs, including renowned Australian photographer Robyn Anne Beeche (14th February 1945 – 13th August 2015). Maharaj ji's nikunj seva mahotsav and the birth centenary of her first Guru, Jagatguru Shri Purushottam Goswami ji Maharaj is an appropriate occasion to briefly introduce the readers to her legacy in Vrindavan.
Beeche's website describes her as a "native Sydney photographer who documented the seemingly opposite worlds; the post-punk, new romantic fashion and music scenes of 1980's London and Hindu ceremonies held in the Indian pilgrimage town of Vrindavan, Uttar Pradesh ". She moved to London from Sydney, Australia in the mid-1970's, and went on to become a well-known professional photographer in the commercial world of advertising, beauty and fashion, known for her iconic documentation of the 1980's.
Beeche was regularly visiting India by the mid 1980's, when the beauty of Radharaman and His playground mesmerised her so that she made the life and career-changing move to live more or less permanently in Vrindavan in 1992. She had made 13 trips by then. Recalling the times in a 2013 interview with a leading Indian daily, she said, "By the late 80s Margaret Thatcher's rule had really made things difficult. With all those taxes, freelancers were suffering. My studio was right opposite Victoria and Albert Museum. A small but lovely and intimate space. I had to choose between keeping the studio which was difficult to maintain and to pursue my work in India. So I decided to sell it."
In Vrindavan she became a vital participant in and contributor to the life of Jaisingh Ghera, in service to the temple. Beeche was an enduring presence at the ashram. "She was always there to help one and all, to facilitate the stay of countless scholars who spent time there in the last quarter of a century. Everyone who knew her was immediately and indelibly impressed by her kindness, caring nature, artistic sense, which seemed to follow her like fairy dust, and of course her photographic record", wrote Dr. Frederick Smith, Sanskrit Professor at the University of Iowa.
Beeche applied the skills she had developed in her London work to documenting the many subtle nuances and significant aspects of Krishna worship, through which she captured the essence of the culture of Vraja. Obvious differences aside, she found enough resonance in these two (apparently) paradoxical realms. "The image that was being constructed spending so much time and effort in London, happened naturally here, " she said.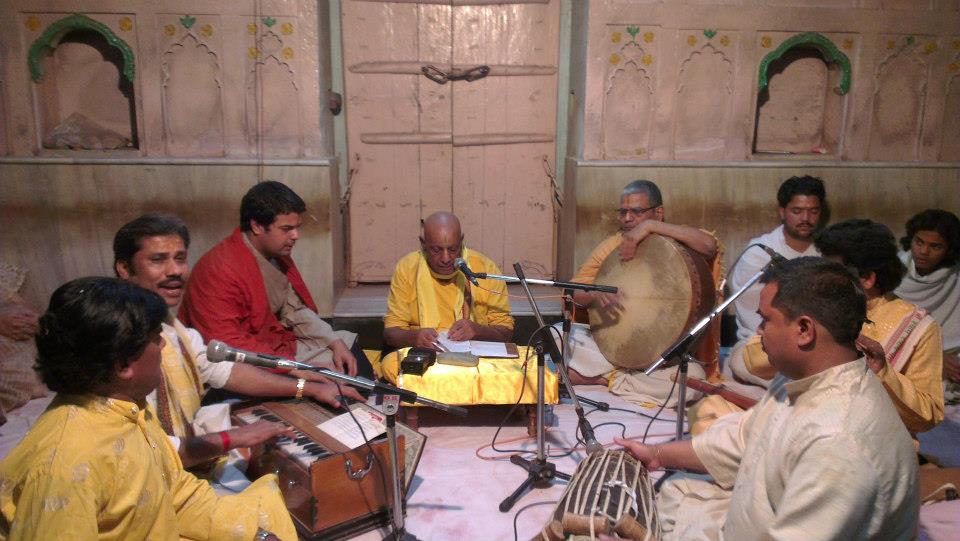 Starting out in 1983, Beeche spent nearly 25 years documenting the festivals and rituals of Braj. She produced several books on Indian arts and sacred architecture, most noteworthy among which is 'Celebrating Krishna' with Shrivatsa Goswami ji who wrote the text to accompany her photographs.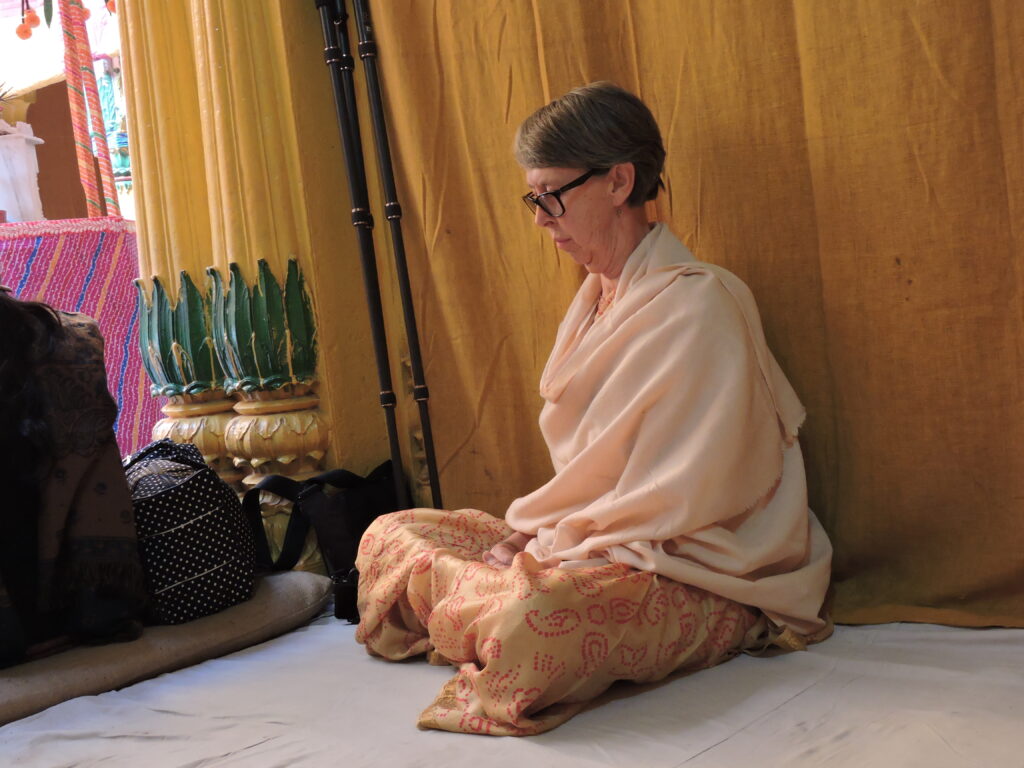 In 1989, she directed the film 'Holi – Festival of Colours', and in 1995 held her first photographic exhibition on the Culture of Vraja at the Piramal Gallery, NCPA, Bombay. About that exhibition Beeche noted, "I see this exhibition as a way of the viewer being able to experience this living space of Vraja, of appreciating these age-old traditions which are being kept alive for generations to come. It is by documenting them that I wish to help perpetuate their existence within a rapidly changing society."
Her work and life captured the attention of many, including filmmaker Lesley Branagan who made 'A Life Exposed', a 2013 documentary about Beeche. While her talent speaks for itself, it is her trajectory from the secular West to the noisy, even overwhelming, pluralistic India that most captures attention.
"My life is like green traffic lights – I've just gone through them. I've just accepted everything and had a go." Clearly, Beeche had given herself completely to life and everything it had to offer her. Realising that she could not 'document' but only live the experiences, those beliefs and traditions she was capturing through her lens, Beeche embraced Hinduism.
What intrigued her most about the 'artists', who were none but the common folk of Vraja, was their detachment towards the art they put so much heart into. It was worship for them yet, those painstakingly made 'sanjhis' and 'phool banglas' were destroyed and dismantled in moments after each darshan was over, only to make way for a new one.