Gulal Kund: Where Holi Never Ends
By Ashee Sharma
2022.03.01 (Vrindavan Today News): Nowhere in India is the celebration of Holi as vibrant as it is in Braj. Beginning on Basant Panchami, the first day of Spring, first tiny dots of coloured powder (gulcha Gulal) are offered to Shri Radha-Krishna, then lightly sprinkled on Their devotees as prasad. From that moment on, the game builds and builds in a constant crescendo until the end of Phalgun Purnima when the entire town erupts in colours.
Going beyond the revelry, the festival in Braj-Vrindavan becomes a metaphor for the transcendental lilas of Shri Radha-Krishna expressed through the myriad Holi plays. How can then 'just two months' be enough for Brajwasis whose yearning to relish this rasa is endless!
So they request the beloveds to continue Their Holi play at the quaint Gulal Kund forever, whatever the time or season.
The sacred lake of Gulal Kund is snuggled in a sea of yellow mustard flowers in the lap of Shri Giriraj Govardhan. It is easy to reach from the Govardhan Parikrama path. When coming from Poonchari, take a left near Rudra Kund, at the corner where the auto rickshaws linger. Bear right, then left, then it's pretty much a straight shot.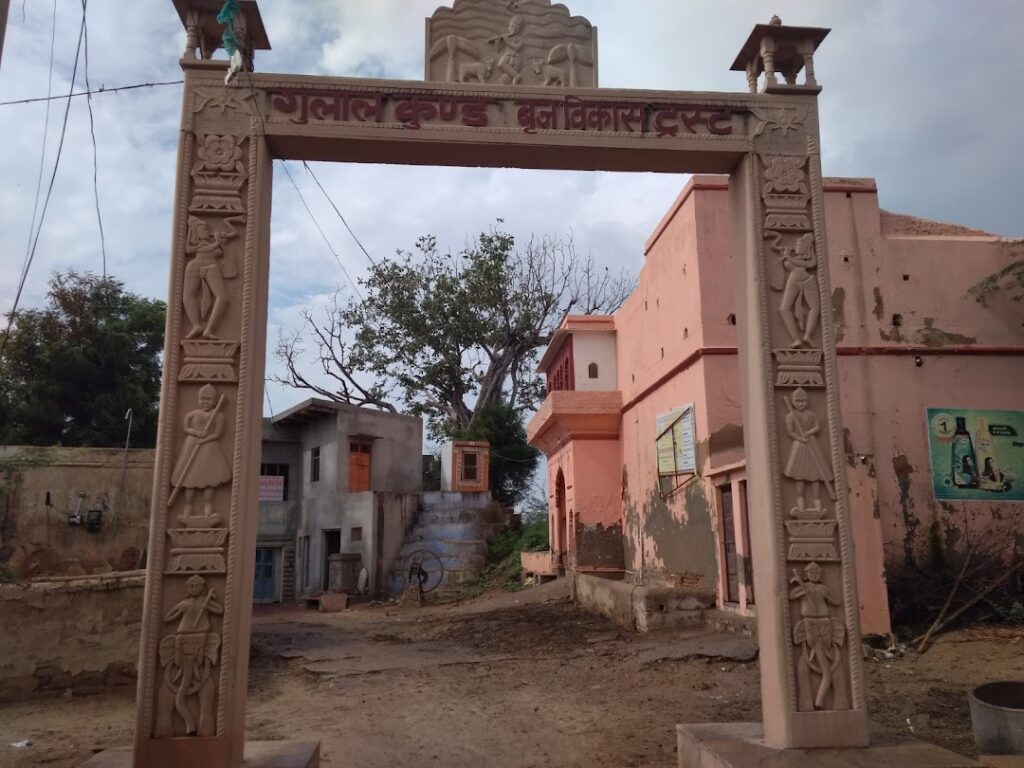 As soon as one makes the turn down the lane towards the village, the hustle and bustle of Jatipura is snuffed out by an extreme sense of peace that blankets the entire area just beyond the Parikramapath.
It is a smooth ride on a motorbike over a pavement of white bricks which seem like they have been laid with special care. The farther one drives, the more the pukka (concrete) buildings get replaced with kuccha houses made of Vrindavan's earth and cowdung, the combined aura and fragrance of which is extremely intoxicating.
After driving for about ten minutes there's an elegant pink sandstone gateway on the left marking the entrance to Gulal Kund.
Entering inside one sees the entire courtyard is stained pink from Holi colors. A large, beautiful tree shades the area and the several large Govardhan Shilas. At the back is Gulal Kund. Unfortunately, the Kund is nearly dry, but the ambience is still incredible; very serene, with many green parrots chattering in the trees.
There is a plaque commemorating the renovation of the Kund which mentiones Teerth Vikas Trust, Shri Ramesh Baba of Barsana and the names of several devotees. A scene of Shri Radha and Krishna playing Holi is depicted in bas relief on sandstone, and on the right side of the courtyard is a small temple with a baithak (sitting-place) of Shri Vallabhacharya.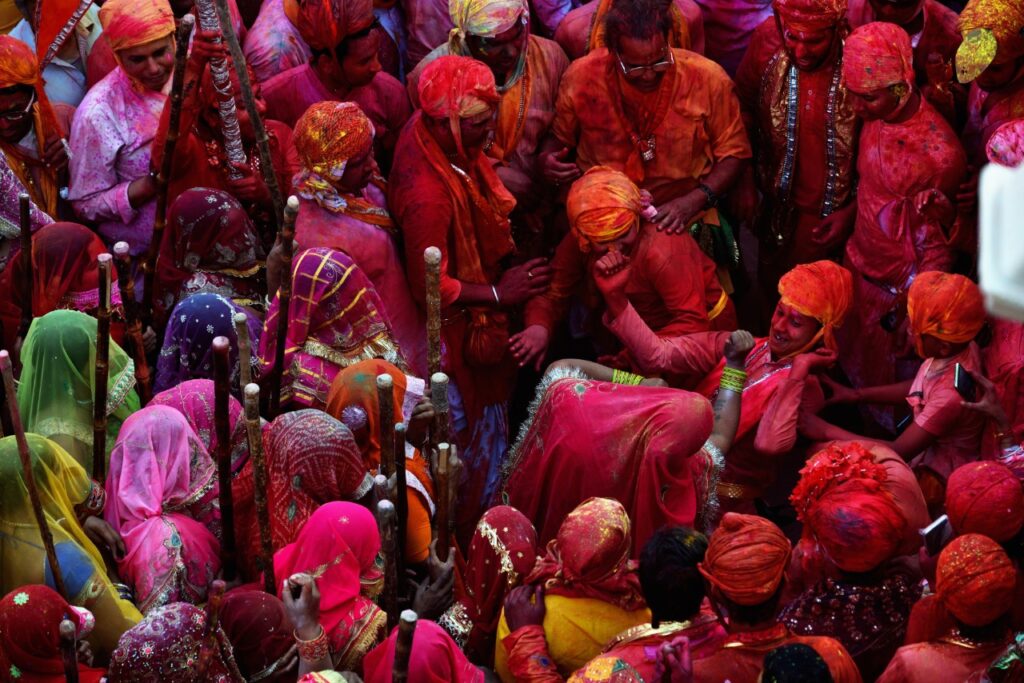 A nitya- ila sthali
It is said that once Shri Krishna was playing Holi in Barsana with Shri Radharani and other gopis. Although Shri Radha is His dearmost Beloved during this Holi game, Krishna was giving His time to all the gopis equally. Feeling that Krishna was not doing justice to the festival, Radharani and Her friends became upset.
Unless Krishna played with Radha with full abandon, the true bliss of Holi could never be attained. By the time the game was over; Shri Radha fell into a sulk and began to cry. So to please Her, Shri Krishna brought only Radharani and Her close friends (sakhis) to this kund to play Holi to their hearts' content. Since then this place became known as Gulal Kund.
Shri Radha and Krishna are offered Holi colours every day at this place, and the devotees are adorned with Their prasad. Every day, Vaishnavs visit and play colours here in remembrance of that beautiful lila.
Holi is a nitya lila in both itihaas and lok lila. Gulal Kund is a neutral place; it's neither Radha's Barsana nor Krishna's Nandgaon. There's no losing or winning here, only eternal play. Here the divine beloveds play sajal holi (holi with colors), They tease each other, and it is here that They are made fun of as they sit down to play with colours.
Gulal Kund is also known by another name – Gantholi (Gantholi for ganth or knot). As per the folk tale, when Shri Radha-Krishna sat close to each other while playing Holi, the sakhis tied their upper garments in a knot (stoles) like it's done for the bride and bridegroom in a marriage ceremony, and prayed/wished that They be together always.
A continuing tradition
Gulal Kund is well-known for its relation with Shrinathji. It is said that He comes here often to play Holi. Even today, when the festival is celebrated in Nathdwara, a replica of the Kund is made in front of Him and filled with flowers and colours. This is done to ensure Shrinathji doesn't miss His favourite place. This tradition is followed in other temples and even in homes.
All round the year Vaishnavs belonging to the Pushtimarg Sampradaya come to Mahaprabhu Vallabhacharya ji's baithak here in large numbers. Their Braj yatra is considered complete only when they bring their Thakurji to the Kund to play Holi.
Gulal Kund is also a popular Sanjhi motif. During the Shraddh Paksh, young girls depict Shri Radha-Krishna playing Holi in the Kund in their Sanjhi – a Braj folk art dedicated to the goddess Sanjhi who is considered an emanation of Devi Parvati.