550th Appearance Day Celebration of Shri Hit Harivansh
550th Appearance Celebration of Shri Hit Harivansh marked with Grand Festivities in Vrindavan's Thakur Radhaballabh Temple
2023.05.02 (Vrindavan Today News): Goswami Shri Hit Harivansh ji's 550 th appearance day was celebrated with great pomp at the Shri Radhavallabh Temple and other related ashrams. Shri Radhavallbh Ji was offered abhishek amidst singing of Harivansh Ji's divine songs. Kirtans were sung and a procession was also taken out in the streets.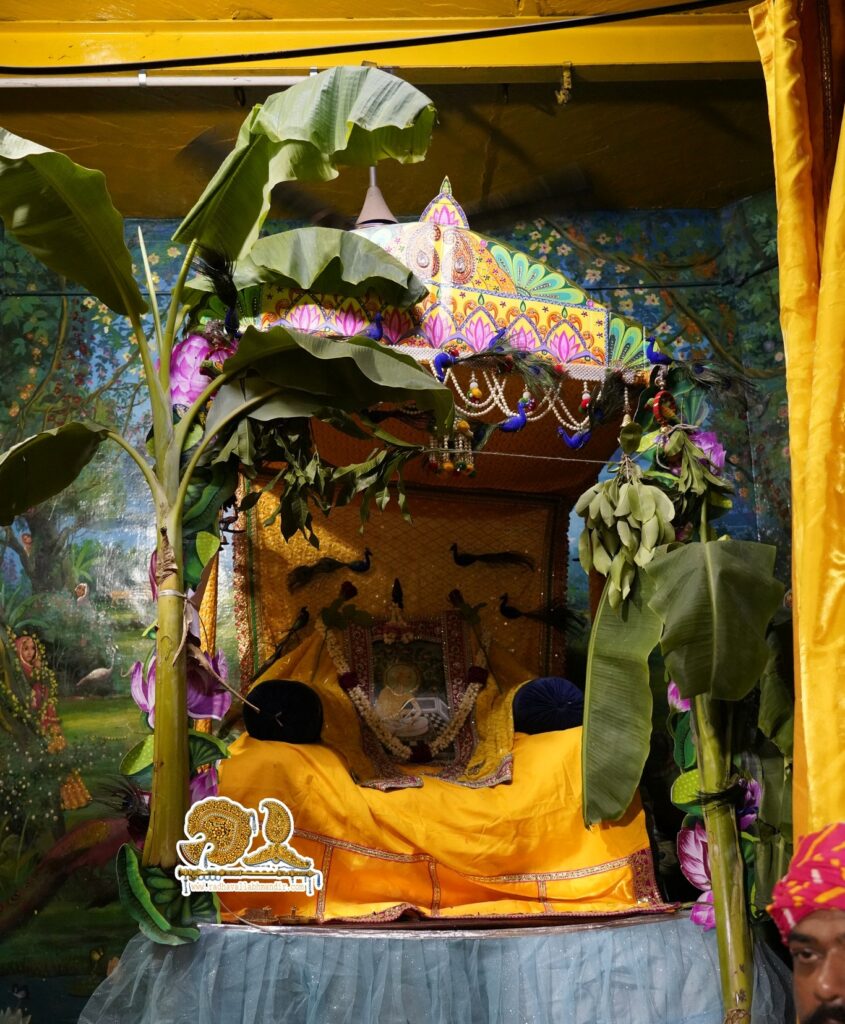 The air was filled with joy and excitement as devotees from all over gathered to celebrate the 550th appearance of the incarnation of Lord Shri Krishna's bansuri (flute), Goswami Shri Hit Harivansh ji. The day was marked with singing of congratulatory songs and honoring of Thakur Radha Ballabh Lal. The evening was filled with the sound of devotees singing and dancing in celebration.
On Monday morning, the Shri Hit Harivansh Prachar Mandal Trust organized a gathering of devotees inside the temple, where they sang badhai geet (congratulatory song) to Thakur Radha Ballabh Lal. The atmosphere was festive as many devotees danced joyfully to the hymns. The temple premises were adorned in a grand and divine manner, with the temple caretakers and priests performing toran badhankar satiya puja at the main entrance.
Goswami Shri Hit Harivansh's family was from Deoband in Northeast Uttar Pradesh. His father, Shri Vyas Mishra, was a Gaur Brahmin who, according to the Tarikh-i-Deoband, was employed by the Mughal emperor, Humayun.
One summer, as he was travelling west with the royal caravan from Agra, they crossed the land of Braj. It was ekadashi when Shri Vyas Mishra's wife gave birth in Braj's Baad village, and thus Shri Hit Harivansh appeared in this world. Despite having been born a Brajwasi, Shri Hit HarivanshJi spent his childhood with his family in Deoband.
It was in Deoband where he received mantra from Shri Radha in a dream and became her disciple. In the year 1534, HarivanshJi returned home to Braj. Thereafter he lived in Vrindavan permanently. He established the Shri Radhavallabh Temple and established worship of Shri Radha Rani as the supreme power.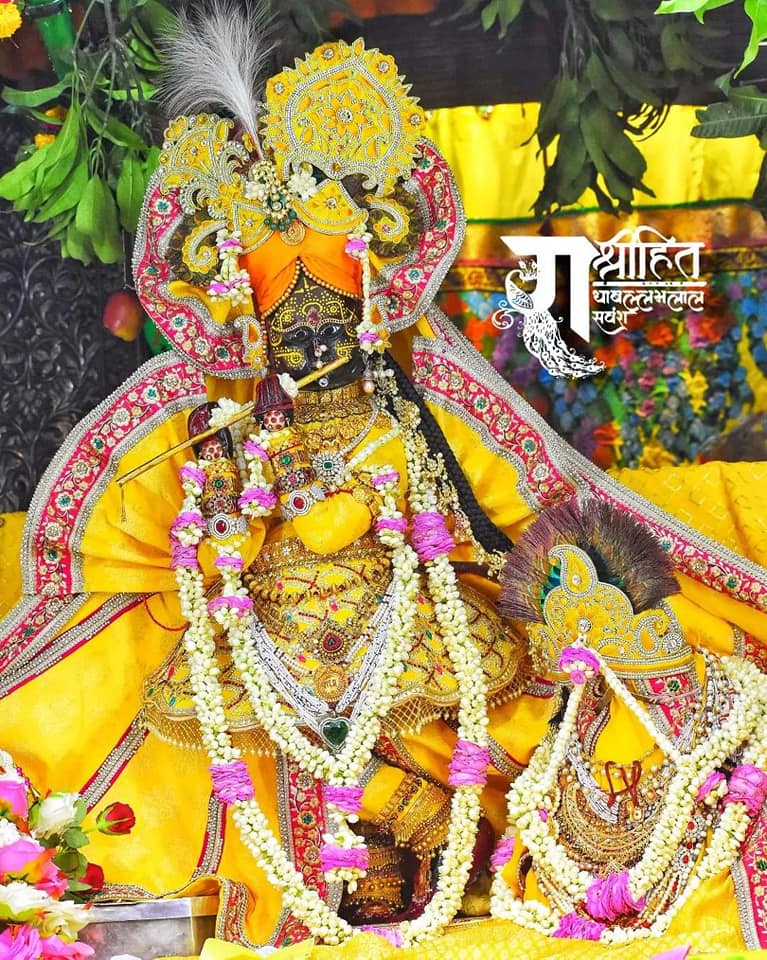 Tilakayat Adhikari of Radha Ballabh Temple and descendant of Shri Hit Harivansh ji, Goswami Shri Hit Mohit Maral, informed about the festival. He stated that Thakur ji was giving darshan adorned in yellow clothes. Millions of devotees arrived in Vrindavan on the occasion of the 550th birth anniversary celebration of Shri Hit Harivansh ji.
On the eve of the appearance festival of Shri Harivansh, lamps were lit on the banks of River Yamuna at night time and Shri Hit Chaturashi's melodious singing was performed on the Bihar ghat. Hundreds of devotees, accompanied by Yuv Goswami and Shri Hit Shobhit Lal Maharaj, took Shri Hit ji on a palanquin and went on a city tour in the evening. The devotees kept singing "Radhaballabh Shri Harivansh" amidst the playing of various musical instruments like Manjira, cymbals, and drums.
Anand Lal Goswami, Govind Lal Goswami, Sukrit Goswami, Vishal Lal Goswami, Udit Goswami, Gaurav Goswami, Chandranarayan Goud Chinu, Vivek Chautani were also present in the festival. The event was a grand success and marked a beautiful celebration of the divine incarnation of Lord Shri Krishna's bansuri, Shri Hit Harivansh Chandra.