Controversy Erupts Over the making of 'Phool Bangla'
2023.06. 21 (Vrindavan Today News): A dispute arose during the Shringar Bhog service at Shri Banke Bihari temple on Wednesday morning, as two groups of sevaits clashed over the construction of a 'flower mansion'. Despite the intervention of the temple manager and the CO (Circle Officer), the matter remained unresolved. As a result, both parties have decided to plead their case in court during the night.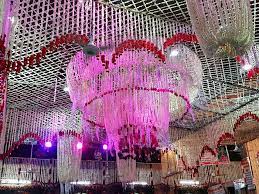 On Wednesday morning, the Banke Bihari temple became the center of a controversy during the Shringar Seva. Rajbhog Sevadhikari Balkishan Goswami and Shayan bhog Sevadhikari Kapil Goswami were adamant about constructing a flower bungalow during the service. Despite the efforts of Temple Manager Munish Kumar Sharma, both sides remained firm in their stance.
The outpost incharge Rajkumar and CO Sadar Praveen Malik were informed about the issue. In the evening, a meeting was held at Mohan Bagh, located on VIP Marg behind the Banke Bihari Temple. The meeting included the temple manager, CO Sadar, Banke Bihari Mandir Chowki incharge Rajkumar, and representatives from the Shayanbhog and Rajbhog Sevadhikari teams.
During the lengthy two-hour meeting, tensions escalated between the two groups in front of CO Sadar. However, he managed to calm them down and warned that legal action would be taken if peace was disrupted. Temple manager Munish Kumar Sharma stressed on the importance of maintaining the status quo until the court issues its decision. He assured that the rights of the devotees would not be violated in any dispute and informed the administration about the situation.
As the meeting concluded without a resolution, both parties decided to approach the court on Tuesday night to seek a resolution to the issue.